Technology originating at TSRI is at the center of an antibiotic drug discovery collaboration between RQx Pharmaceuticals, Inc. and Genentech, a member of the Roche Group.
"Startup company formation, along with focused pharma partnerships, is a major vehicle for translating TSRI technology into novel therapeutics," said Scott Forrest, vice president of business development at TSRI. "We are thrilled RQx made such progress in two years to establish this partnership with Genentech."
Under the terms of the agreement, RQx will receive from Genentech an up-front payment and is eligible to receive research and development milestone payments totaling $111 million. In addition, RQx is eligible to receive royalties on sales of products resulting from the collaboration.
The technology was originally licensed from TSRI in 2010 when Avalon Ventures co-founded RQx Pharmaceuticals in collaboration with TSRI Professor Floyd Romesberg, in whose laboratory the technology was discovered. The company's Series A financing also included an investment from Correlation Ventures.
TSRI is a shareholder in RQx.
Kate Carroll Receives Tenure; Chitra Mandyam and Michael Zwick Promoted to Associate Professor
Three faculty members—Kate Carroll, Chitra Mandyam and Michael Zwick—have been promoted as recently announced at a meeting of The Scripps Research Institute (TSRI) Board of Trustees.
Carroll has been promoted to associate professor with tenure in the Department of Chemistry (Florida campus). Bridging the fields of chemistry and biology, Carroll's research focuses on the reduction-oxidation reaction (redox)—a chemical reaction in the body that damages healthy cells and contributes to diseases ranging from Alzheimer's to heart disease. For further information, visit Carroll's faculty page and lab website.
Mandyam is now associate professor in the Committee on the Neurobiology of Addictive Disorders (California campus). Her lab research focuses on determining if and how new cells in certain regions of the brain—the prefrontal cortex and hippocampus—are affected by drugs of abuse. Additional information on Mandyam's research is available on her faculty page and lab website.
Zwick has been promoted to associate professor in the Department of Immunology and Microbial Science (California campus). In his research, Zwick studies and evaluates the efficacy of specific antibodies generated against portions of the HIV virus to pinpoint weaknesses that can be targeted with vaccine candidates. Further information can be found on Zwick's faculty page and laboratory website.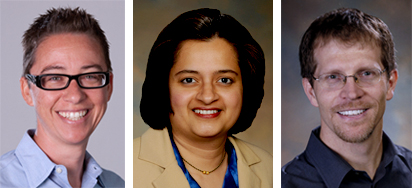 Kate Carroll (left), Chitra Mandyam (center) and Michael Zwick have received promotions. (Photos by James McEntee and TSRI BioMedical Graphics.)




Send comments to: mikaono[at]scripps.edu