Ben Shen receives 2018 Charles Thom Award
Chemist Ben Shen, PhD, of The Scripps Research Institute's Florida campus has received the 2018 Charles Thom Award from the Society for Industrial Microbiology and Biotechnology.
Named for microbiologist and mycologist Charles Thom, the award honors researchers for their exceptional merit in industrial microbiology and biotechnology, and their independent of thought and originality that added appreciably to scientific knowledge.
Shen, who serves as co-chair of the Scripps Research Department of Chemistry and director of the Natural Products Library Initiative at Scripps Research, studies new methods to discover, engineer and produce natural products as potential drug candidates for cancer and infectious diseases. His work blends organic chemistry, biochemistry, molecular biology and the genetics of natural product biosynthesis in microorganisms.
Shen will be presented with the award and will give the Thom Award Lecture at the Society for Industrial Microbiology and Biotechnology annual meeting in August.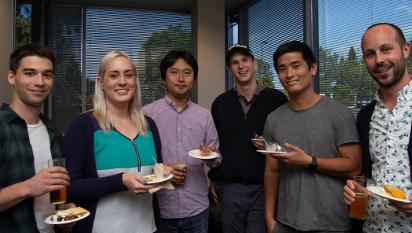 On May 22, scientists, students and staff came together for the annual Founder's Day Celebration. The event honors Dorris Neuroscience Center founder Helen Dorris and featured a lecture from neuroscientist Kristen Harris, PhD, of the University of Texas at Austin.
Friendly conversations and good ideas flowed at the first of many planned Suds & Science events in Jupiter, Florida on May 24. Scripps Florida partnered with neighborhood watering hole DAS Beer Garden in Jupiter's Abacoa community on the informal lecture series. It's planned for the third Thursday of every month from 5 p.m. to 7 p.m.
Kicking off the series was Mark Sundrud, PhD, of the Scripps Florida Department of Immunology & Microbiology. Sundrud's research focuses on bringing precision medicine to patients with inflammatory bowel diseases, especially Crohn's disease. Approximately 1 million people in the United States suffer from Crohn's disease, Sundrud told the group. It causes nearly 190,000 hospitalizations annually, according to the National Institutes of Health. Sundrud described his recent discovery that approximately one in 10 Crohn's disease patients show deficiency in a gene called MDR1, leading to immune intolerance and regional small bowel inflammation in the presence of bile acids. Often, people with this mutation are forced to have damaged sections of their bowel surgically removed, he explained, making it urgent that a disease-modifying treatment be found.
Sundrud told the Suds & Science attendees that he had identified a safe, targeted therapy that can act locally in the small intestine to reduce chronic inflammation without inducing general immune suppression, a problematic side-effect of current treatments. With additional study, his research stands to benefit patients with MDR1 mutations within the next 1–2 years, provided the funding, he said.
The next Suds & Science lecture will be held June 21. Chemist Matthew Disney, PhD, will speak about the potential application of his RNA therapeutics research program to benefit people with cystic fibrosis and other diseases. RSVP online
Update: The Town Hall date has been moved to July 10. The time of this event will remain the same: 10 a.m. to noon in California and 1:00 to 3:00 p.m. in Florida.
To accommodate everyone, we're expanding the viewing locations:
California faculty should go to the Keck Amphitheater (BCC1)
California postdocs, grad students and staff scientists may go to the Keck Amphitheater OR the Committee Lecture Hall (MBB2N)
California administrative staff should go to the Auditorium on the Hazen campus
Florida faculty and staff should go to the Auditorium (B157)
Refreshments will be served on both campuses following the Town Hall.
Phil Baran, PhD, professor in the Department of Chemistry, will continue the Faculty Lecture Series on Wednesday, June 13, with a presentation, "Translational Chemistry."
The lecture begins at 4 p.m. in The Committee Lecture Hall in the Skaggs/Molecular Biology Building (MBB2N), followed by a reception in the Beckman Building first-floor galleria.
For further information, see the  Faculty Lecture Series webpage. The series is supported by an endowment from the Cochrane-Cartan families, established by Scripps Research Professor Emeritus Charles G. Cochrane.
The next onsite immunization clinic on the California campus will be held Wednesday, June 20, from 9:30 to 11 AM, in the Hazen Theory building, rooms 203/205. Appointments are not needed. 

Conducted by Sharp Rees-Stealy staff, the clinic will provide hepatitis B vaccination free of charge to all TSRI employees. Environmental Health & Safety Occupational Medicine must pre-authorize all other procedures based on the employee's working conditions. These procedures include tetanus, diphtheria and pertussis (Tdap) vaccines and other titers, immunizations and procedures.  




Send comments to: press[at]scripps.edu