TSRI Graduate Students Honored by ARCS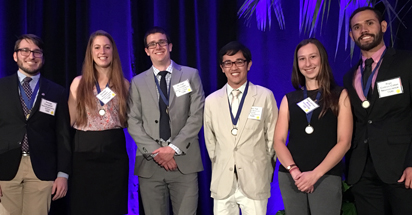 A group of outstanding TSRI graduate students was honored on April 28 at the Sheraton San Diego Hotel and Marina as part of the San Diego Chapter of the ARCS (Achievement Rewards for College Scientists) Foundation 2017 Scientist of the Year Dinner. The photo above shows this year's ARCS scholars: (left to right) George Campbell (Encalada Lab), Danielle Grotjahn (Lander Lab), Michael Ledbetter (Romesberg Lab), John Tat (Reed Lab), Margarete "Daisy" Johnson (Havran Lab), and Rigo Cintron-Colon (Conti Lab). ARCS scholar Chris Cottrell is not pictured. Also in attendance were TSRI deans, faculty and administration.
For the last 20 years, the ARCS Foundation has generously supported TSRI graduate students through ARCS Scholar Awards. ARCS is a national organization dedicated to advancing science in the United States through grants to academically outstanding U.S. citizens pursuing degrees in science, engineering or medical research.




Send comments to: press[at]scripps.edu