Postdoc Open Mic Night Brings Together Scientists from Industry and Academia
By Verena Albert, TSRI Postdoctoral Fellow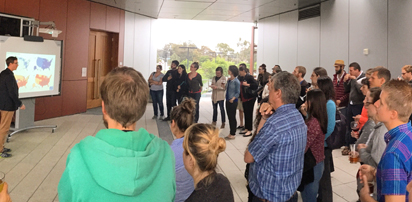 Scientists from across San Diego gather to listen to an Open Mic Night presentation. (Photo by Verena Albert.)
On April 19, as the sun was setting beyond the Torrey Pines cliffs, it was finally time to start off the fourth season of the Postdoc Open Mic Night series at the Bella Vista Social Club and Caffe. This monthly event was initiated three years ago by Ben Leach, a postdoctoral fellow at The Scripps Research Institute (TSRI), who wanted to give local San Diego scientists a possibility to present their research outside of their institute.
This event will be held several times in 2017 and postdocs and advanced graduate students from seven local research institutes, including TSRI; the University of California, San Diego; Salk; Sanford Burnham Prebys Medical Discovery Institute; the California Institute for Biomedical Research (Calibr); Janssen and the La Jolla Institute For Allergy and Immunology have the opportunity to give five-minute basic science talks. These talks are judged by guest judges from industry and academia. The best speaker of each evening will be invited back to a season finals night, where the ultimate winner of the 2017 Postdoc Open Mic Night series will be chosen.
The first event of this year's Postdoc Open Mic Night series had a great turn out with around 50 attendees from both industry and academia. The evening started off with short talks from the invited guest judges, Scott Struthers (CEO of Crinetics and co-founder of the San Diego Entrepreneur Exchange) and Stephane Richard (COO of CureMatch), giving exciting insight into what their respective companies are currently working on.
These talks were followed by the first competitive speaker of the evening, Samuel LaBarge, a postdoc from UC San Diego, who's talk focused on how protein acetylation affects insulin signaling and glucose uptake during obesity and diabetes. The second speaker was Stephanie Papp, a graduate student from TSRI. Papp's research showed that disruption of the circadian rhythm in mice leads to increased tumor growth and decreased survival in cancer models. The final speaker of the night was Sheila Rao, a postdoc from Salk. Her research focuses on understanding host-pathogen interactions, and she found that the intestinal pathogen Salmonella secretes factors that signal to the brain, thereby affecting the feeding behavior of the host.
After a short discussion, the judges unanimously declared Rao the winner of the evening, with the feedback that she gave a well-rounded presentation and conveyed excitement for her research to the audience in an excellent way.
Like every Postdoc Open Mic Night, the recent event was followed by Happy Hour and networking, which provided a great opportunity for postdocs and graduate students to meet and discuss science with people from local institutes, as well as industry, in a relaxed low-key environment.
Postdocs, students, faculty and staff at TSRI are welcome to join the next Postdoc Open Mic Night, scheduled for Wednesday, May 17 at 6 PM at the Bella Vista Social Club and Caffe. The judges of the event will be Laure Escoubet from Celgene and Anders Brunmark from Janssen R&D.
Send comments to: press[at]scripps.edu