Thomas Kodadek Elected NAI Fellow
Thomas Kodadek, chair of the Department of Cancer Biology on the Florida campus of The Scripps Research Institute (TSRI), has been named a Fellow of the National Academy of Inventors (NAI).
This distinction recognizes academic inventors who have demonstrated a prolific spirit of innovation in creating or facilitating outstanding inventions and innovations that have made a tangible impact on quality of life, economic development and the welfare of society. 
Kodadek's research focuses on chemical biology with an emphasis on translational research, employing a broad spectrum of techniques that span organic chemistry and molecular genetics, with implications for Alzheimer's, neuromyelitis optica, multiple sclerosis, pancreatic cancer, narcolepsy, chronic lymphoid leukemia and other conditions. 
Election as an NAI Fellow is an honor bestowed upon academic inventors and innovators by their peers. This year's 175 new Fellows are named inventors on 5,437 issued U.S. patents, bringing the collective patents held by all 757 NAI Fellows to more than 26,000.
Kodadek joins four other NAI Fellows among the TSRI faculty, including President Peter Schultz. This year's class will be presented with a special trophy, medal and rosette pin during the Sixth Annual Conference of the National Academy of Inventors in Boston in April.
For more information on Kodadek's work, please visit his faculty webpage and lab website.
Seven graduate students at The Scripps Research Institute (TSRI) have received Scholar Awards from the San Diego chapter of the Achievement Rewards for College Students (ARCS) Foundation, a national organization dedicated to advancing science in the United States through grants to academically outstanding U.S. citizens pursuing degrees in science, engineering or medical research.
The award recipients are
Danielle Grotjahn
Chris Cottrell
Michael Ledbetter
Daisy Johnson
John Tat
George Campbell
Rigo Cintron-Colon
This year also marked the twentieth anniversary of the first ARCS scholarships given to TSRI students. The program is funded through corporate, foundation and individual donors.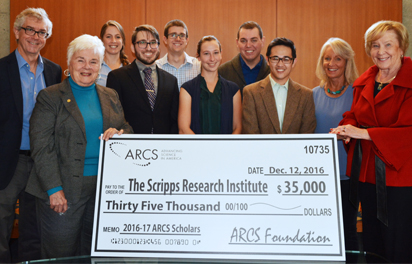 Leaders from the ARCS San Diego Chapter visited the California campus of TSRI on December 12, 2016 to present the awards to this year's scholars. From left to right are: James Williamson, dean of graduate studies and vice president of academic affairs; ARCS Chapter President Mary Fitz; ARCS Scholars Danielle Grotjahn, George Campbell, Michael Ledbetter, Daisy Johnson, Chris Cottrell and John Tat; Kim Doren, ARCS member; and ARCS Chapter VP/President Elect Helga Moore. (Photo by Madeline McCurry-Schmidt.)




Send comments to: press[at]scripps.edu