Kristin Baldwin Wins NIH Pioneer Award
Kristin Baldwin, associate professor at The Scripps Research Institute (TSRI), has won a 2016 Pioneer Award, part of the National Institutes of Health (NIH) High-Risk High-Reward (HRHR) Research Program recognizing highly creative and exceptional scientists with bold approaches to major challenges in biomedical research.
"The [HRHR] program continues to support high-caliber investigators whose ideas stretch the boundaries of our scientific knowledge," said NIH Director Francis S. Collins. HRHR seeks to identify scientists with ideas that have the potential for high impact, but may be at a stage too early to fare well in the traditional peer review process. The award totals more than $6.7 million over five years.
An investigator at TSRI's Dorris Neuroscience Center, Baldwin was cited for her work in harnessing "technologies such as cloning, reprogramming by transcription factors, genome editing and genomics to explore how the genome builds complex self-assembling systems." Her Pioneer Award research, titled "Defining a Transcriptional Periodic Table of the Human Brain using Reprogramming," aims to develop improved methods to study human neurobiology and neurologic disease by learning how to turn skin cells into diverse types of human neurons in a petri dish.
For additional information on Baldwin's work, visit on her biosketch and the lab website.
Representatives of The Scripps Research Institute (TSRI) and Tsinghua University met recently to advance potential research and educational collaborations. Areas to be explored include a joint PhD program and a variety of biomedical research projects.
After TSRI President Peter Schultz and Tsinghua University President Yong Qiu signed a formal memo of understanding, the Chinese delegates were invited to tour the seaside California campus, including the institute's advanced cryo-electron microscopy facilities.
After the TSRI tour, the Chinese delegates went on to visit the nearby California Institute for Biomedical Research (Calibr).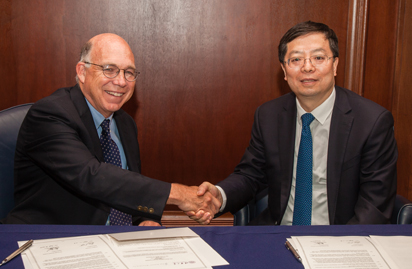 TSRI President Peter Schultz (left) and Tsinghua University President Yong Qiu shake hands after signing a memo of understanding that paves the way to joint research and educational programs. (Photo by John Dole.)




Send comments to: mikaono[at]scripps.edu