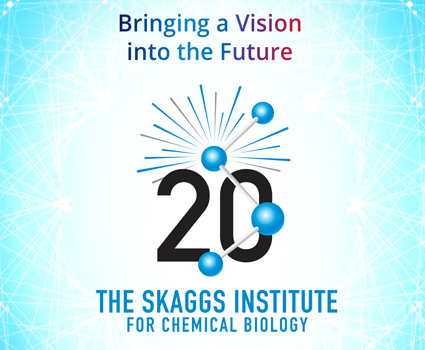 The Scripps Research Institute (TSRI) recently celebrated the 20th anniversary of a pivotal moment in TSRI's history—the gift of $100 million from the Skaggs family through its ALSAM Foundation to found the Skaggs Institute for Chemical Biology at TSRI.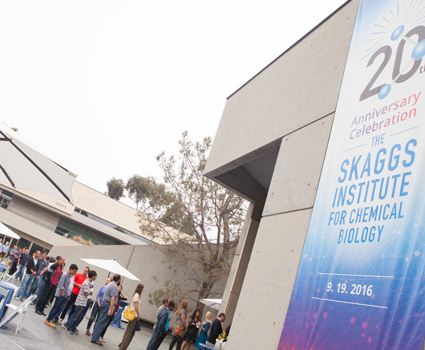 Members of the TSRI community came together on September 19 to celebrate the Skaggs family and its impact on the institute, science and medicine.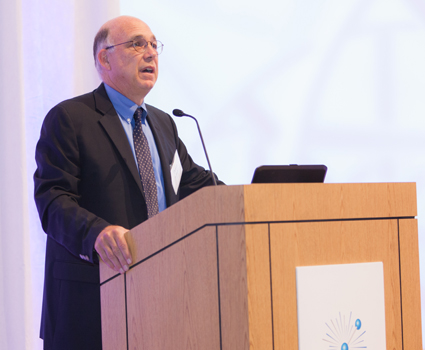 TSRI President Peter Schultz introduced the proceedings, underlining the broad impact of the Skaggs family's support. "The Skaggs gift allowed researchers like myself and many others in the Scripps family to pursue what they thought was the most impactful science they could do," he said. "There was a massive impact on research and drugs."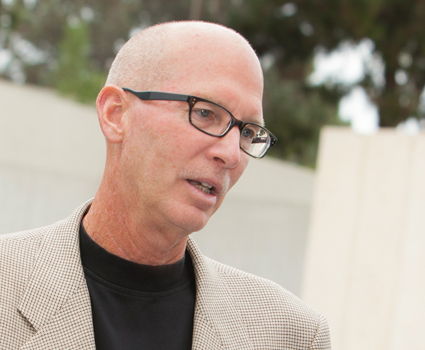 TSRI Professor Kim Janda paid tribute to L.S. "Sam" Skaggs, who took over the family business at age 26, and grew it from 11 to 1,700 stores. When he retired in 1995, the company was worth $22 billion. "There is no doubt he was a wizard in acquisition," says Janda. "Mr. Skaggs was unmatched in the business world."

The family's philanthropic activities have supported causes from underwriting TSRI's NMR facility to building a number of pharmacy schools and supporting programs of the Catholic Church.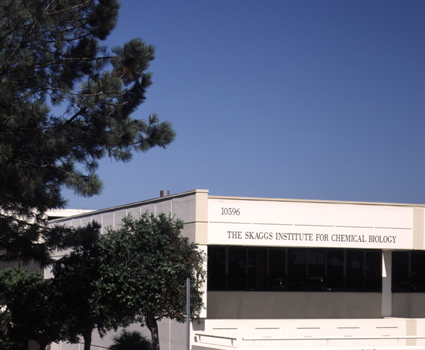 "Translational medicine is alive and well at Scripps and the Skaggs family's tremendous generosity absolutely catalyzed this and continues to catalyze it," said Jeff Kelly, chair of the Department of Molecular and Experimental Medicine, observing that in the 10 years from 2002 to 2012, 30 life sciences companies were spun out of the institute and a number of new drugs based on TSRI research—including Humira®, Surfaxin® and Vyndaqel®—won regulatory approval.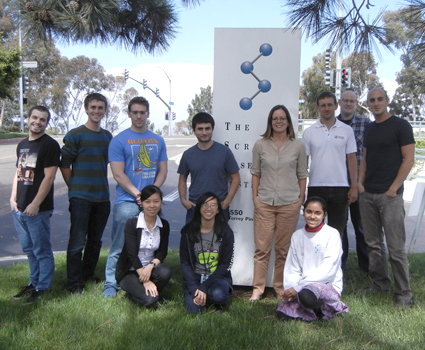 "Making molecules is where innovative medicines begin," said Professor Donna Blackmond. "We are especially proud of the world-class chemistry department that has been built here at Scripps. By any any objective measure, we rank one of the top departments in the country… The generosity of the Skaggs family has helped Scripps scientists and research trainees become worldwide leaders in biomedical research..."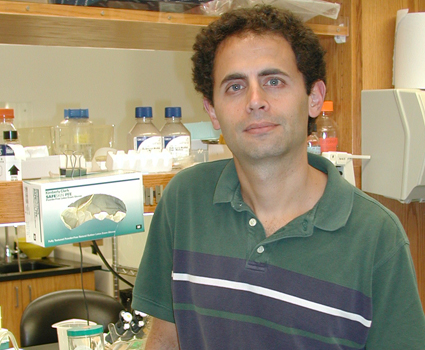 "I was the first assistant professor hired in the Skaggs Research Institute, which means that the first few years of our existence every reagent, every dollar we spent on trainees came from the Skaggs support," said Ben Cravatt, chair of TSRI's Department of Chemical Physiology. "Those formative years were indebted to the generosity of the Skaggs family. Thank you so much for helping us launch our lab in such a powerful and transformative way."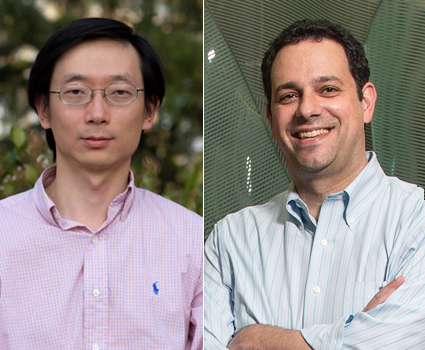 "Outstanding individuals who were trained here are now elsewhere… operating independent research groups, highly successful in both academia and industry," Cravatt continued, citing scientists including Sheng Ding (left), now of the Gladstone Institutes, and Alan Saghatelian, now of the Salk Institute.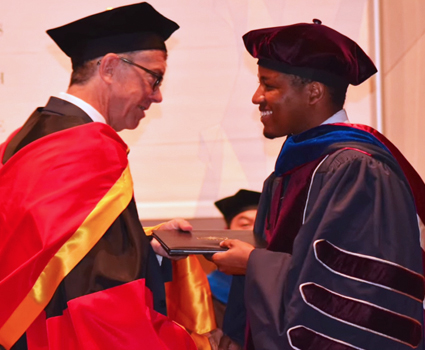 About 200 students currently attend TSRI's top-ranked graduate program in biology and chemistry, which now has more than 600 alumni around the world. "The Skaggs gift was really instrumental in establishing this outstanding training program," said Jamie Williamson, dean of graduate and postgraduate studies. "The students have a tremendous and very creative experience while at Scripps. They take that with them and pass it on to their own trainees. So the gift was transformative and continues to multiply through the chain of mentorship."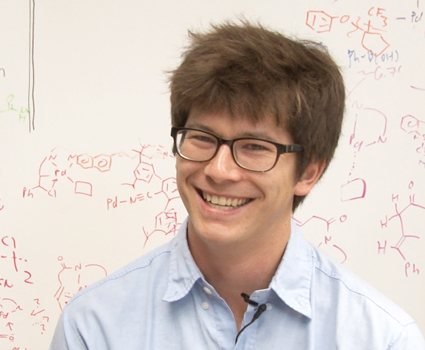 Williamson also acknowledged a recent $2 million gift that the family's ALSAM foundation made to endow a fellowship for exceptional students, as well as the family's establishment of the Skaggs-Oxford Program, which has graduated 10 students (including TSRI Assistant Professor Keary Engle, shown here) with a joint PhD-DPhil degree. "Oxford had never entered into a joint degree program with any other institution in its 800-year history," noted Williamson.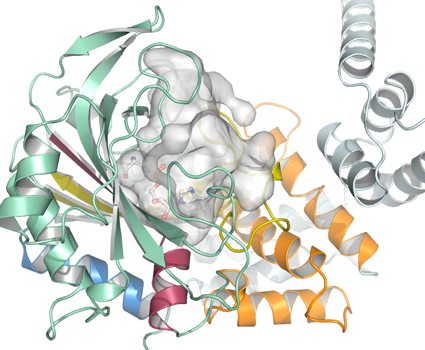 Professor Paul Schimmel spoke about how the Skaggs gift impacted his own research on tRNA synthetases, leading to the development of a broad new class of therapeutics to treat and cure human diseases.

Schimmel ended on a philosophical note, "I would say that the Skaggs family in a very fundamental and simple sense has provided the answer to the question we all ask: What is the road ahead? Where are we going? Where is my life headed? The answer is we don't need any road."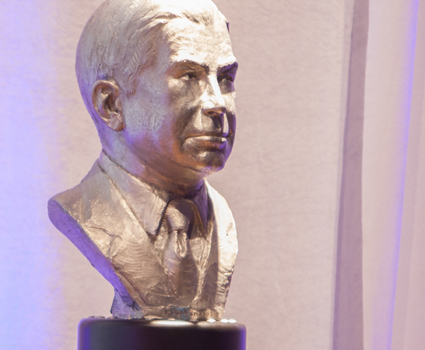 "The Skaggs gift has really played a pivotal role in establishing Scripps as one of the leading scientific institutions in the world and that's a great foundation that we are going to build on," said Schultz.

He then unveiled a bust of L.S. "Sam" Skaggs, which will be displayed in a prominent location on the Scripps California campus.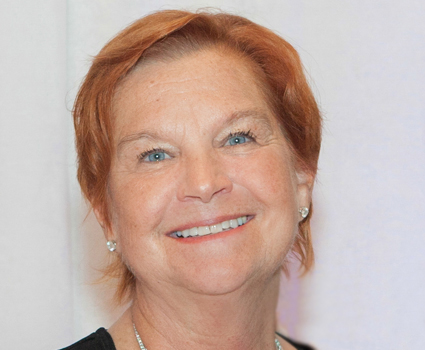 TSRI Trustee Claudia Skaggs Luttrell concluded: "Dad's philosophy was grounded in a strong belief that biomedical science must translate into new medicine to treat disease, new diagnostic tests, and new methods to prevent disease," she said. "If he were here today, he would be amazed at the advancements in medical research and he would be more proud of the young researchers coming out of Scripps. To the faculty and students of Scripps, we want to thank you for honoring our father's vision of excellence and medical research for the betterment of mankind."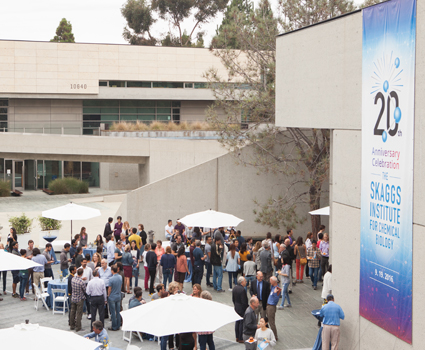 After the presentations, the campus-wide celebration continued with an outdoor reception.

***













Event photos by Melissa Jacobs
Story by Mika Ono
Design by Jann Coury