'Audacious Goals' Initiative Funds Work by Hollis Cline and Colleagues
Research co-led by Hollis Cline, Hahn Professor of Neuroscience and chair of the Department of Molecular and Cellular Neuroscience at The Scripps Research Institute (TSRI), has been selected as one of six projects funded by the National Eye Institute's (NEI) $12.4-million Audacious Goals Initiative, a targeted effort to restore vision by regenerating neurons and their connections in the eye and visual system.
"Understanding factors that mediate the regeneration of neurons and the growth of axons is crucial for the development of breakthrough therapies for blinding diseases," said Paul A. Sieving, director of NEI, part of the National Institutes of Health. "What we learn through these projects will have a health impact beyond vision."
In their research project, titled "Molecular discovery for optic nerve regeneration," Cline and colleagues, including TSRI Professor John Yates III, Stanford University's Jeffrey L. Goldberg and Andrew D. Huberman and Harvard University's Larry Benowitz, hope to identify genes and proteins that impact the ability of retinal ganglion cells to regenerate, grow axons to a target and become functional. Promising molecular candidates will be investigated in longer-term animal studies designed to assess changes in vision.
For additional information on Cline's research, visit her faculty webpage and lab website; for more information on Yates, visit his faculty webpage and lab website.
TSRI has been named the Best Biomedical Science Research nonprofit organization in the United States by GHP, a United Kingdom-based publication covering human, animal and environmental health.
According to GHP publishers, the awards are given "solely on merit and are awarded to commend those most deserving for their ingenuity and hard work, distinguishing them from their competitors and proving them worthy of recognition."
A complete list of the 2016 award winners is available on the GHP website.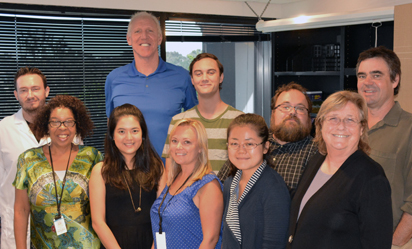 TSRI Professor Jeanne Loring and lab members recently showed U.S. basketball legend Bill Walton, his wife, Lori, and friends around the lab, explaining stem cells and their potential to treat Parkinson's disease. Above, Walton (rear) poses with Loring (second from right) and lab members (left to right) Jason Stein, Yvette DeFreece, Eveline Lee, Candace Lynch, Todd Anzelon, Ai Zhang, Ronald Coleman and Roy Willliams. (Photo by Cindy Brauer.)




Send comments to: mikaono[at]scripps.edu