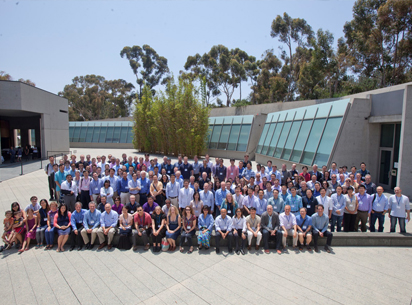 Members and former members of the Schultz lab gathered for a three-day reunion and celebration, including an all-day symposium. Above, attendees pose for a group photo on TSRI's California campus. See also larger image. (Photo by John Dole.)
Izard Lab Receives $1.6 Million Grant Renewal
The Scripps Research Institute (TSRI) laboratory of Associate Professor T. Izard has been awarded a $1.6 million grant renewal from the National Institute of General Medical Sciences of the National Institutes of Health.
The four-year renewal will allow the lab to continue to study the balance between cell migration and cell-cell adhesion, which is crucial during development and is altered in disease states such as metastatic cancers. Strong cell-cell adhesion is necessary in maintaining tissue integrity.
This work should significantly increase the understanding of membrane dynamics, migration and cell adhesion, laying the foundation for a better understanding of how these controls are lost during tumor progression and opening the door to new avenues for therapeutic intervention.
The number of the grant is 2R01GM094483.
Scientists from TSRI's Florida campus will receive $1.2 million over four years to develop new drug treatments for post-traumatic stress disorder (PTSD).
TSRI Assistant Professor Thomas Bannister is a key investigator on the new National Institute of Mental Health (NIMH) grant.
PTSD typically occurs in affected individuals after exposure to highly traumatic life events. According to the Anxiety and Depression Association of America, symptoms can include flashbacks, difficulty sleeping and increased levels of irritation and anger. Sufferers may also experience emotional numbness and avoidance of people or activities that may remind them of the trauma.
There are currently no clinically approved treatments for PTSD.
The new project, which also involves Assistant Professor Shaun P. Brothers of the University of Miami and Professor Kerry Ressler of McLean Hospital/Harvard, will examine compounds designed by Bannister's laboratory that can selectively activate the nociceptin receptor, a brain protein believed to play a role in anxiety and depression. The Ressler/Bannister/Brothers team published a study in 2013 in the journal Science Translational Medicine that shows that the lead TSRI compound SR-8993 lessens PTSD-like symptoms in mice. Other reports had found that PTSD patients have deficits in nociceptin receptor function.
The grant (number R01MH110441), awarded to the University of Miami School of Medicine, supports work to optimize the properties of SR-8993 so it can be further evaluated as a drug candidate. 




Send comments to: mikaono[at]scripps.edu