TSRI Welcomes 2016 Class of Graduate Students
With great enthusiasm, bold ambitions and a passion to make a difference in the world, 45 new graduate students recently arrived on the California and Florida campuses of The Scripps Research Institute (TSRI) to begin a rigorous journey toward earning a doctoral degree in the chemical and biological sciences.
The new class of students joins TSRI from across the country and around the world, bringing backgrounds and experience as diverse as the places they call home. From Columbia and China to Denmark and Pakistan, the new international students add cultural perspectives that will further enrich the already global community of TSRI.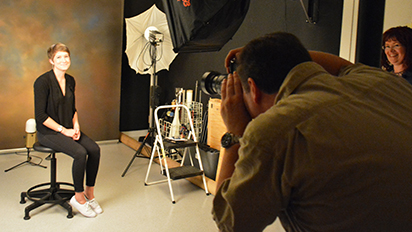 New TSRI students are currently attending orientations and going through on-boarding procedures, including having their portrait taken. Here, Meghan Baker is photographed by Dave Freeman (right), multi-media technician at Scripps California. (Photo by Madeline McCurry-Schmidt.)
Among students joining the program from the United States, many are making the leap to doctoral studies immediately after earning undergraduate degrees at prominent institutions such as California Institute of Technology (Caltech); Princeton; Wellesley; Rutgers; University of California, Berkeley and Tufts, to name a few. Still others are transitioning from the workforce, often bringing experience from the biotechnology and life sciences industries.
"We are thrilled to welcome the newest class of students to TSRI," said James R. Williamson, dean of graduate and postdoctoral studies. "I am confident that each has what it takes to thrive in Scripps's unique interdisciplinary environment and make significant contributions to the high-impact research happening here every day."
Drawing from the largest-ever pool of applicants to the program, the TSRI admissions committee ultimately selected an incoming class composed of 29 students on the California campus and 16 on the Florida campus, with nearly equal numbers of women and men, 16 international students and six from populations underrepresented in science.
"A major factor in candidate selection is the amount of laboratory research students sought as undergraduates," said Dawn Eastmond, director of graduate studies. "This year, the admissions committee was impressed with students' research-related accolades and extracurricular activities. These included manuscripts in high-impact journals and educational outreach to teachers and students."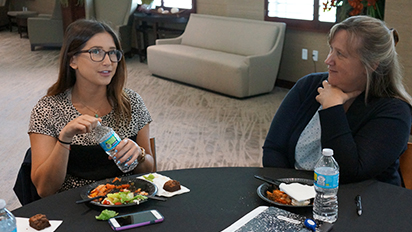 New graduate student Jenna Levy chats with Assistant Professor Patricia McDonald during orientation on the Florida campus of TSRI. (Photo by Jeremy Pyle.)
To ensure a smooth transition for students, TSRI's Office of Graduate Studies each year hosts a series of orientation workshops and seminars to build a firm foundation for student success. Workshops cover topics ranging from ethics in science and laboratory safety to the use of advanced research and analytical software. Faculty members discuss their research at a series of informal seminars, while fundamental techniques are reviewed at week-long "boot camps" in chemistry and structural biology.
"Now that I've defined my path toward immunology and cancer biology, I'm looking forward to exploring new targets and potentially finding something that could be a cancer treatment—that really excites me," said Rebecca Goydel, a recent graduate of Fairmont State University in West Virginia and an alumna of TSRI's SURF program, where she conduced research in Scripps Florida's Rader lab.
After orientation, students begin the process of identifying a lab where they will conduct their graduate studies. This is accomplished by completing 10- to 12-week-long "rotations" in one or more faculty members' laboratories where students look for one in which they can be passionate about the science and feel supported in their training.
The first year also consists of coursework, which students can customize by selecting topics and research themes aligned with their interests. Reflecting the highly interdisciplinary nature of TSRI's research environment, students are encouraged to select courses that bridge different disciplines in biology and chemistry.
Once students complete rotations, select a laboratory and begin their dissertation work, they can also customize the focus of their research to gain exposure to any discipline they choose.
When their journey to a doctoral degree is completed in five or six years' time, students have the opportunity to continue their scientific training in a postdoctoral research position, begin a career in industry or pursue an entirely different path. Whatever their choice, they will move forward with the knowledge, judgment and unique perspective afforded by their experiences in TSRI's top-ranked graduate program.
Send comments to: press[at]scripps.edu