Courtney Miller Wins Presidential Early Career Award
Courtney Miller, associate professor on the Florida campus of The Scripps Research Institute (TSRI), has been selected to receive a Presidential Early Career Award for Scientists and Engineers, the highest honor bestowed by the United States government on young professionals at the outset of their independent research careers.
"These early-career scientists are leading the way in our efforts to confront and understand challenges from climate change to our health and wellness," President Barak Obama said in a statement. "We congratulate these accomplished individuals and encourage them to continue to serve as an example of the incredible promise and ingenuity of the American people."
In a process involving 12 federal agencies and coordinated by the Office of Science and Technology Policy within the Executive Office of the President, the award winners are selected annually based on two criteria: innovative research at the frontiers of science and technology, and commitment to community service as demonstrated through scientific leadership, education or community outreach.
The focus of Miller's lab at Scripps Florida is developing therapeutics for memory disorders, including addiction, post-traumatic stress disorder and Alzheimer's disease, with a focus on synaptic and neuroepigenetic contributors.
She began studying the role of memory and addiction as a graduate student at the University of California, Irvine. In 2005, she moved to the University of Alabama, Birmingham, for postdoctoral work in the then-nascent field of neuroepigenetics, studying the contribution of DNA methylation to memory. There, she made the fundamental discovery that DNA methylation can serve as a rapid and dynamic regulator of memory formation and storage in the brain. She moved to Scripps Florida in 2009.
Miller, who is an associate editor of the Elsevier journal Neuroepigenetics and 2015 Scripps Outstanding Mentor of the Year, has a passion for advancing women in science and is co-founder of the Professional Women's Nexus, a 400+ member group with a mission to improve the advancement rate of women in academia and industry.
As a Presidential Early Career Award honoree, Miller will receive up to a five-year research grant to further her scientific investigations. The winners will receive their awards at a Washington, DC ceremony this spring.     
Previous recipients of the Presidential Early Career Award include TSRI Professors Erica Ollmann Saphire and Marisa Roberto.
Max Ferretti, a fourth-year graduate student in the Karbstein lab at Scripps Florida, has received a pre-doctoral National Research Service Award (NRSA) from the National Institute of General Medical Sciences. The award supports promising doctoral candidates with the potential to become productive, independent investigators in the neurosciences.
A graduate of New College of Florida, Ferretti's project, "Understanding the basis of mRNA selectivity using ribosomes lacking Rps26," focuses on deficiencies in ribosome construction that lead to diseases that paradoxically also include both growth defects and cancer. 
The recent TSRI Alumni Association kick-off event offered a trio of speakers and a networking reception for former—and current—research associates and graduate students at the institute. Presentations by TSRI Professor Phil Baran (Class of 2001); John Hood, chief scientific officer, Samumed (TSRI postdoc 1998-2002); and Alan Ezekowitz, president/CEO Abide Therapeutics, focused on the importance of establishing personal networks for success in academia as well as in industry.
In addition, Alumni Association President Goran Pljevaljcic provided a description of the group's mission and plans to "connect alumni with each other and the institute to facilitate mutually beneficial relationships."
To join the association, visit the alumni LinkedIn group. For more information, contact info@alumni.scripps.edu.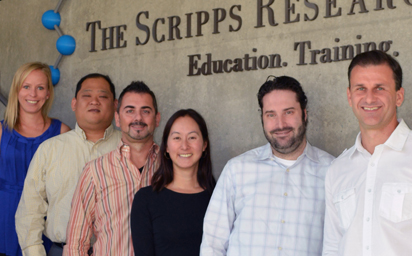 The TSRI Alumni Association Board includes (left to right) Sheena Sayman, Edward Cho, Goran Pljevaljcic, Debbie Liao, Jack Scatizzi and Geza Ambrus-Aikelin. (Photo by Cindy Brauer.)
Scripps California's Nemazee, Havran and Ollmann Saphire labs recently hosted a group of San Diego Girl Scouts and their leaders, explaining their work in immunology research. After participating in a session on lab safety and donning safety glasses, gloves and gowns, the Scouts toured the labs, peering through microscopes at skin cells, handling 3D molecular structures of the Ebola virus and learning about science protocols.
The Scouts, ranging in age from 13 to 18, were also introduced to the wide variety of possible careers in STEM and STEAM fields. They declared the lab experiences and tour "cool." 



TSRI Professor Erica Ollmann Saphire (left) explains the molecular structure of the Ebola virus to visiting Girl Scouts. (Photo by Cindy Brauer.)




Send comments to: mikaono[at]scripps.edu