Saturday Science: Going Beyond the Textbooks
By Madeline McCurry-Schmidt

On February 6, The Auditorium at The Scripps Research Institute (TSRI) was filled with the sounds of laughter, applause and the occasional "ew!"
About 100 students from five San Diego area high schools were visiting campus for TSRI's Saturday Science program, a series of biology and chemistry lectures, lab tours and demonstrations.
The lecture that day, presented by TSRI Assistant Professor Dennis Wolan, was a lively introduction to microbiology and the bacteria living in our intestines and on our skin.
"Whether you like it or not—you are a walking petri dish," said Wolan.
For local teachers, Saturday Science is a unique way to expose students to biomedical research and future career options. "I'm always trying to find ways to get my students real-world experience," said Joshua Hill, a chemistry teacher at Mar Vista High School.
Now in its second year, the program is funded by the Farrell Family Foundation and overseen by TSRI's Office of Graduate Studies, with the support of TSRI Professor Art Olson, TSRI Professor Emeritus Charles Cochrane and volunteer Shirley King.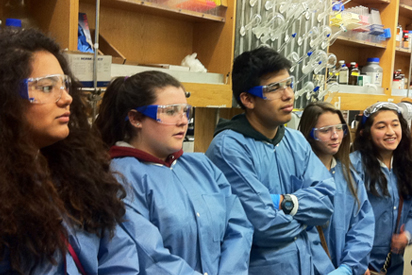 High school students from Lighthouse Christian Academy watch a chemistry demonstration in Dale Boger's lab as part of TSRI's Saturday Science program. (Photo by Madeline McCurry-Schmidt.)

Exploring Science Careers
The recent event went beyond microbes. After the lecture, students were paired with TSRI graduate student volunteers, who hosted tours and demonstrations in the labs where they work. Groups saw demonstrations including floating magnets in TSRI's Nuclear Magnetic Resonance Facility and red blood cells under a microscope in Professor Velia Fowler's molecular biology lab.
"I see myself going into research," said Caytlin Rico, a senior at Mar Vista High School. "Going to Saturday Science helped me see what my future could be like."
Over in TSRI's Arnold and Mabel Beckman Center for Chemical Sciences, students from Lighthouse Christian Academy learned about chemical reactions and saw liquid nitrogen turn cream into ice cream.
"Chemistry is a subject you actually have to see to understand," said Erika Fernandez, a senior at Lighthouse Christian Academy.
Amy Arita, an instructor at Lighthouse Christian Academy, said the demonstrations reinforced what the students had recently learned in their textbooks.
"They were really excited for today," Arita said. "This is a great opportunity."
The next Saturday Science event will be held April 23, 2016, and will feature a lecture by TSRI Professor Erica Ollmann Saphire, who studies viruses including Ebola.
For more information on the Saturday Science program, visit http://education.scripps.edu/community/california/science_saturdays/index.html.
Send comments to: press[at]scripps.edu