Ryan Shenvi Honored by the Royal Society of Chemistry
Ryan Shenvi, associate professor at The Scripps Research Institute (TSRI), has been awarded the Royal Society of Chemistry Natural Product Reports (NPR) 2016 Lectureship, which recognizes an early-career, independent scientist for significant contributions to natural products-related research.
NPR, one of 40 leading journals published by the United Kingdom's Royal Society of Chemistry, is a critical review journal focusing on related research areas such as isolation, structural and stereochemical determination, biosynthesis, biological activity and synthesis.
Shenvi will select a conference at which he will deliver the NPR lecture. The Shenvi lab works to develop efficient chemical syntheses of molecules that are relevant to medicine. Additional information on his research is available on his faculty webpage and lab website.
Eric Topol, TSRI professor and Gary and Mary West Endowed Chair of Innovative Medicine, recently topped the list of Twitter influencers in the field of life sciences, as determined by the online social media tracker Rise.
Topol ranked number one in three key Twitter metrics for the week of November 5 to 12, scoring 6,340 @mentions, 4,899 retweets and 74,216 followers.
Topol's research focuses on individualized medicine, using the genome and digital technologies to understand each person at the biologic, physiologic granular level to determine appropriate therapies and prevention. For additional information, visit Topol's faculty webpage or lab website.
A complete list of Rise's Top 100 Life Science Twitter influencers is available on the organization's website
TSRI Professor Jeanne Loring has been named the 2015 Stem Cell Person of the Year, an award created by Paul Knoepfler, associate professor at the University of California (UC), Davis School of Medicine and author of "The Niche," a wide-ranging stem cell blog.
Loring was recognized for her exceptional contributions to the stem cell research field in 2015 as well as her years of research, particularly in stem cell epigenetics, and her role as an advocate and educator, said Knoepfler, who is also affiliated with the UC Davis Genome Center and Comprehensive Cancer Center.
"Overall, Jeanne has had a transformative positive impact at least in part via taking risks and thinking outside the box, important criteria for the Cell Person of the Year Award.," Knoepfler added.
The Niche award was the second stem cell research distinction Loring recently received; she was presented the Stem Cell Advocacy Award from the World Stem Cell Summit.
For more information on the award, see Knoepfler's blog; for more information on Loring's work, see her faculty webpage and lab website.
A new TSRI alumni association, whose mission is to connect alumni with each other and the institute, is currently gathering input on how best to serve its constituency. Plans include an "opt-in" directory of former TSRI students and postdocs, a website and LinkedIn presence, and a kick-off networking event in the first quarter of next year.
Interested alumni can join the LinkedIn group, keep an eye on the group's website for updates, and/or complete a two-minute survey.
For more information, contact Goran Pljevaljcic, the group's president, at goran2@yahoo.com.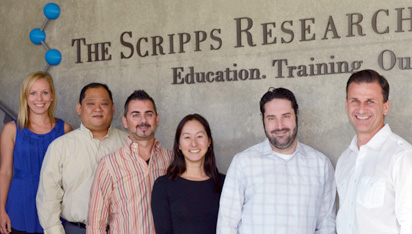 Board members of the new TSRI Alumni Association include (left to right) Sheena Saayman, Edward Cho, Goran Pljevaljcic, Debbie Liao, Jack Scatizzi and Geza Ambrus-Aikelin, as well as Benjamin Pratt (not pictured) (Photo by Cindy Brauer.)
Joe Jardine, research associate in the Schief lab, is one of just two dozen recipients of a 2015 Helen Hay Whitney Fellowship, three-year grants to support early-career researchers in basic biomedical science. Jardine's research focuses on guiding rational vaccine design by antibody repertoire analysis.
Established in 1947, the New York City-based Helen Hay Whitney Foundation aims to invest in the development of career scientists who contribute through both their own research and, eventually, their training of future generations of scientists.
They came from all over Palm Beach County, approximately 100 middle and high school girls who were looking for some high-energy, hands-on experience in the fields of science, technology, engineering and mathematics (STEM). The day-long program, free to all participants, was organized by the Women's Foundation of Palm Beach County and held on the Scripps Florida campus.
The girls attended workshops on topics from studying model organisms and comparing their own DNA to that of bacteria and worms to programming small robots and learning how to develop their own websites. Workshops were sponsored by Scripps Florida, Florida Power and Light, 4-H of Palm Beach County, Lion Country Safari, Palm Beach Codes School, Keiser University, Poinciana Elementary STEM Magnet School, NCBW 100 and Max Planck Florida.
After box lunches—and a visit by the local CBS-TV affiliate covering the event—the girls spent the rest of the afternoon discussing how best to market their projects and presenting them to the group.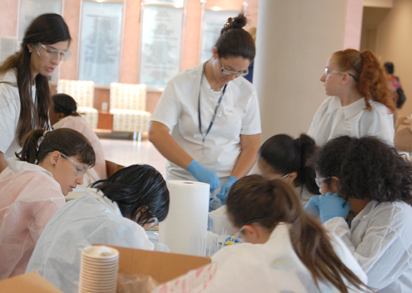 About 100 girls participated in the STEM event on the Scripps Florida campus. (Photo by Eric Sauter.)




Send comments to: mikaono[at]scripps.edu