Analytical Scientist 'Power List' Highlights John Yates, Kurt Wüthrich
The Analytical Scientist has ranked Professor John Yates III of The Scripps Research Institute (TSRI) sixth on its "Power List" of the 100 most influential people in the world of analytical science. TSRI's Kurt Wüthrich, Nobel laureate and Cecil H. and Ida M. Green Professor of Structural Biology, was also among those featured.
In the introduction to the list, the editors write, "Though we realize our list can (and should) never be definitive, who can argue that the faces within—both familiar and new—do not beautifully highlight the brilliance and diversity found within our sometimes undervalued field? Here, we celebrate 100 reasons to be proud of analytical science."
Yates, who focuses on developing tools and strategies in proteomics to answer basic biological questions, shared his story in the May 2015 issue of The Analytical Scientist. Additional information on Yates is available on his faculty webpage and lab website.
For more information on Wüthrich, whose current research includes all aspects of biomolecular nuclear magnetic resonance (NMR) spectroscopy in solution and structural interpretation of NMR data, see his faculty webpage and lab website.
The complete Power List 2015 is available on The Analytical Scientist website.
TSRI Professor Jeanne Loring has received the 2015 Stem Cell Action Advocacy Award, presented by the Genetics Policy Institute to honor the stem cell and regenerative medicine community's top innovators, leaders and champions.
In addition to her research and translational science projects, Loring was cited for her involvement in stem cell research issues, including the ethics of stem cell generation and clinical use, legal implications of stem cell patents and public education about the dangers of unregulated stem cell treatments. Previous award winners include actor Michael J. Fox, financier and philanthropist Denny Sanford and the Christopher and Dana Reeve Foundation.
Loring and four other honorees will be recognized during the 11th annual World Stem Cell Summit in Atlanta, Georgia, in December. For more information on Loring's work, see her faculty webpage and lab website.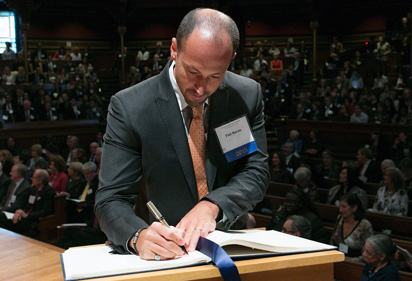 Phil Baran, Darlene Shiley Chair in Chemistry at TSRI, signs a membership book at the recent American Academy of Arts and Sciences induction ceremony in Cambridge, Massachusetts. Baran was one of five speakers at the ceremony. A video of his talk is available on the Academy website. (Photo courtesy of the American Academy of Arts & Sciences.)
Sarbani Ghoshal, senior research associate in the Chakraborty lab in the Department of Metabolism & Aging on the Scripps Florida campus, is one of 10 winners in the Obesity Society's annual Basic Science Section Abstract Competition.
Ghoshal's abstract is titled "The IP6K inhibitor TNP [N2-(m-Trifluorobenzyl), N6-(p-nitrobenzyl)purine] protects mice from high fat diet induced insulin resistance and fatty liver." Her research identifies, for the first time, the anti-obese and anti-diabetic potential of the IP6K inhibitor compound TNP.
She will present the poster and receive her award on November 4 in Los Angeles at an annual meeting of The Obesity Society, a 2,500-member scientific organization dedicated to the study of obesity and its treatment.




Send comments to: mikaono[at]scripps.edu