Brian Lamb Captures First Place in Lighting Talk Competition, Ryan Hoffman Takes Second, Benjamin Leach, Third
Brian Lamb, research associate in The Scripps Research Institute (TSRI) Romesberg lab, won the first place Jared F. Purton Memorial Award at the recent Second Annual Lightning Talk Competition, an event sponsored by the Scripps California Society of Fellows (SoF) challenging each participant to summarize his or her research in a clear, entertaining way in just three minutes, using only one slide. Lamb's presentation was titled "Stabilizing the replication of DNA containing artificial genetic information in living organisms."
Taking second place was Ryan Hoffman, research associate in the Ward lab, presenting "Visualization of a Biological Recognition Event." In third place was Benjamin Leach, research associate in the Wright lab, presenting "Envisioning invisible amyloidogenic intermediates using NMR spectroscopy."
Other Lightning Talk finalists were Natalie de Val, Sunitha Rangaraju, Sucharita Somkuwar, Sheena Saayman, Elena Federzoni and Fernando Spiller.
The event's keynote address was delivered by Ian Wilson, Hansen Professor of Structural Biology and chair of TSRI's Department of Integrative Structural and Computational Biology. Other faculty members giving lightning talks were Donna Blackmond, Candice Contet, Yang Dai, Sandra Encalada, Elizabeth Getzoff, Barbara Mason, Anton Maximov, Floyd Romesberg, Gary Siuzdak, Andrew Su and Jamie Williamson.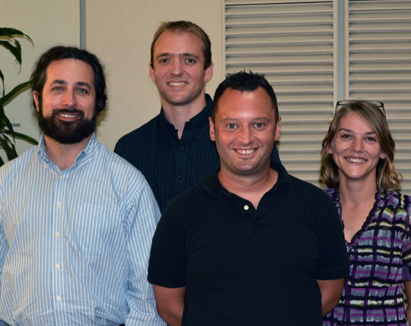 Winners of the 2015 SoF Lightning Round Competition were Brian Lamb (center, back), Ryan Hoffman (left) and Ben Leach, here with Jessica Mayeux, event chair. 




Send comments to: mikaono[at]scripps.edu