Michael Oldstone, Courtney Miller Named 2015 TSRI Outstanding Mentors
By Cindy Brauer

While they work on different coasts, The Scripps Research Institute's (TSRI) faculty, Michael B.A. Oldstone and Courtney Miller share a commitment to nurturing and guiding early-career scientists that has earned them recognition as 2015 Outstanding Mentors, awards sponsored by the Scripps California Society of Fellows (SoF) and the Scripps Florida Society of Research Fellows (SRF).
Michael Oldstone: SoF Outstanding Mentor
Oldstone, a professor in the Department of Immunology and Microbial Science on the California campus, was recognized for consistently and enthusiastically serving as an effective mentor to primarily postdoctoral fellows as well as graduate students.
Oldstone began his career at TSRI in 1966 as a postdoctoral fellow under Frank Dixon, who was a key figure in establishing biomedical laboratory research at the institute (then Scripps Clinic and Research Foundation). A noted virologist, Oldstone has mentored 78 postdoctoral fellows and three graduate students, 90 percent of whom now hold fulltime academic positions, including department chairs and heads of institutes and research centers. Many now are also leaders in the fields of virology, immunology and neuroscience.
According to Oldstone, his goal as a mentor is "to train independent scientists to do independent research in their own independent laboratories." He has developed several mentoring "principles" during his years of teaching, guiding and advising mentees:
You have to work on an important problem to do important research
In research, go for the jugular—pursue the essential insight
Be true to yourself
Don't believe anything until you can confirm or repeat it yourself
There is more to life than research—enjoy family, culture, nature, etc.
Commitment and passion are critical
Postdocs and graduate students consistently cite Oldstone's love and passion for science, ability to discern mentees' strengths and weaknesses and guide them accordingly and his practice of rigorous science and constructive advice. Comments include:
"Michael Oldstone's scientific excellence is paired with a very generous, open and warmhearted personality. He is a man with profound knowledge about culture and history reaching the Renaissance ideal of a scientist."
"Beyond Michael's advice, the other invaluable gift he gives his postdocs is freedom—to think independently, to reach our own conclusions and to pursue the research we think is interesting."
"I have had few mentors that have so gracefully managed to allow his mentees to have both successes and failures while offering unfiltered opinions of the merit and progress of the scientific work performed in his laboratory. This type of mentorship has provided us with motivation to success, while allowing us to learn from our mistakes."
As part of the award, Oldstone will receive $500 to support professional development, training or team-building activities in his lab.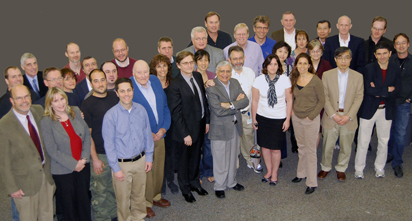 Professor Michael Oldstone (mid-center, left in blue sweater) is seen here surrounded by many of his former postdoctoral fellows who traveled from across the United States, Canada, Denmark, France, Spain, Germany, Austria and Japan in 2012 to attend a special symposium honoring Oldstone for his many years of mentorship.
Courtney Miller: SRF Outstanding Mentor
Miller, an associate professor in the Departments of Metabolism & Aging and Neuroscience on the Florida campus, was honored for accessibility, supportiveness, propensity for providing constructive criticism and concern for mentees' future careers. Miller, who joined the TSRI faculty in 2009, focuses her research on developing novel therapeutics for the treatment of memory disorders by targeting the epigenetic and synaptic contributors.
The award was announced at the recent SRF Research Fest. Miller will receive a plaque and present an award lecture, followed by a reception, on Wednesday, October 7.
A former gymnast and diver, Miller credits her mentoring style to some of her coaches, who tailored their approach to individual athletes. "In science, that means identifying the strengths and weaknesses of each person, as well as what motivates them," she said.
In addition to scores of postdocs, graduate students, undergraduates and high school students, Miller has mentored hundreds of female researchers through a 400-member professional women's group she founded with a friend.
Miller's mentoring has been rewarded by observing young researchers discover their scientific and personal strengths, and she relishes "creating something from nothing, together" and making contributions to understanding the mind "from the seed of an idea to a completed project."
Her mentees remark on her approachability, support and participation in campus activities, including the summer intern program, SRF Round Table discussions and faculty lectures. Comments include:
"She has been gone above and beyond as a mentor to ensure the I am getting what I need during my time in her lab as well as making sure that I acquire new skills that will not only help me in my career but in life."
"Courtney has renewed my love of science."
"Dr. Miller is an inspiration for working mothers and women. She has a great work-life balance and has proven herself to be a great collaborator and colleague."
The SoF award winner was determined by TSRI's director of education, members of the SoF Executive Committee and the Career and Postdoctoral Services office who reviewed nominations made by current and former postdoctoral fellows and graduate students. Previous winners include M.G. Finn, Ian Wilson, Hollis Cline and Jack Johnson.
The SRF award winner was selected by the SRF Executive Committee based on the number and content of nominations submitted by surveyed postdoctoral fellows and graduate students. Previous SRF Mentor Award winners include Joseph Kissil, Laura Niedernhofer and Christoph Rader.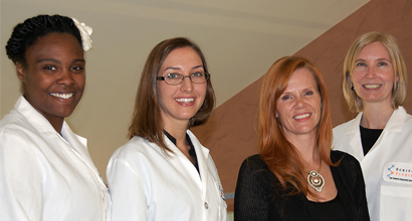 Associate Professor Courtney Miller (second from right), who relishes "creating something from nothing, together" with her lab members, is shown here with Research Associates Sherri Briggs (left) and Ashley Blouin (second from left) and Research Technician Erica Young (right).
Send comments to: press[at]scripps.edu