Ballpark Cheers Scripps Florida Day
Some 350 Scripps Florida employees, family members and friends attended Scripps Florida Day at Roger Dean Stadium on Sunday, March 16, as the New York Mets played the St. Louis Cardinals to a sold-out crowd.
Scripps Florida pennants flew outside the stadium entrances, ballpark employees wore white lab coats and a dozen or more Scripps Florida folks got to spend some quality time on the field during batting practice. Members of the crowd stopped by the Scripps Florida table to mug through the life-size cutouts of scientists at work.
Just before the game, Palm Beach County Commissioner Paulette Burdick presented Dawn Johnson, senior director of scientific operations for The Scripps Research Institute (TSRI) Florida campus, with a framed proclamation officially designating the day as Scripps Florida's.
A few minutes later, Richard Brust, a postdoctoral fellow in Associate Professor Paul Thompson's lab, threw out the first pitch—the fulfillment of a long-standing dream to stand on pitcher's mound surrounded by major league ball players. His throw garnered a round of applause from the packed stadium and co-workers.
According to spectators, the Mets clobbered the Cardinals 10-4.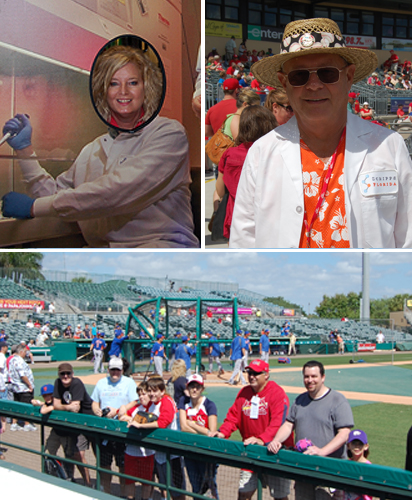 Celebrations of Scripps Florida's 10th anniversary continue. On March 11, the Palm Beach County issued a proclamation declaring the year of 2014, in Palm Beach County, "Scripps Florida's First Decade of Discovery."
The proclamation cited the Jupiter campus's achievements and impact on the local and regional communities, including innovative medical research, contributions to the local biomedical and biotechnology sector, an internationally renowned PhD program and its outreach initiatives, including high school, undergraduate and science teacher internships.
Commissioner Hal R. Valache presented a proclamation plaque to TSRI's Dawn Johnson, senior director of Scripps Florida scientific operations.
Faculty members from Scripps Florida's Department of Metabolism and Aging will participate in a day-long Health and Wellness Festival sponsored by WPBF Channel 25 on Saturday, March 29, at the Gardens Mall. The festival will also feature a presentation by "Dr. Oz," the popular television show host and cardiothoracic surgeon Mehmet Oz.
Department Chairman Roy Smith, Professor Paul Robbins and Associate Professors Laura Niedernhofer and Courtney Miller will present a panel titled "Future of Medicine," sharing information with the community on their research and future advances in medicine.
The panel will appear on the main stage in the mall's Grand Court from 3:15 to 3:45 PM. Scripps Florida will also host a booth at the event. The Gardens Mall is located at 3101 PGA Boulevard in Palm Beach Gardens. For more information see http://www.wpbf.com/health-droz-event
A few spaces remain for the Society of Fellows' (SoF) Industry Bridge Program's (IBP) first 2014 event, an onsite visit to Janssen Research and Development, scheduled for Tuesday, April 1, 8 AM. Open to TSRI postdoctoral fellows and graduate students, the IBP provides opportunities to learn about industry careers, obtain industry exposure, interact with industry scientists and learn how to effectively transition to industry.
Event application eligibility, procedures and guidelines can be found on the IBP webpage. Applications will be accepted on a first-come, first-served basis with preference given to first-time participants. Only fully completed applications will be considered.
A Johnson & Johnson company located in La Jolla, Janssen Research and Development specializes in neuroscience, infectious diseases and vaccines, oncology, immunology and cardiovascular/metabolism.
A typical IBP visit consists of a facilities tour, presentations by the company employees (research, company mission, etc.) and a networking lunch. For information on other SoF activities and resources, visit the group's website.
The Kresge Library has coordinated access to a three-month free trial to the Henry Stewart Talks, Biomedical & Life Sciences Collection. This collection provides access to more than 1,500 online seminar-style talks containing the latest research as well as the fundamentals, presented by the world's leading experts, including a number of Nobel Laureates.
Topics include:
| | |
| --- | --- |
| • Biochemistry | • Immunology |
| • Cancer | • Microbiology |
| • Cell Biology | • Neurobiology |
| • Drug Discovery | • Pharmaceutical Science |
| • Genetics | • Virology |
Specific terms can be searched on the site or by browsing and drilling down through the topics. For example, under "Biochemistry," one subtopic is "Small Molecule Drug Discovery," which then lists related talks including "G-protein coupled receptors in drug discovery" and "Hit to lead," among others.
Features offered include printable PDF handouts of the talk, citation format and embed links (HTML and MS Word). Check out lectures by TSRI scientists.
Users who find this resource helpful and would like the library to subscribe to the service are asked to notify library staff with specific details regarding the value of the resource. Additional comments or feedback can be sent to the Kresge Library at helplib@scripps.edu.
The TSRI Institutional Biosafety Committee is scheduled to meet on Wednesday, April 9, from 3:30 to 4:30 PM, in the DAR Conference Room. To receive committee consideration, registration documents must be submitted to Environmental Health and Safety via email to rachellv@scripps.edu by Friday, March 28.
The next onsite immunization clinic on the California campus will be held one day only—Monday, March 31—from 9:30 to 11:30 AM, in Building 3366, room 150.
Conducted by Sharp Rees-Stealy staff, the clinics provide hepatitis B vaccination free of charge to all TSRI employees. Appointments are not needed. Environmental Health & Safety (EH&S) Occupational Medicine must pre-authorize all other procedures based on the employee's working conditions. These procedures include tetanus, diphtheria and pertussis (Tdap) vaccines and other titers, immunizations and procedures.
TB testing is provided for employees who, in the scope of their TSRI positions, provide human health care, such as registered nurses, or who work with human subjects or nonhuman primates. Employees authorized for the one-visit Quantiferon tuberculosis test may find further information on the Centers of Disease Control TB Fact Sheet.
After EH&S pre-authorization, individuals who cannot attend the onsite clinic may visit the Sharp Rees-Stealy occupational medicine clinic by calling (858) 526-6150. The clinic is located at 10243 Genetic Center Drive, off Mira Mesa Boulevard. For further details, contact Rachel Longville, rachellv@scripps.edu or x4-8457.
Coming to the Auditorium at TSRI on Tuesday, March 25, 7:30 PM, is the Scharoun Ensemble presented by the San Diego Symphony. A leading chamber music organization in Germany, the ensemble joins the symphony in performing musical works spanning traditional to modern. Ticket and other program information is available on the symphony's website.
Mainly Mozart presents a Spotlight Chamber Music concert on Saturday, March 29, 7:30 PM. Musicians Steven Copes, Jeremy Kurts, Yural Lee, Anna Polonsky and Ronald Thomas will perform Shubert's Piano Quintet in A ("The Trout") and Sontata in A minor for Arpeggione and Piano, and Mozart's Adagio in B minor. A wine and cheese reception will be held at 6:30 PM. Visit the Mainly Mozart website for ticket and additional concert details.




Send comments to: mikaono[at]scripps.edu