Ballpark Cheers Scripps Florida Day
Some 350 Scripps Florida employees, family members and friends attended Scripps Florida Day at Roger Dean Stadium on Sunday, March 16, as the New York Mets played the St. Louis Cardinals to a sold-out crowd.
Scripps Florida pennants flew outside the stadium entrances, ballpark employees wore white lab coats and a dozen or more Scripps Florida folks got to spend some quality time on the field during batting practice. Members of the crowd stopped by the Scripps Florida table to mug through the life-size cutouts of scientists at work.
Just before the game, Palm Beach County Commissioner Paulette Burdick presented Dawn Johnson, senior director of scientific operations for The Scripps Research Institute (TSRI) Florida campus, with a framed proclamation officially designating the day as Scripps Florida's.
A few minutes later, Richard Brust, a postdoctoral fellow in Associate Professor Paul Thompson's lab, threw out the first pitch—the fulfillment of a long-standing dream to stand on pitcher's mound surrounded by major league ball players. His throw garnered a round of applause from the packed stadium and co-workers.
According to spectators, the Mets clobbered the Cardinals 10-4.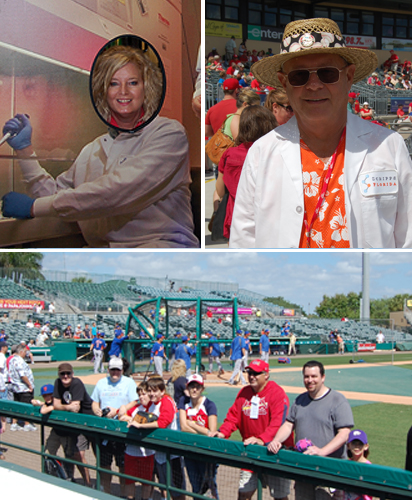 Celebrations of Scripps Florida's 10th anniversary continue. On March 11, the Palm Beach County issued a proclamation declaring the year of 2014, in Palm Beach County, "Scripps Florida's First Decade of Discovery."
The proclamation cited the Jupiter campus's achievements and impact on the local and regional communities, including innovative medical research, contributions to the local biomedical and biotechnology sector, an internationally renowned PhD program and its outreach initiatives, including high school, undergraduate and science teacher internships.
Commissioner Hal R. Valache presented a proclamation plaque to TSRI's Dawn Johnson, senior director of Scripps Florida scientific operations.
Faculty members from Scripps Florida's Department of Metabolism and Aging will participate in a day-long Health and Wellness Festival sponsored by WPBF Channel 25 on Saturday, March 29, at the Gardens Mall. The festival will also feature a presentation by "Dr. Oz," the popular television show host and cardiothoracic surgeon Mehmet Oz.
Department Chairman Roy Smith, Professor Paul Robbins and Associate Professors Laura Niedernhofer and Courtney Miller will present a panel titled "Future of Medicine," sharing information with the community on their research and future advances in medicine.
The panel will appear on the main stage in the mall's Grand Court from 3:15 to 3:45 PM. Scripps Florida will also host a booth at the event. The Gardens Mall is located at 3101 PGA Boulevard in Palm Beach Gardens. For more information see http://www.wpbf.com/health-droz-event




Send comments to: mikaono[at]scripps.edu