Gabriel Ozorowski, a senior research associate in the Ward Lab, has been awarded a prestigious 2017 Mathilde Krim Fellowship in Basic Biomedical Research Grant from amfAR [http://www.amfar.org/], The Foundation for AIDS Research, to support his HIV research and future career development.
Ozorowski uses computational biology, along with cutting-edge techniques in cryo-electron microscopy, to reveal the structures of HIV molecules. His work has uncovered previously unknown structures of Env, the protein on HIV's surface that allows the virus to fuse to host cells. Already, Ozorowski has co-authored over two dozen publications on electron microscopy of viral proteins.
"Gabe is a multi-faceted and talented experimental biologist who seamlessly transitions from the lab bench, to the electron microscope, to the computational realm," said TSRI Professor Andrew Ward. "He has become an intellectual and experimental leader in my lab and is my point person for all things that involve HIV Env characterization."
With the new $150,000 grant from amfAR, Ozorowski plans to study Env's different conformations with the goal of finding drug candidates that bind to these different states and prevent the virus from infecting cells.
The 2017 Robert M. Sandelman Awards for Scientific Excellence, which support attendance at scientific conferences, were announced Oct. 27 at Scripps Florida's Research Fest: Scientific Symposium & Vendor Show.
Recipients of this year's travel awards are:
Xiangyang Xie, a research associate in the Xu lab. Xie will be awarded $1,000 to present his research on anxiety-related body weight changes at the Keystone Symposia on Bioenergetics and Metabolic Disease in January 2018. His project is titled "Anxiety is Associated with Resistance to Diet-induced Obesity via Elevated Energy Expenditure/Metabolism."
Siddaraju Boregowda, a research associate in the Phinney lab. Boregowda will be awarded $1,500 to present his project, "Role of IP6K1 in Mesenchymal Stem Cells," at the International Society of Stem Cell Research annual meeting in Melbourne, Australia in June 2018.
Francesca Vena, a research associate in the Duckett lab. Vena will be awarded $1,000 to present her project, "Targeting CDK12/13 in HER2+ Breast Cancer," at the American Association for Cancer Research Annual Meeting in Chicago in April 2018.
Amy Clipperton-Allen, a research associate in the Page lab. Clipperton-Allen will receive $1,000 in support to present her research at the Society for Neuroscience Annual Meeting in November 2017. Her project is titled "Enhancing Plasticity Rescues Social Behavioral Deficits in Pten Haploinsufficient Mice."
TSRI scientists John Yates III and Gary Siuzdak have been selected as two of The Analytical Scientist's Power List Top 10 "Omics Explorers." Both were nominated by their peers and cited by the magazine's judging panel for their work "uncovering the secrets of life through genomics, proteomics, lipidomics, metabolomics, and more." Yates was also named in the Top 10 in the Mass Spectrometrists and Leaders categories.
Yates, a TSRI professor, works to develop tools and strategies in proteomics to answer basic biological questions. His lab focuses on analyzing extremely complex protein mixtures, which has applications from analyzing purified protein complexes to studying diseases such as schizophrenia and Alzheimer's.
Siuzdak, a TSRI professor and senior director of the Scripps Center for Metabolomics, has created the cloud-based XCMS/METLIN metabolomics discovery platform, which has over 20,000 users worldwide and is designed to decipher metabolite activity. He applies these technologies to diverse biological processes such as stem cell differentiation, metabolism in the microbiome, and most recently (with Luke Lairson, Nature Chem. Biol. in press) to identify active metabolites that can improve the process of remyelination in multiple sclerosis.
2017 DNC Neuroscience Symposium
Members of the TSRI Dorris Neuroscience Center hosted their biennial symposium on Oct. 17. The agenda included presentations from neuroscientists around the world, covering subjects from pediatric brain disease to how the brain handles fear.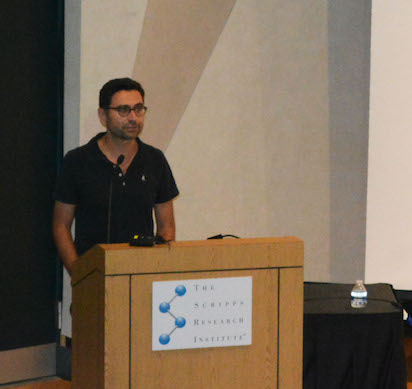 TSRI Professor Ardem Patapoutian thanks symposium speakers and attendees.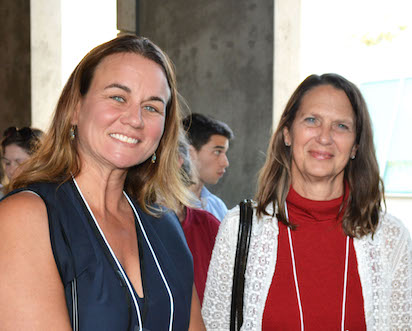 TSRI Professor Kristin Baldwin (left) and TSRI Department of Neuroscience Co-chair Hollis Cline, Hahn Professor of Neuroscience, at the reception following the symposium.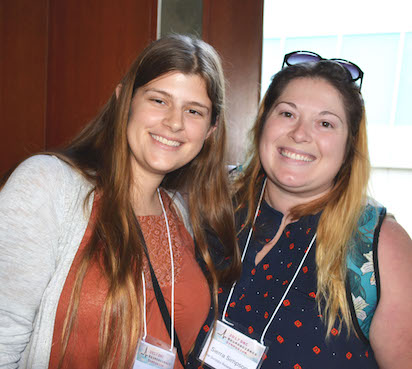 Graduate Students Norah Koblesky and Sierra Simpson at the reception following the symposium. (Photos by Madeline McCurry-Schmidt)




Send comments to: press[at]scripps.edu