Jeffery W. Kelly, Lita Annenberg Hazen Professor of Chemistry and co-chair of the Department of Molecular Medicine at The Scripps Research Institute (TSRI), has received the American Institute of Chemists (AIC) 2017 Chemical Pioneer Award.
Chemical Pioneer Award winners are selected from among scientists around the world for their outstanding contributions to the chemical sciences and the translation of chemistry into useful products. This award honors Kelly's breakthroughs in understanding and developing a novel therapeutic strategy for treating neurodegenerative diseases, including familial amyloid polyneuropathy, a disease wherein the misshapen transthyretin protein causes autonomic and peripheral nerve damage. Kelly led research to understand how transthyretin aggregates, allowing him to conceive of the kinetic stabilizer strategy. This led to the discovery of the first drug, now called Tafamidis or Vyndaqel, approved by regulatory agencies to slow the progression of the amyloid disease familial amyloid polyneuropathy.
"In accepting the award, I also wish to acknowledge the critical contributions of the hardworking and dedicated graduate students and postdoctoral fellows who have trained in my laboratory and whose efforts have made Tafamidis possible. I have been privileged to work with some very talented people over the course of almost three decades," said Kelly.
Kelly will be presented with the award on May 11, 2017, at the AIC Chemical Pioneer Symposium in Philadelphia, where he will also give a lecture. This is the second consecutive year a TSRI faculty member has won the award. TSRI Professor Donna Blackmond was named a winner in 2016.
For more on Kelly's work, see his faculty page and laboratory homepage.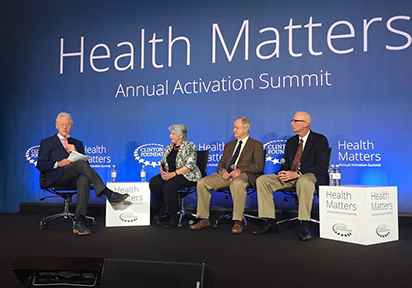 Left to right: President Bill Clinton, Judith Feinberg of the West Virginia University School of Medicine, Richard Rawson of the University of Vermont and TSRI Professor Kim Janda. (Photo courtesy Clinton Foundation.)
The Clinton Foundation Health Matters Annual Activation Summit brings together the nation's brightest minds to discuss pressing health issues and innovations to address them. This year, Kim Janda, Ely R. Callaway, Jr. Professor of Chemistry at TSRI, was invited to participate and to share his expertise as it relates to drug addiction.
Janda, a leading bioorganic chemist and a winner of several prestigious awards from groups such as the American Chemical Society, may be best known for his development of vaccines against drugs of abuse—which work by training antibodies to attack drug molecules, stopping the drug from reaching the brain to cause the euphoria of a "high."
Addressing the Summit—and a wide online audience—Janda shared how a vaccine developed in his TSRI lab could help people with opioid addiction avoid relapse and even survive potential fatal overdoses. "Why don't we take advantage of our immune system? Vaccines have saved more lives over the last 50 years than any other drug there is," explained Janda.
Janda spoke as part of a panel "Catalyzing Solutions to the Opioid Epidemic," moderated by President Bill Clinton. President Clinton interviewed Janda about the potential vaccine, explaining how it could one day help many Americans.
Watch a recording of the panel at http://wjcf.co/2nVEgFG. Learn more about Janda's opioid vaccine.
David Goodsell, associate professor of molecular biology at TSRI, has received a Vizzies Challenge People's Choice Award in the Illustration category from the National Science Foundation (NSF) and Popular Science. Goodsell's winning piece is a watercolor and ink illustration showing a cross-section of Zika virus surrounded by human blood plasma molecules as the virus interacts with receptors on the host cell surface.
The Vizzies Challenge highlights photographs, videos, illustrations, interactive apps, posters and graphics produced by academic researchers, artists or hobbyists. Goodsell's piece was selected from among hundreds of submissions and is one of just five 2017 People's Choice honorees chosen by Popular Science readers.
To view more of Goodsell's "molecular art," visit his website.




Send comments to: press[at]scripps.edu