Peter Schultz Wins Prestigious Heinrich Wieland Prize
Peter Schultz, president of The Scripps Research Institute (TSRI), has been awarded the international Heinrich Wieland Prize, one of Germany's most prestigious scientific prizes.
The award, presented by the Boehringer Ingelheim Foundation, honors "distinguished scientists for their outstanding research on biologically active molecules and systems in the fields of chemistry, biochemistry and physiology as well as their clinical importance." Previous Heinrich Wieland Prize winners have included subsequent Nobel Laureates Michael Stuart Brown, Joseph L. Goldstein, Bengt Samuelsson and James Rothman.
Schultz, who also holds the Scripps Family Chair Professor of Chemistry at TSRI, was selected for "his fundamental contributions to the biologically inspired synthesis of new molecules including his groundbreaking work on expanding the genetic code. Using his toolbox to extend the genetic code, over 100 amino acids with novel functions have been introduced site-specifically into proteins allowing to probe cellular processes in vivo in unprecedented detail. Schultz has applied this method to generate new medicines and also to create organisms with enhanced properties. In addition, he has pioneered the development of large combinatorial chemical libraries together with cell-based screens leading to drugs for degenerative diseases, cancer, autoimmune and neglected diseases."
"Peter Schultz has given us a wide array of invaluable tools which enable us to rationally design molecules and organisms to understand the processes of life and to treat medical conditions," said Professor Wolfgan Baumeistser, chair of the Selection Committee of the Heinrich Wieland Prize.
Awarded annually since 1964, the prize, which is named after the 1927 Nobel Laureate in Chemistry Heinrich Wieland, is endowed with 100,000 euros. Schultz will receive the prize and present the laureate's lecture at an award symposium on October 13 in Munich, Germany.
For further information on Schultz's research, visit his faculty webpage, and lab website. For more information on the Heinrich Wieland Prize, see the award's website.
As announced at a recent meeting of TSRI's Board of Trustees, the following three faculty members have been promoted to the rank of professor:
Philip Dawson, whose chemistry group works on development of new methods of chemical synthesis of proteins and bioconjugation for use in synthetic protein-based antiviral agents and vaccines, biological imaging with nanoparticles, peptide drugs for Amyotrophic Lateral Sclerosis, antibody drug conjugates, mirror-image protein therapeutics and research into protein folding and catalysis.
Ian MacRae, whose team combines structural biology, biochemistry and cell biology to understand mechanisms of gene regulation by small RNAs.
Kirill Martemyanov, whose lab studies the fundamental principles that regulate signaling via G protein coupled receptors, which mediate a vast variety of critical biological processes ranging from proliferation and motility to cellular reception and excitability.
In addition, Enrique Saez has been promoted to the rank of associate professor with tenure. Saez and his team study the molecular pathways that regulate physiology and how they are altered in metabolic disease. They are focused particularly on the role of adipose tissue, with the ultimate goal of discovering new therapies for obesity and its associated complications, such as diabetes and cardiovascular disease.
TSRI Professor Peter Vogt has received the 2016 Institute of Human Virology (IHV) Lifetime Achievement Award for Scientific Contributions for his pioneering studies of the genetics, replication cycle and mechanisms of cancer induction by animal retroviruses.
"His work, more than anyone else's work in the study of animal viruses, gave us the foundation for understanding human retroviruses," said Robert C. Gallo, director of the IHV and professor of medicine at the University of Maryland School of Medicine.
Vogt received the award at the recent 18th Annual International Meeting  of the IHV. The IHV, located at the University of Maryland, combines basic science, epidemiology and clinical research to speed discovery of diagnostics and therapeutics for a wide variety of chronic and deadly viral and immune disorders.
The Vogt lab investigates mechanisms of oncogenic transformation induced by the activation of oncogenes and silencing of tumor suppressor genes. For more on Vogt's research, visit his faculty webpage and lab website.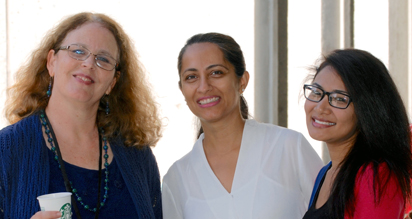 Postdoctoral fellows and their contributions to scientific research at both Scripps California and Florida were celebrated with a host of activities—from peer mentoring workshops to chair massages—during National Postdoc Appreciation Week. Above, at the International Services Office Meet & Greet in La Jolla, Megha Karki (right), research associate in the Krishnamurthy lab, chats with Margaret Hellwarth (left) and Sonal Kalra of the International Services group. (Photo by Jean Branan.)




Send comments to: mikaono[at]scripps.edu