Donna Blackmond, Benjamin Cravatt, Jeffery Kelly Elected to American Academy of Arts and Sciences
Donna Blackmond, Benjamin Cravatt and Jeffery Kelly, professors at The Scripps Research Institute (TSRI) have been elected to the American Academy of Arts and Sciences (AAAS), one of the nation's oldest and most prestigious honorary societies and a leading center for independent policy research.
"It is an honor to welcome this new class of exceptional women and men as part of our distinguished membership," said Don Randel, chair of the AAAS board of directors. "Their election affords us an invaluable opportunity to bring their expertise and knowledge to bear on some of the most significant challenges of our day. We look forward to engaging these new members in the work of the academy."
Blackmond, a professor in the Department of Chemistry, conducts research on the mechanistic aspects of the synthesis of complex organic molecules by catalytic routes; her lab also investigates nonlinear effects of catalyst enantiopurity and studies the origin of biological homochirality.
Cravatt, chair of the Department of Chemical Physiology and a member of the Dorris Neuroscience Center and Skaggs Institute for Chemical Biology at TSRI, studies the action and regulation of chemical messengers, particularly bioactive lipids, which play important roles in neurobiology, immunology and cancer.
Kelly, who is Lita Annenberg Hazen Professor of Chemistry, chair of the TSRI Department of Molecular and Experimental Medicine and a member of the Skaggs Institute for Chemical Biology, focuses his research on understanding the molecular mechanisms of protein misfolding diseases well enough to develop new small-molecule therapeutic strategies against these degenerative disorders.
Founded in 1790, AAAS has counted as members such notable figures as George Washington, Benjamin Franklin, Daniel Webster, Margaret Mead and Martin Luther King Jr. The organization's current membership includes more than 250 Nobel laureates and 60 Pulitzer Prize winners.
The new AAAS class will be inducted at a ceremony on October 8 at the academy's headquarters in Cambridge, Massachusetts. Other AAAS members from TSRI include Phil Baran, Floyd E. Bloom, Dale L. Boger, Gerald Joyce, Richard A. Lerner, Julius Rebek, Jr., Paul Schimmel, Peter Schultz, K. Barry Sharpless, Peter K. Vogt, Charles Weissman, James R. Williamson, Ian W. Wilson, Chi-Huey Wong, Peter Wright and Kurt Wüthrich.
Braving gray skies and a threat of rain, nearly 200 golfers hit the links on Saturday, April 16, for the fifth annual PGA National–Scripps Florida Cancer Research Golf Challenge at the PGA National Resort & Spa in Palm Beach Gardens, Florida.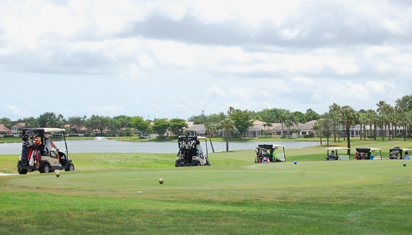 The threat of rain did not deter participants of the fundraising tournament for Scripps Florida.
Over the past half-decade, the event has raised more than $700,000 in support of cancer research at Scripps Florida.
The event kicked off Friday night with a party for the generous sponsors, followed by a full 18 holes on two courses at PGA, including the world-famous Champion course and the Fazio course for the Cancer Research Gold Challenge—which was lined with signs from various donors honoring loved ones and celebrating the event.
The day also included a dramatic helicopter ball drop—several dozen bright yellow golf balls falling from a hovering chopper onto a pristine 18th hole green to the cheers of enthusiastic golfers—plus dinner and several auctions, all to raise money for Scripps Florida cancer research.
When asked to comment on the daylong event, Tom Kodadek, head of the Department of Cancer Biology, said: "The best words I can say to all of you is 'Thank you!'"
Kodadek, who played the Champion course, was joined on the links by Scripps Florida's Associate Professor Christoph Rader; Henry Wilson, a postdoctoral fellow in the Rader lab; and Peter Norris, Scripps Florida Environmental Health & Safety director, and his son.
The Scripps California Society of Fellows (SoF) has announced the winners of its spring cycle of travel awards, which provide postdoctoral fellows an opportunity to present their work at a national or international conference.
Anne-Laure Huber of the Lamia lab will attend the Society of Research on Biochemical Rhythm in May in Palm Harbor, Florida. Her work is titled "Cry2 suppresses transformation by destabilizing c-Myc."
Joseph Cornella of the Baran lab will attend the Gordon Research Conference in Organic Reactions and Processes in July in Easton, Massachusetts. His research focuses on "Active Esters as Coupling Partners in Base Metal-catalyzed Cross-Couplings."
Morten Nielsen of the Havran lab will attend the 7th International Gamma Delta T-Cell Conference in June at Kings College, London, UK. His work is titled "Contributions of Skin-resident γδ T Cells to Psoriasis Formation and Accelerated Wound Healing."
The next award cycle application deadline will be in October. For further details, see the SoF website.




Send comments to: mikaono[at]scripps.edu