Yanqiao Chen, Benjamin Huffman, Colby Sandate Win NSF Graduate Fellowships
Yanqiao Chen, Benjamin Huffman and Colby Sandate, first-year graduate students at The Scripps Research Institute (TSRI), have been awarded 2016 National Science Foundation (NSF) Graduate Research Fellowship Program (GRFP) grants, supporting outstanding students in science, technology, engineering and mathematics.
"These awards are provided to individuals who have demonstrated their potential for significant research achievements, and they are investments that will help propel this country's future innovations and economic growth," said Joan Ferrini-Mundy, NSF assistant director for education and human resources.
Chen, a member of the Yu lab, is working in chemical catalysis, specifically researching C(sp3)-H activation of unprotected amines using a transient template.
Huffman's NSF proposal, submitted while he was in the Disney lab, is titled "Chemical approaches to study RNA-ligand interactions in cells."
Sandate's project, "Uncovering the mechanism of dynein/dynactin recruitment at the plus-end of microtubules," is a collaboration between the Lander and Deniz labs in biophysics/structural biology.
In addition, 11 TSRI students received NSF GRFP honorable mentions: Janice Xu, Megan Vaughan, Ryan Paxman, Anastasia Lobanova, Helen Kim, Matthew Holcomb and David Hill at Scripps California and Sophia Park, Amber Hackler, Adam Getzler and Alicia Angelbello on the Scripps Florida campus.


First-year graduate students, Yanqiao Chen, Benjamin Huffman and Colby Sandate (left to riight) have been awarded NSF Fellowships.
Balyn Zaro, research associate in the Cravatt lab at TSRI, has been awarded an American Cancer Society (ACS) fellowship, which provides initial funding to early-career scientists in cancer research.
Zaro's research project, titled "Achieving Kinetic Selectivity for Irreversible Enzyme Inhibitors," seeks to precisely control reactivity of irreversible small molecule inhibitors through metabolism, with the aim of helping develop improved anti-cancer drug therapies with fewer side effects.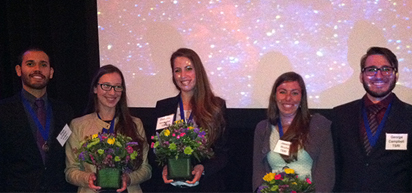 TSRI's Achievement Rewards for College Scientists (ARCS) Scholars—above (left to right), Rigo Cintron-Colon (Conti lab), Margarete Johnson (Havran lab), Danielle Grotjahn (Lander lab), Jessica Bruhn (Ollmann Saphire lab) and George Campbell (Encalada lab)—were honored with other ARCS scholars recently at a San Diego ARCS chapter event, where Grotjahn gave a brief speech expressing appreciation for the organization's support on behalf of the area's ARCS scholars.




Send comments to: mikaono[at]scripps.edu