Ben Shen Receives Biotechonology Research Award
Ben Shen, professor and vice chairman of the Department of Chemistry and director of the Natural Products Library Initiative at The Scripps Research Institute (TSRI), has received the Promega Biotechnology Research Award from the American Society for Microbiology (ASM), honoring outstanding contributions to the applications of biotechnology through fundamental microbiological research and development.
Shen was recognized as a "world leader in the biosynthesis of natural products, e.g., antibiotics and antitumor agents," according to the award announcement. He gave an award lecture, "Microbial Genomics: New Opportunities for Natural Product Biosynthesis, Engineering and Drug Discovery," at ASM's recent 115th General Meeting in New Orleans.
The ASM is the largest single life-science society, with more than 39,000 members worldwide.
Shen and his lab colleagues study the chemistry, biochemistry and genetics of the biosynthesis of microbial secondary metabolites. For further information on Shen's work, see his faculty webpage and laboratory website.
Phil Baran, TSRI professor and Darlene Shiley Chair in Chemistry, has won the 2015 EROS Best Reagent Award, sponsored by Aldrich Chemical and John Wiley & Sons to recognize the work of selected synthetic chemists submitted to the Encyclopedia of Reagents for Organic Synthesis (EROS).
Baran has been honored for developing zinc trifluoromethanesulfinate, an air-stable and moisture-tolerant reagent that offers significant advantages for use in the trifluoromethylation of heteroarenes. Baran, with Staff Scientist Yoshihiro Ishihara and graduate student Ryan Gianatassio, recently summarized uses of the reagent in an October 2014 EROS article.
Noting that "it's really an award to the group," Baran plans to use the award's $10,000 cash prize to take the graduate students in his lab to the American Chemical Society's December Pacifichem meeting in Hawaii where each will present posters.
For additional information on Baran's research, see his faculty webpage and lab website. 
A drug discovery program funded by the National Institutes of Health and co-led by scientists at TSRI has led to potential new therapies for malaria, inflammation, diabetes, Alzheimer's, schizophrenia and many more conditions, as reported in a recent "Perspective" paper in the journal Cell.
The paper is a reflection on the successes and challenges of the decade-long Molecular Libraries Program (MLP), a nationwide initiative to screen small molecules against possible drug targets to develop novel chemical probes, with the long-term goal of developing new and more effective therapies for disease.
At TSRI, the MLP was a bicoastal operation led by Scripps California Professor Hugh Rosen. Success stories from the TSRI Molecular Screening Center include the identification of a compound called ozanimod by Rosen and TSRI Professor Edward Roberts. Ozanimod is now licensed to Receptos, Inc. and is currently in Phase III clinical trials as a treatment for relapsing multiple sclerosis, separate Phase III trials for ulcerative colitis and Phase II trials for Crohn's disease.
"The Cell Perspective illustrates why TSRI is at the forefront of chemical biology," said Rosen. "The strength of basic discovery and medical breakthroughs at TSRI reflect the inordinate strengths of the TSRI faculty, and their ability to operate together in finding multi-disciplinary solutions to the most disabling and difficult human diseases."
Rosen noted that TSRI Professor Ben Cravatt's collaboration with the TSRI MLP led to the invention of new methods for discovering probes for enzymes without known substrates, giving insights into potential disease treatments. The MLP also supported TSRI Professor Patrick Griffin's research to produce chemical probes that have validated therapeutic targets and provided new biological insights into metabolic diseases such as diabetes.
In fact, researchers using small molecule screening at TSRI have produced more than 150 publications since the launch of the MLP. "The MLP concluded after 10 years, but the TSRI technologies and expertise continue in the unique synthesis of chemistry and biology projects," said Rosen.
To learn more about the TSRI Molecular Screening Center, go to http://mlpcn.florida.scripps.edu/.  To access the Cell paper, go to http://www.cell.com/abstract/S0092-8674%2815%2900572-3.
A hands-on overview of social media outlets, including LinkedIn, will be offered at upcoming workshops, "Social Media for Scientists," on both TSRI campuses.
On the Florida campus, Briana Konnick, program coordinator for TSRI's Career and Postdoctoral Services, will conduct a workshop on Tuesday, June 23, from 3 to 4:30 PM in room B159.
Jean Branan, Career and Postdoctoral Services program coordinator, will lead the California campus training on Wednesday, July 1, from 2 to 3:30 PM, in the Graduate Office seminar room, Hazen Theory building, first floor.
Topics will include creating a professional social networking identity, including an effective LinkedIn profile; building and maintaining professional relationships via social media; and constructing a professional presence on social networking sites. Participants are encouraged to bring their laptops to the session.
RSVP is required. For additional career development resources, visit the Career and Postdoctoral Services website. 
Guidance in navigating the grant and review process for the National Institutes of Health's (NIH) Pathway to Independence Award (K99/R00) will be provided for Scripps Florida postdoctoral fellows and graduate students at the next Academic Careers Roundtable, to be held Wednesday, June 24, noon to 1 PM in the Board Room, B252.
TSRI Associate Professor Courtney Miller will facilitate the informal session, which will include strategies on using the NIH award.
Sponsored by TSRI Career and Postdoctoral Services, the Academic Careers Roundtable is a professional development series featuring guest faculty discussion leaders on a variety of topics. Lunch will be provided. Reservations are required.
How to develop healthy emotional connections with relationship partners is the topic of the next Lunch & Learn presentation, "Tuning In: How Emotional Responsiveness Creates a Lifetime of Love," scheduled for Tuesday, June 30, at noon in the Beckman building's Keck Amphitheater. This event is sponsored by the Counseling and Psychological Services department.
Lisa Ruderman, licensed marriage and family therapist and cofounder of the San Diego Center for Emotionally Focused Therapy, will conduct the session. Topics will include:
Developing empathy during a conflict with a life partner
Observing one's own emotional reactions while focusing on the present moment
Reaching out when a partner exhibits nonverbal signs of emotional pain
For additional information on this Lunch & Learn session and other resources from Counseling and Psychological Services, visit the office's website.
As the 2015 hurricane season begins on the southeastern U.S. coast, Scripps Florida faculty, staff and students are asked to confirm and register or update their contact information on the campus's emergency notification system, Everbridge Aware. The Everbridge system alerts employees to campus emergencies and notifies them of immediate and post-emergency actions to take.
To verify registration status and update contact information, employees should visit the Everbridge site at: https://www.everbridge.net/nns/pub/Login.jsp, using their personal Everbridge login information. To find out personal Everbridge information or for additional assistance, please contact Galina Judge, gjudge@scripps.edu. For additional information, contact Peter Norris, director of Environmental Health and Safety and Hurricane Management Team manager, at pnorris@scripps.edu.
Eligible TSRI employees who participated in the Healthcare Spending Account (HCSA) or Dependent Care Spending Account (DCSA) during the 2014 plan year have until June 30, 2015 to submit claims for reimbursement. 
2014-plan-year claims should be submitted to United Medical Resources (UMR), TSRI's former spending account provider. 2015-plan-year claims should be submitted to Tri-Ad, TSRI's current spending account provider.
UMR claim forms are available on the TSRI benefits website. Contact Benefits Administration at (858) 784-8487 or via email at benefits@scripps.edu with questions or for additional information.
Following a recent election, Scripps California Network for Women in Science (NWIS) has announced that Danielle Grotjahn, third-year graduate student in the Encalada and Lander labs, will continue leading executive board for its 2015-2016 term. Other returning board officers include Vice Chair Alyson Smith, graduate student in the Fowler lab, and Publicity Officer Mila Elich, graduate student in the Paulson lab.
New board members are Treasurer and Web Editor Anne Kornahrens, graduate student in the Boger lab; Association of Women in Science Liaison Emily Greene, graduate student in the Williamson lab; and Outreach Coordinator Sarah Montgomery, research technician in the Roberto lab.
The NWiS at TSRI provides support, guidance and opportunity for female scientists at Scripps, creates awareness of issues that affect scientific career development and success, promotes diversity at TSRI and seeks to make a positive difference in the culture of science for the benefit of the entire scientific community. For additional information, visit the NWiS webpage or Facebook page.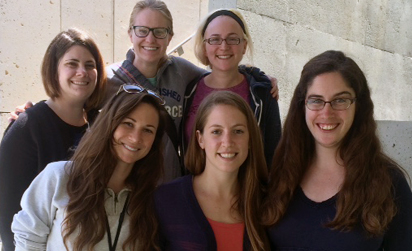 2015-2016 executive committee members of the California NWiS include (back row, left to right) Emily Greene, Anne Kornahrens and Mila Elich; (front row) Sarah Montgomery, Danielle Grotjahn and Alyson Smith. 
Two Meet the Alumni events, one on each TSRI campus, will be held Wednesday, June 17, featuring guests from the institute's growing alumni network. Speakers will share their insights on specific career options, career transitions and opportunities that influenced their career decisions.
Scheduled from 4 to 5 PM in the Graduate Office dining room in the Hazen Theory building, the La Jolla campus event will feature Mabelle Ashe, marketing communications and product manager at Active Motif, an international provider of tools for epigenetics and gene regulation research, and a former postdoctoral fellow in the Wittenberg lab (2004 to 2006).
Mohammad Ali Faghihi, assistant professor in the Miller School of Medicine at the University of Miami, will speak at the Jupiter campus Meet the Alumni event, from 4 to 5 PM, in the Founder's Room. Faghihi was a postdoctoral fellow at TSRI in the Wahlestedt laboratory (2005-2010) and also served as a staff scientist.
Light refreshments will be served. Both events are sponsored by TSRI's Career and Postdoctoral Services and require an RSVP.
California ScrippsAssists offers faculty, staff and students two opportunities to support a community partner, the San Diego Food Bank (SDFB), while enjoying the sounds and sights of music festivals at the San Diego Fair.
Volunteers are needed to help staff the SDFB information booth at the fair's Beer Festival, scheduled for Friday, June 19 to Sunday, June 21. Afternoon and evening shifts are available.
During the Gospel Festival, on Saturday, June 27, ScrippsAssists volunteers will collect donations throughout the fairgrounds or staff the SDFB information booth from 9:30 AM to 8:30 PM, in 2½- to 5½-hour shifts.
Admission to the fair will be provided. Free parking lots are available; however, volunteers will be responsible for parking fees if they use a pay lot.
The San Diego Food Bank feeds more than 350,000 people per month and relies entirely on volunteers to inspect, sort and package over 20 million pounds of food each year for distribution to more than 350 local distribution sites. To volunteer or for additional information, contact ScrippsAssists project coordinator Mishelle McClanahan-Shinn, mshinn@scripps.edu. 
The TSRI Institutional Biosafety Committee is scheduled to meet on Wednesday, July 8, from 2:30 to 3:30 PM, in Building 3301, P2 conference room. To receive committee consideration, registration documents must be submitted to Environmental Health and Safety via email to rachellv@scripps.edu by Wednesday, June 24.
The next onsite immunization clinic on the California campus will be held Wednesday, July 1, from 9:30 to 11:30 AM, in the Hazen Theory building, rooms 203/205. Appointments are not needed. Conducted by Sharp Rees-Stealy staff, the clinic will provide hepatitis B vaccination free of charge to all TSRI employees. Environmental Health & Safety Occupational Medicine must pre-authorize all other procedures based on the employee's working conditions. These procedures include tetanus, diphtheria and pertussis (Tdap) vaccines and other titers, immunizations and procedures.
The Athenaeum Music & Arts Library's 17th annual Summer Festival, a four-part concert series, will begin Sunday, July 5, 4 PM, featuring the works of Franz Schubert. Pianist Gustavo Romero will present an in-depth exploration of Schubert compositions, including Impromptus, D. 899 C Minor, E-flat Major, G-flat Major, A-flat Major. Ticket information is available on the Athenaeum website.
The Auditorium at TSRI is located at 10640 John Jay Hopkins Drive, San Diego 92121.




Send comments to: mikaono[at]scripps.edu