Slava Bernat Receives Myotonic Dystrophy Fellowship
Slava Bernat, a research associate in the Disney lab at The Scripps Research Institute (TSRI), has received a Fund-a-Fellow postdoctoral award from the Myotonic Dystrophy Foundation, an international patient organization whose mission includes advancing research focused on treatments and a cure for the those living with the genetic disorder myotonic dystrophy, the most common form of the muscular dystrophy that begins in adulthood.
The Fund-a-Fellow program is intended to draw new researchers into the myotonic dystrophy field, particularly those in molecular biology and basic science.
Bernat's project is entitled "Precise Lead Therapeutics for Myotonic Dystrophy via in cellulo Synthesis."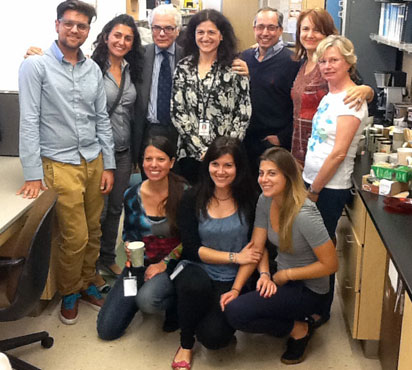 The Italian Consul General of Los Angeles, Antonio Verde, took the time to visit Scripps California this week. Professor Marisa Roberto, Associate Professor Marta Perego and Faculty Club Coordinator Nancy de Monte noted he seemed genuinely interested in the Italians living under his jurisdiction, aiming to maintain open lines of communication and foster interaction of people with ties to Italy. Shown here are (back, left to right) Giordano de Guglielmo, Elisa Barile, Verde, Roberto, Pietro Sanna, de Monte and Perego and (front, left to right) Alessandra Matzeu, Marsida Kallupi and Guya Marconi.




Send comments to: mikaono[at]scripps.edu