Phil Baran Elected to the American Academy of Arts & Sciences
Phil Baran, Darlene Shiley Chair in Chemistry at The Scripps Research Institute (TSRI), has been elected to the American Academy of Arts & Sciences (AAAS), one of the nation's oldest and most prestigious honorary societies and a leading center for independent policy research.
"We are honored to elect a new class of extraordinary women and men to join our distinguished membership," said Don Randel, chair of the AAAS board of directors. "Each new member is a leader in his or her field and has made a distinct contribution to the nation and the world."
Baran joins Pulitzer Prize-winner Holland Cotter, singer-songwriter Judy Collins, Nike co-founder Philip Knight, Nobel Prize-winner Brian Kobilka, Tony Award-winner Audra McDonald, astrophysicist Neil deGrasse Tyson and novelist Tom Wolfe in the academy's 197-member class of 2015.
A MacArthur Fellow, Baran directs research exploring new avenues for the efficient and practical construction of organic molecules, both naturally occurring and man-made, by pursuing longstanding synthetic challenges and by designing methods of broad utility. Other recent honors include the Mukaiyama Award and Royal Society of Chemistry Synthetic Organic Chemistry Award.
Baran joins 16 other TSRI faculty members as fellows of the academy.
New AAAS members will be inducted at a ceremony on October 15 at the academy's headquarters in Cambridge, Massachusetts.
Founded in 1790, AAAS has counted as members such notable figures as George Washington, Benjamin Franklin, Daniel Webster, Margaret Mead and Martin Luther King Jr. The organization's current membership includes more than 250 Nobel laureates and 60 Pulitzer Prize winners.
Green-conscious groups on both the California and Florida campuses recently commemorated Earth Day's 45th anniversary with a variety of activities, including presentation of the McKeown Award for sustainability leadership; e-waste and debris collection; a green chemistry lecture; and trash cleanup.
The Scripps California Green Team presented the 2015 Keith McKeown Memorial Green Feat Award to the employee volunteer organization ScrippsAssists for its many sustainability projects, including Torrey Pines State Reserve trail improvements; recycling initiatives for corks, magazines, clothing and newspapers; and "I Love a Clean San Diego" Creek to Bay Cleanup Day. Named after the late TSRI vice president and Green Team founding chair, the annual award recognizes sustainability leadership on the California campus.
The California team also held its annual e-waste event, enabling campus faculty, students and staff to dispose of unwanted household electronics safely at a campus collection site. In addition, the group produced a new e-flyer listing of local and regional recycling resources. "Recycling: what do I do with …?" is posted on the Green Team website.
The La Jolla campus Students for Sustainability Initiative (SSI) presented a green chemistry lecture featuring Bruce H. Lipshutz, professor of chemistry at the University of California, Santa Barbara. The Lipshutz lab researches alternatives to organic solvents.
In Jupiter, Scripps Florida Green Team members, researchers and family members spent a warm, humid Saturday morning collecting 15 30-gallon bags of trash and litter along its Adopt-a-Spot cleanup site—a section of road adjacent to the campus. The annual event is coordinated with the Palm Beach County's Solid Waste Authority's program to beautify South Florida. For more information on Scripps Florida's Sustainability Program, go to http://intranet.scripps.edu/florida/ehs/sustainability_committee.html.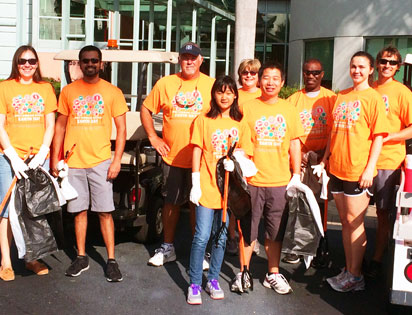 Scripps Florida Green Team held its annual Earth Day Spring cleanup, collecting 15 large bags of debris along a road adjacent to the campus.




Send comments to: mikaono[at]scripps.edu