Six TSRI Graduate Students Named ARCS Scholars
Six graduate students at The Scripps Research Institute (TSRI) have received Scholar Awards from the San Diego chapter of the Achievement Rewards for College Students (ARCS) Foundation, a national organization advancing science in United States through grants to academically outstanding U.S. citizens pursuing degrees in science, engineering or medical research.
The TSRI fellowship recipients are:
Josh Silverman
John Tat
Sarah LeBeouf
Nicole Schirle
George Campbell
Jessica Bruhn-Johannsen.
The program is funded through corporate, foundation and individual donors. Since 1997, the ARCS Foundation has awarded $847,500 to TSRI students.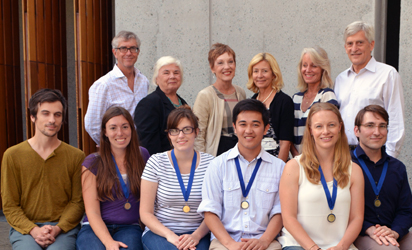 Receiving ARCS Foundation Scholar Awards are (front row, left to right) Josh Silverman, Jessica Bruhn-Johannsen, Sarah LeBeouf, John Tat, Nicole Schirle and George Campbell. Those attending the presentation include (back row, left to right) Jamie Williamson, dean of graduate and postgraduate studies; ARCS member Mary Fitz; ARCS Chapter President Diane Chalmers; ARCs members Kim Doren and Alice Brown; and TSRI Acting President and CEO James Paulson. (Photo by Cindy Brauer.)




Send comments to: mikaono[at]scripps.edu