Ryan Shenvi Receives NSF Career Award
Ryan Shenvi, assistant professor in the Department of Chemistry at The Scripps Research Institute (TSRI) has received a Career Award from the National Science Foundation (NSF) for his lab's project "Stereoselective manipulation of unstabilized carbocations."
The $600,000 NSF award builds upon research reported last year by Shenvi and co-authors Sergey Pronin, a postdoctoral fellow, and graduate student Chris Reiher in the journal Nature. The project focuses on developing a new class of stereoselective nucleophilic displacement reactions that operate on isolated tertiary carbon centers through attack of unstabilized carbocationic contact ion pairs.
"This research fills a major methodological gap in chemical synthesis that has been recognized for nearly 100 years," according to the NSF award announcement.
For more information, see the NSF website, http://www.nsf.gov/awardsearch/showAward?AWD_ID=1352587.
Five TSRI graduate students have been awarded Graduate Research Fellowship Program (GRFP) fellowships from the National Science Foundation (NSF). The program supports outstanding graduate students pursuing degrees in NSF-supported science, technology, engineering and mathematics disciplines. The winning TSRI students and their projects are:
Danielle Grotjahn of the Encalada and Lander labs, "Ultrastructural Analyses of Motor Protein Conformations and Regulation in Neurons."
Erika Olson of the Dawson lab, "Exploring Epitope Mimicry for the Development of Protein Antivirals."
Michael Martinez of the Shenvi lab, "Total Synthesis of Jiadifenolide and Related Neurotrophic Illicium Metabolites."
Christopher Reiher of the Shenvi lab, "Synthesis of the Kalihinol Family of Natural Products."
Matthew Villaume of the Baran lab, "The Total Synthesis of Antroquinonol."
Less than 15 percent of the 14,000 GRFP applicants received grants. The fellowships provide three years of support, international research and professional development opportunities and access to the Extreme Science and Engineering Discovery Environment supercomputer.
Thousands of people flooded the WPBF Health & Wellness Festival at The Gardens Mall in Palm Beach Gardens last Sunday mostly to see "Dr. Oz" but also to hear four Scripps Florida scientists talk about metabolism, memory and healthy aging—topics very much on the minds of a lot of Floridians.
The four scientists—Roy Smith, chair of the Department of Metabolism and Aging; Laura Niedernhofer, associate professor; Courtney Miller, associate professor; and Paul Robbins, professor—took the stylishly all-white stage late in the afternoon following Oz's final appearance at the festival.
The audience watched a short Scripps Florida promotional video, listened attentively while the four scientists discussed the advances made in the study of aging and, when the formal presentation was all over, closed in around the stage to ask questions.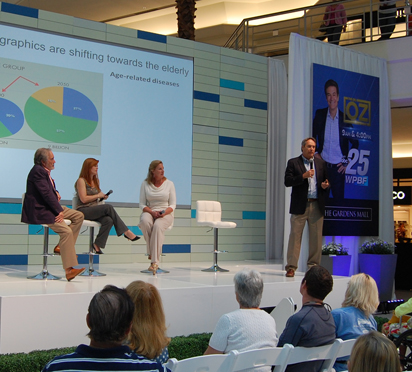 Scripps Florida faculty members Roy Smith, Courtney Miller, Laura Niedernhofer and Paul Robbins (left to right) shared insights about about metabolism, memory and healthy aging with participants of the WPBF Health & Wellness Festival. (Photo by Eric Sauter.)





Send comments to: mikaono[at]scripps.edu