Dale Boger Wins Award for Outstanding Cancer Research
Dale Boger, the Richard and Alice Cramer Professor of Chemistry and chair of the Department of Chemistry at The Scripps Research Institute (TSRI,) has received the American Association for Cancer Research (AACR) 2014 Award for Outstanding Achievement in Chemistry in Cancer Research.
The AACR award honors outstanding, novel and significant chemistry research that has led to important contributions to the fields of basic cancer research, translational cancer research, cancer diagnosis, the prevention of cancer or the treatment of patients with cancer.
The award recognizes Boger's research in combining novel synthetic methodology to develop natural products and designing second-generation synthetic compounds as potent anticancer agents. His studies have revealed the mechanisms by which several anticancer agents interact with DNA and have created unique drug design paradigms.
Boger will deliver an award lecture titled "Uniquely Effective Synthetic Analogs of the Complex Antitumor Natural Products Vinblastine and the Duocarmycins" on Tuesday, April 8, 3 PM, in Ballroom 20D in the San Diego Convention Center during the AACR 2014 Annual Meeting. The award includes a $10,000 honorarium.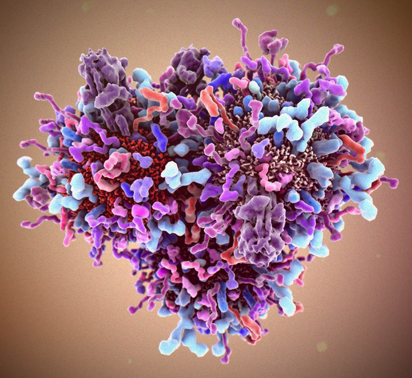 The image, "Synaptic Vesicle," by Ludovic Autin, senior research associate in the Olson lab, is one of nine finalists from six countries in the 2014 JALA & JBS Art of Science Contest, sponsored by the Society for Laboratory Automation and Screening to highlight the role visualization plays in the analysis and presentation of scientific work.
Autin's image is a molecular model of a synaptic vesicle, based on the work of Takamori et al. The individual 3-D protein models were generated using the embedded Python Molecular Viewer (ePMV) Autin developed in the Olson lab and packed into the image using AutoPack/cellPack software he developed with TSRI alumnus Graham Johnson. Adam Gardner, Olson lab assistant, helped provide the final image rendering, done in CINEMA4D 3d modeling software.




Send comments to: mikaono[at]scripps.edu