Our antibody discoveries are driving tomorrow's vaccines for COVID-19 and beyond.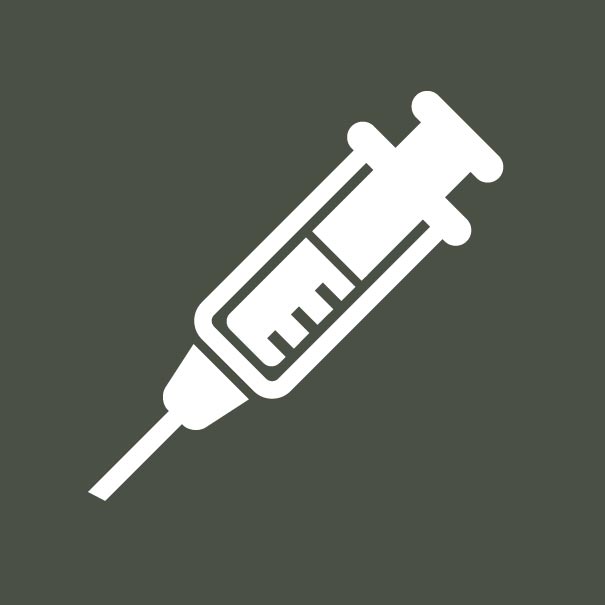 Vaccines save millions of lives every year, giving the human immune system the boost it needs to protect against dangerous infectious diseases. Successful vaccines against SARS-CoV-2, the virus that causes COVID-19, will be central to ending the pandemic.
At Scripps Research, we're working across scientific disciplines to unearth new findings about how the human immune system responds to the virus. These learnings shape innovative approaches for using antibodies to strike down the infection at first sight.
Our renowned immunologists are evaluating COVID-19 antibodies to guide the design of effective vaccines. And teams of structural and computational biologists are examining the virus and antibodies at an atomic level using some of the most advanced microscopy tools in the world—revealing clues to the coronavirus's weak spots and evaluating experimental vaccines. Already, many key discoveries are making their way to patients.
Front Row Lecture Series: Designing Universal Vaccines for Influenza and Coronaviruses
As the ongoing COVID-19 pandemic edges up on the onset of flu season, the need for effective vaccines for these viruses and others is abundantly clear. In this Front Row Lecture, Ian Wilson, DPhil, chair of Scripps Research's Department of Integrative Structural and Computational Biology, discusses advances in designing and developing universal vaccines that could either treat or protect people against all strains of a virus. He focuses on progress developing universal vaccines against influenza and how research on flu has paved the way for current efforts to find a pan-coronavirus vaccine.
Front Row Lecture Series: Survivors of Coronavirus Infections May Hold the Secret to Stopping COVID-19
Soon after the COVID-19 pandemic reached the United States, a team of Scripps Research scientists began studying blood samples from patients recovering from infection by the novel coronavirus. In this virtual Front Row lecture, Dennis Burton, PhD, shared how he and his collaborators are analyzing COVID-19 survivors' blood for proteins, known as antibodies, that the immune system creates after encountering the virus. Antibodies to the new coronavirus could be used as much-needed therapeutics to COVID-19 or to help design a vaccine to protect against the disease.


Front Row Lecture Series: Addressing the Coronavirus Challenge
How do scientists create vaccines and drugs against a virus that simply didn't exist months ago? That's the challenge that virologist Michael Farzan, PhD, is facing head on—along with his team on the Jupiter, Florida, campus of Scripps Research. In this Front Row lecture, Farzan, a professor and co-chair of the Department of Immunology and Microbiology, shares his early findings on efforts to develop a safe and effective vaccine that triggers antibodies against the novel coronavirus.
Front Row Lecture Series: Outsmarting Emerging Pathogens in an Interconnected World
Kristian Andersen, PhD, a genomic epidemiologist, was among the first to begin tracing the origins and spread of the novel coronavirus based on public genome sequencing data. In this virtual Front Row lecture, Andersen shares unique insights on how COVID-19 emerged and he explains what has worked (and hasn't worked) to mitigate the public health crisis. Lessons learned can help us contain the current pandemic and prepare for future outbreaks.
Coronavirus structure may hold key to treatment: Scripps Research COVID-19 updates
Andrew Ward, PhD, a professor of Integrative Structural and Computational Biology, revealed the first structure of a human coronavirus spike protein in 2017 from the HKU1 virus, and went on to do the same for SARS and MERS. He and his team are now investigating the structure of the SARS-CoV-2 spike protein and working with collaborators to isolate antibodies from patients. They also developed new imaging methods that may work as a diagnostic tool to probe blood samples from those with COVID-19. 
Antibodies, biologics and the fight against coronavirus: Scripps Research COVID-19 updates
Besides vaccines and antiviral drugs, a group of medicines called biologics offer great potential in the battle against COVID-19. Serum from recovered patients can be used to protect others and also to identify useful antibodies, our immune system's precision germ-targeting system. In Jupiter, Florida, Scripps Research molecular biologist Christoph Rader, PhD, explains.
Using the immune response to develop coronavirus treatments and vaccines: Scripps Research COVID-19 updates
Dennis Burton, PhD, and Thomas Rogers, MD, PhD, are studying the human immune response to SARS-CoV-2 infections and working to identify antibodies that may serve as the basis for vaccines or antiviral therapies. They need volunteers who have recovered from COVID-19 to help with their research. If you are interested in helping, contact Karen Westfall at kwestfall@scripps.edu.
How does the coronavirus sicken people? A virologist explains: Scripps Research COVID-19 updates
The pandemic strain of coronavirus infects cells in the lung, leading to an aggressive immune response that can be life-threatening. Virologist Hyeryun Choe, PhD, at Scripps Research, Florida answers common questions about COVID-19.
How scientists are confronting coronavirus: Scripps Research COVID-19 updates
Around the world, scientists are sharing data, sharing insights, pushing for the best possible vaccines and medications against COVID-19. Virologist Michael Farzan, PhD, describes the scale of the effort underway at Scripps Research.