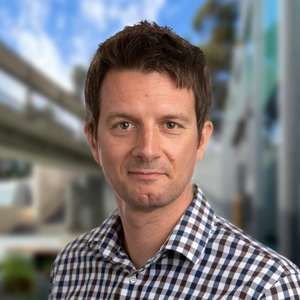 Kristian G. Andersen, PhD
---
Scripps Research Joint Appointments
---
Other Joint Appointments
Vice President, Viral Hemorrhagic Fever Consortium
---
Research Focus
Kristian Andersen is a professor in the Department of Immunology and Microbiology at Scripps Research, with joint appointments in the Department of Integrative Structural and Computational Biology, and at the Scripps Research Translational Institute. Over the past decade, his research has focused on the complex relationship between host and pathogen. Using a combination of next-generation sequencing, field work, experimentation, and computational biology he has spearheaded large international collaborations investigating the emergence, spread and evolution of deadly pathogens, including SARS-CoV-2, Zika virus, Ebola virus, West Nile virus, and Lassa virus. His work is highly cross-disciplinary and exceptionally collaborative.

Kristian earned his doctoral degree from the University of Cambridge and performed postdoctoral work in Pardis Sabeti's group at Harvard University and the Broad Institute.

---
Education
Ph.D., Immunology, University of Cambridge, UK, 2009
B.Sc., Molecular Biology, University of Aarhus, DK, 2004
---
Professional Experience
Postdoc

Harvard University & Broad Institute of MIT and Harvard
Graduate

University of Cambridge & MRC Laboratory of Molecular Biology
Undergraduate
Aarhus University & University of Kent, Canterbury
---
Awards & Professional Activities
2016, Ray Thomas Edwards Foundation Career Development Award
2016, Pew Scholar in the Biomedical Sciences
2009, Carlsberg Foundation postdoctoral fellowship
2008, Max Perutz prize for "outstanding graduate research"
2005, Carlsberg Foundation scholarship at Churchill College
---
Selected References
Andersen KG, Rambaut A, Lipkin WA, Holmes EC, Garry RF
The Proximal Origin of SARS-CoV-2
Nature Medicine 26, 450–452, 2020
Grubaugh ND, Saraf S, Gangavarapu K, Watts A, Tan AL, Oidtman RJ, Ladner JT, Oliveira G, Matteson NL, Kraemer MUG, Vogels CBF, Hentoff A, Bhatia D, Stanek D, Scott B, Landis V, Stryker I, Cone MR, Kopp EW 4th, Cannons AC, Heberlein-Larson L, White S, Gillis LD, Ricciardi MJ, Kwal J, Lichtenberger PK, Magnani DM, Watkins DI, Palacios G, Hamer DH; GeoSentinel Surveillance Network, Gardner LM, Perkins TA, Baele G, Khan K, Morrison A, Isern S, Michael SF, Andersen KG
Travel Surveillance and Genomics Uncover a Hidden Zika Outbreak during the Waning Epidemic
Cell 178(5):1057-1071, 2019
Grubaugh ND, Ladner JT, Lemey P, Pybus OG, Rambaut A, Holmes EC, Andersen KG
Tracking Virus Outbreaks in the Twenty-first Century
Nature Microbiology 4(1):10-19, 2019
Saphire EO, Schendel SL, Fusco ML, Gangavarapu K, Gunn BM, Wec AZ, Halfmann PJ, Brannan JM, Herbert AS, Qiu X, Wagh K, He S, Giorgi EE, Theiler J, Pommert KBJ, Krause TB, Turner HL, Murin CD, Pallesen J, Davidson E, Ahmed R, Aman MJ, Bukreyev A, Burton DR, Crowe JE Jr, Davis CW, Georgiou G, Krammer F, Kyratsous CA, Lai JR, Nykiforuk C, Pauly MH, Rijal P, Takada A, Townsend AR, Volchkov V, Walker LM, Wang CI, Zeitlin L, Doranz BJ, Ward AB, Korber B, Kobinger GP*, Andersen KG*, Kawaoka Y*, Alter G*, Chandran K*, Dye JM*
Systematic Analysis of Monoclonal Antibodies against Ebola virus GP Defines Features that Contribute to Protection
Cell 174(4):938-952, 2018 (* = equal contribution)
Ma S, Cahalan S, LaMonte G, Grubaugh ND, Zeng W, Murthy SE, Paytas E, Gamini R, Lukacs V, Whitwam T, Loud M, Lohia R, Berry L, Khan SM, Janse CJ, Bandell M, Schmedt C, Wengelnik K, Su AI, Honore E, Winzeler EA, Andersen KG, Patapoutian A
Common PIEZO1 Allele in African Populations Causes RBC Dehydration and Attenuates Plasmodium Infection
Cell 173(2):443-455, 2018
Grubaugh ND, Ladner JT, Kraemer MUG, Dudas G, Tan AL, Gangavarapu K, Wiley MR, White S, Thézé J, Magnani DM, Prieto K, Reyes D, Bingham AM, Paul LM, Robles-Sikisaka R, Oliveira G, Pronty D, Barcellona CM, Metsky HC, Baniecki ML, Barnes KG, Chak B, Freije CA, Gladden-Young A, Gnirke A, Luo C, MacInnis B, Matranga CB, Park DJ, Qu J, Schaffner SF, Tomkins-Tinch C, West KL, Winnicki SM, Wohl S, Yozwiak NL, Quick J, Fauver JR, Khan K, Brent SE, Reiner RC Jr, Lichtenberger PN, Ricciardi MJ, Bailey VK, Watkins DI, Cone MR, Kopp EW 4th, Hogan KN, Cannons AC, Jean R, Monaghan AJ, Garry RF, Loman NJ, Faria NR, Porcelli MC, Vasquez C, Nagle ER, Cummings DAT, Stanek D, Rambaut A, Sanchez-Lockhart M, Sabeti PC*, Gillis LD*, Michael SF*, Bedford T*, Pybus OG*, Isern S*, Palacios G*, Andersen KG*
Genomic Epidemiology Reveals Multiple Introductions Of Zika Virus Into The United States
Nature 546(7658):401-405, 2017 (* = equal contribution)
Faria NR, Quick J, Claro IM, Thézé J, de Jesus JG, Giovanetti M, Kraemer MUG, Hill SC, Black A, da Costa AC, Franco LC, Silva SP, Wu CH, Raghwani J, Cauchemez S, du Plessis L, Verotti MP, de Oliveira WK, Carmo EH, Coelho GE, Santelli ACFS, Vinhal LC, Henriques CM, Simpson JT, Loose M, Andersen KG, Grubaugh ND, Somasekar S, Chiu CY, Muñoz-Medina JE, Gonzalez-Bonilla CR, Arias CF, Lewis-Ximenez LL, Baylis SA, Chieppe AO, Aguiar SF, Fernandes CA, Lemos PS, Nascimento BLS, Monteiro HAO, Siqueira IC, de Queiroz MG, de Souza TR, Bezerra JF, Lemos MR, Pereira GF, Loudal D, Moura LC, Dhalia R, França RF, Magalhães T, Marques ET Jr, Jaenisch T, Wallau GL, de Lima MC, Nascimento V, de Cerqueira EM, de Lima MM, Mascarenhas DL, Neto JPM, Levin AS, Tozetto-Mendoza TR, Fonseca SN, Mendes-Correa MC, Milagres FP, Segurado A, Holmes EC, Rambaut A, Bedford T, Nunes MRT, Sabino EC, Alcantara LCJ, Loman NJ, Pybus OG
Establishment And Cryptic Transmission Of Zika Virus In Brazil And The Americas
Nature 546(7658):406-410, 2017
Metsky HC, Matranga CB, Wohl S, Schaffner SF, Freije CA, Winnicki SM, West K, Qu J, Baniecki ML, Gladden-Young A, Lin AE, Tomkins-Tinch CH, Ye SH, Park DJ, Luo CY, Barnes KG, Shah RR, Chak B, Barbosa-Lima G, Delatorre E, Vieira YR, Paul LM, Tan AL, Barcellona CM, Porcelli MC, Vasquez C, Cannons AC, Cone MR, Hogan KN, Kopp EW, Anzinger JJ, Garcia KF, Parham LA, Ramírez RMG, Montoya MCM, Rojas DP, Brown CM, Hennigan S, Sabina B, Scotland S, Gangavarapu K, Grubaugh ND, Oliveira G, Robles-Sikisaka R, Rambaut A, Gehrke L, Smole S, Halloran ME, Villar L, Mattar S, Lorenzana I, Cerbino-Neto J, Valim C, Degrave W, Bozza PT, Gnirke A, Andersen KG*, Isern S*, Michael SF*, Bozza FA*, Souza TML*, Bosch I*, Yozwiak NL*, MacInnis BL*, Sabeti PC*
Zika Virus Evolution And Spread In The Americas
Nature 546(7658):411-415, 2017 (* = equal contribution)
Diehl WE, Lin AE, Grubaugh ND, Carvalho LM, Kim K, Kyawe PP, McCauley SM, Donnard E, Kucukural A, McDonel P, Schaffner SF, Rambaut A, Garber M, Andersen KG*, Sabeti PC*, Luban J*
Ebola Virus Glycoprotein With Increased Infectivity Dominated The 2013-2016 Epidemic
Cell 167(4):1088-1098, 2016 (* = equal contribution)
Holmes EC, Dudas G, Rambaut A, Andersen KG
The Evolution Of Ebola Virus: Insights From The 2013-2016 Epidemic
Nature 538(7624):193-200, 2016
Andersen KG, Shapiro BJ, Matranga CB, Sealfon R, Lin AE, Moses LM, Folarin OA, Goba A, Odia I, Ehiane PE, Momoh M, England EM, Winnicki S, Branco LM, Gire SK, Phelan E, Tariyal R, Tewhey R, Omoniwa O, Fullah M, Fonnie R, Fonnie M, Kanneh L, Jalloh S, Gbakie M, Saffa S, Karbo K, Gladden AD, Qu J, Stremlau M, Nekoui M, Finucane HK, Tabrizi S, Vitti JJ, Birren B, Fitzgerald M, McCowan C, Ireland A, Berlin AM, Bochicchio J, Tazon-Vega B, Lennon NJ, Ryan EM, Bjornson Z, Milner DA Jr, Lukens AK, Broodie N, Rowland M, Heinrich M, Akdag M, Schieffelin JS, Levy D, Akpan H, Bausch DG, Rubins K, McCormick JB, Lander ES, Günther S, Hensley L, Okogbenin S; Viral Hemorrhagic Fever Consortium, Schaffner SF, Okokhere PO, Khan SH, Grant DS, Akpede GO, Asogun DA, Gnirke A, Levin JZ, Happi CT, Garry RF, Sabeti PC
Clinical Sequencing Uncovers Origins And Evolution Of Lassa Virus
Cell 162(4):738-50, 2015
Gire SK*, Goba A*, Andersen KG*, Sealfon RSG*, Park DJ*, Kanneh L, Jalloh S, Momoh M, Fullah M, Dudas G, Wohl S, Moses LM, Yozwiak NL, Winnicki S, Matranga CB, Malboeuf CM, Qu J, Gladden AD, Schaffner SF, Yang X, Jiang PP, Nekoui M, Colubri A, Coomber MR, Fonnie M, Moigboi A, Gbakie M, Kamara FK, Tucker V, Konuwa E, Saffa S, Sellu J, Jalloh AA, Kovoma A, Koninga J, Mustapha I, Kargbo K, Foday M, Yillah M, Kanneh F, Robert W, Massally JL, Chapman SB, Bochicchio J, Murphy C, Nusbaum C, Young S, Birren BW, Grant DS, Scheiffelin JS, Lander ES, Happi C, Gevao SM, Gnirke A, Rambaut A, Garry RF, Khan SH, Sabeti PC
Genomic Surveillance Elucidates Ebola Virus Origin And Transmission During The 2014 Outbreak
Science 345(6202):1369-72, 2014 (* = equal contribution)
---
Links