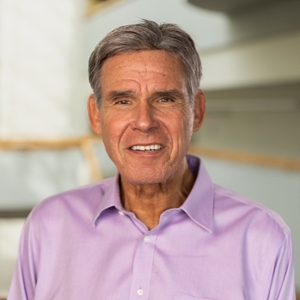 Eric Topol, MD
Email
---
Scripps Research Joint Appointments
---
Other Joint Appointments
Senior Consultant, Scripps Clinic, Division of Cardiovascular Diseases
---
Research Focus
My research is on individualized medicine, using the genome and digital technologies to understand each person at the biologic, physiologic granular level to determine appropriate therapies and prevention. An example is the use of pharmacogenomics and our research on clopidogrel (Plavix). By determining the reasons for why such a large proportion of people do not respond to this medication, we can use alternative treatment strategies to prevent blood clots.
---
Education
M.D. (Medicine), University of Rochester, School of Medicine and Dentistry, 1979
B.A. (Biomedicine), University of Virginia, 1975
---
Professional Experience
2007-2017 Professor of Genomics, Molecular and Experimental Medicine (MEM), Scripps Research
2003-2006 Professor of Genetics, Case Western Reserve University
1991-2006 Chairman, Department of Cardiovascular Medicine, Cleveland Clinic
2002-2005 Founder and Provost, Cleveland Clinic Lerner College of Medicine of Case Western University
2000-2005 Chief Academic Officer, Cleveland Clinic
1985-1991 Professor with Tenure, Department of Internal Medicine, University of Michigan
1982-1985 Cardiology Fellow, Johns Hopkins University
1979-1982 Internal Medicine Resident, University of California, San Francisco
---
Awards & Professional Activities
Elected to Institute of Medicine, National Academy of Sciences
Simon Dack Award, American College of Cardiology
Andreas Gruntzig Award, European Society of Cardiology
Johns Hopkins Society of Scholars
American Association of Physicians
American Society of Clinical Investigation
American Heart Association, Top 10 Research Advances (2001, 2004)
Top 10 Most Cited Researchers in Medicine, Doctor of the Decade, Institute for Scientific Information, Thomson Reuters
---
Selected References
Steinhubl SR, Muse ED, Topol EJ. The emerging field of mobile health. Sci Trans Med. 2015;7(283):283rv3. [PMID: 25877894]
Topol EJ. Your Smartphone Will See You Now. Wall Street Journal. January 10-11, 2015. http://online.wsj.com/public/resources/documents/print/WSJ_-C001-20150110.pdf. Accessed June 1, 2015.
Topol EJ, Steinhubl SR, Torkamani A. Digital medical tools and sensors. JAMA. 2015;313:353-4. [PMID: 25626031]
Topol EJ. Individualized Medicine From Pre-Womb to Tomb. Cell. 2014;157(1):241-253. [PMID: 24679539; PMCID: PMC3995127]
Topol EJ. The Creative Destruction of Medicine. New York, NY: Basic Books; 2012.
Harper AR, Topol EJ. Pharmacogenomics in clinical practice and drug development. Nat Biotechnol. 2012;30(11):1117-24. [PMID: 23138311; PMCID: PMC3819119]
Damani S, Bacconi A, Libiger O, Chourasia AH, Topol EJ. Characterization of circulating endothelial cells in acute myocardial infarction. Sci Transl Med. 2012;4(126):126ra33. [PMID: 22440735; PMCID: PMC3589570]
Bloss CS, Schork NJ, Topol EJ. Effect of Direct-to-Consumer Genomewide Profiling to Assess Disease Risk. N Engl J Med. 2011;364(6):524-34. [PMID: 21226570; PMCID: PMC3786730]
Harismendy O, Notani D, Song X, Rahim NG, Tanasa B, Heintzman N, Ren B, Fu X-D, Topol EJ, et al. 9p21 DNA variants associated with coronary artery disease impair interferon-c signalling response. Nature. 2011; 470(7333):264-8. [PMID: 21307941; PMCID: PMC3079517]
Topol EJ. Transforming Medicine via Digital Innovation. Sci Transl Med. 2010;2(16):16cm4. [PMID: 20371472; PMCID: PMC3756088]
Frazer KA, Murray SS, Schork NJ, Topol EJ. Human genetic variation and its contribution to complex traits. Nat Rev Genet. 2009;10(4):241-51. [PMID: 1923820; PMCID: PMC328900]
Nadeau JH, Topol EJ. The genetics of health. Nat Genet. 2006;38(10):1095-8. [PMID: 17006459]
Mukherjee D, Nissen S, Topol EJ. Risk of cardiovascular events associated with selective COX-2 inhibitors. JAMA. 2001;286(8):954-9. [PMID: 11509060]
CAPRIE Investigators. A randomized, blinded, trial of clopidogrel versus aspirin in patients at risk of ischemic events (CAPRIE). Lancet. 1996; 348(9038):1329-39. [PMID: 8918275]
Lefkovits J, Plow EF, Topol EJ. Platelet glycoprotein IIb/IIIa receptors in cardiovascular medicine. N Engl J Med. 1995;332:1553-9. [PMID: 7739710]
EPIC Investigators. Use of a monoclonal antibody directed against the platelet glycoprotein IIb/IIIa receptor in high-risk coronary angioplasty. N Engl J Med. 1994;330(14):956-61. [PMID: 8121459]
Topol EJ, Califf R, van de Werf F, et al. An international randomized trial comparing four thrombolytic strategies for acute myocardial infarction. N Engl J Med. 1993;329(10):673-82. [PMID: 8204123]
---
Links
Scripps Research Translational Institute