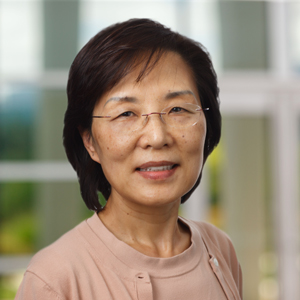 Hyeryun Choe, PhD
Email
---
Scripps Research Joint Appointments
---
Research Focus
Viruses enter cells through common underlying mechanisms. Parallel studies of the entry processes of various viruses can therefore highlight differences among them, as well as their similarities. The Choe laboratory studies a wide range of viruses to better understand their entry pathways and the mechanisms of pathogenesis of viral diseases. In doing so, we identified a number of viral receptor and host factors critical for viral infection and pathogenesis. These include: the HIV-1 coreceptor CCR5, and its post-translational modification tyrosine sulfation critical HIV-1 infection; the SARS-CoV receptor angiotensin-converting enzyme 2 (ACE2) and the lysosomal enzyme cathepsin L as an essential target-cell factors for SARS-CoV infection; transferrin receptor 1 (TfR1) as the receptor for New World hemorrhagic fever arenaviruses, and an antibody that inhibits the infection of all five pathogenic New World arenaviruses. We also study how the TIM family of phosphatidylserine receptors promote infections of a wide range of enveloped viruses including filoviruses and flaviviruses such as West Nile, dengue and Zika viruses. More recently, we included adeno-associated virus (AAV), the preferred gene therapy vector, in our study with the goal of improving its transduction efficiency in specific target cells.
---
Education
Ph.D., Microbiology, Biochemistry and Molecular Biology, Pennsylvania State University,
M.S., Microbiology, Seoul National University,
B.S., , Seoul National University,
---
Professional Experience
1997-1998 Instructor, Department of Pathology, Harvard Medical School
1998-2000 Instructor, Department of Pediatrics, Harvard Medical School
2000-2009 Assistant Professor, Department of Pediatrics, Harvard Medical School
2009-2012 Associate Professor, Department of Pediatrics, Harvard Medical School
2012-2018 Associate Professor with Tenure, The Scripps Research Institute
2018- Professor, The Scripps Research Institute
---
Selected References
Choe H, Farzan M, Sun Y, Sullivan N, Rollins B, Ponath PD, Wu L, Mackay CR, LaRosa G, Newman W, Gerard NP, Gerard C, Sodroski J. The beta-chemokine receptors CCR3 and CCR5 facilitate infection by primary HIV-1 isolates. Cell. 1996 Jun;85(7):1135-48.
Farzan M, Mirzakov T, Kolchinsky P, Wyatt R, Cayabyab M, Gerard NP, Gerard C, Sodroski J, Choe H. Tyrosine Sulfation of N-terminal CCR5 facilitates HIV-1 Entry. Cell. 1999 Mar;96(5):667-76.
Farzan M, Schnitzler CE, Vasilieva N, Leung D, Kuhn J, Gerard C, Gerard NP, Choe H. Sulfated tyrosines contribute to the formation of the C5a docking site of the human C5a anaphylatoxin receptor. J Exp Med. 2001 May;193(9):1059-66.
Choe H, Li W, Wright PL, Vasilieva N, Venturi M, Huang CC, Grundner C, Dorfman T, Zwick MB, Wang L, Rosenberg ES, Kwong PD, Burton DR, Robinson JE, Sodroski JG, Farzan M. Tyrosine Sulfation of Human Antibodies Contributes to Recognition of the CCR5 Binding Region of HIV-1 gp120. Cell. 2003 Jul;114(2): 161-70.
Li W, Moore MJ, Vasilieva N, Sui J, Wong SK, Berne MA, Somasundaran M, Sullivan JL, Luzuriaga K, Greenough TC, Choe H*, Farzan M*. Angiotensin-converting Enzyme 2 is a Functional Receptor for the SARS coronavirus. Nature. 2003 Nov;426(6965): 450-4. *co-corresponding authors
Huang IC, Bosch BJ, Li F, Li W, Lee KH, Ghiran S, Vasilieva N, Dermody TS, Harrison SC, Dormitzer PR, Farzan M, Rottier PM, Choe H. SARS Coronavirus, but not human coronavirus NL63, utilizes cathepsin L to infect ACE2-expressing cells. J Biol Chem. 2006 Feb;281(6):3198-3203. (PMCID: PMC1142572)
Choe H, Farzan M. Tyrosine sulfate trapped by amber. Nat Biotechnol. 2006 Nov;24(11):1361-2.
Radoshitzky SR, Abraham J, Spiropoulou CF, Kuhn JH, Nguyen D, Li W, Nagel J, Schmidt PJ, Nunberg JH, Andrews NC, Farzan M, Choe H. Transferrin receptor 1 is a cellular receptor for New World hemorrhagic fever arenaviruses. Nature 2007, Mar 1;446(7131):92-6. (PMCID: PMC2658809)
Abraham J, Kwong JA, Albariño CG, Lu JG, Radoshitzky SR, Salazar-Bravo J, Farzan M, Spiropoulou CF, Choe H. Host-species transferrin receptor 1 orthologs are cellular receptors for nonpathogenic New World clade B arenaviruses. PLoS Pathog. 2009 Apr;5(4):e1000358. (PMCID: PMC2658809)
Choe H, Farzan M. Chapter 7. Tyrosine sulfation of HIV-1 coreceptors and other chemokine receptors. Methods Enzymol. 2009; 461:147-70.
Abraham J, Corbett KD, Farzan M, Choe H, Harrison SC. Structural basis for receptor recognition by New World hemorrhagic fever arenaviruses. Nat Struct Mol Biol. 2010 Apr;17(4):438-44. (PMCID: PMC2920743)
Choe H, Jemielity S, Abraham J, Radoshitzky SR, Farzan M. Transferrin receptor 1 in the zoonosis and pathogenesis of New World hemorrhagic fever arenaviruses. Curr Opin Microbiol. 2011 Aug;14(4):476-82. Review. (PMCID: PMC3159852)
Helguera G, Jemielity S, Abraham J, Cordo SM, Martinez MG, Rodríguez JA, Bregni C, Wang JJ, Farzan M, Penichet ML, Candurra NA, Choe H. An antibody recognizing the apical domain of human transferrin receptor 1 efficiently inhibits the entry of all New World hemorrhagic fever arenaviruses. J Virol. 2012 Apr;86(7):4024-8. (PMCID: PMC3302512)
Jemielity J, Wang JJ, Chan YK, Ahmed AA, Li W, Monahan S, Bu X, Farzan M, Freeman GJ, Umetsu DT, DeKruyff RJ, Choe H. TIM-family proteins promote infection of multiple enveloped viruses through virion-associated phosphatidylserine. PLos Pathog. 2013 Mar 28;9(3):e1003232. (PMCID: PMC3610696)
Demogines A, Abraham J, Choe H, Farzan M, Sawyer SL. Dual host-virus arms races shape an essential housekeeping protein. PLoS Biol. 2013;11(5):e1001571. (PMCID: PMC3665890)
Zong M, Fofana I, Choe H. Human and host species transferrin receptor 1 use by North American arenaviruses. J Virol. 2014 Aug;88(16):9418-28. (PMCID: PMC4136298)
Richard AS, Zhang A, Park S, Farzan M, Zong M, Choe H. Virion-associated phosphatidylethanolamine promotes TIM1-mediated infection by Ebola, dengue and West Nile viruses. Proc Natl Acad Sci. Epub 2015 Nov 2.
Huang WC, Abraham R, Shim BS, Choe H, Page DT. Zika virus infection during the period of maximal brain growth causes microcephaly and corticospinal neuron apoptosis in wild type mice. Sci Rep. 2016 Oct 7;6:34793 (PMCID: PMC5054421)
Richard AS, Shim BS, Kwon YC, Zhang R, Otsuka Y, Schmitt K, Berri F, Diamond MS, Choe H. AXL-dependent infection of human fetal endothelial cells distinguishes Zika virus from other pathogenic flaviviruses. Proc Natl Acad Sci U S A. 2017 Feb 6. pii: 201620558. doi: 10.1073/pnas.1620558114. (PMCID: PMC28167751)
Otsuka Y, Schmitt K, Quinlan BD, Gardner MR, Alfant B, Reich A, Farzan M, Choe H. Diverse pathways of escape from all well-characterized VRC01-class broadly neutralizing HIV-1 antibodies. PLoS Pathog. 2018 Aug 20;14(8):e1007238. (PMCID: PMC6117093)
Shim BS, Kwon YC, Ricciardi MJ, Stone M, Otsuka Y, Berri F, Kwal JM, Magnani DM, Jackson CB, Richard AS, Norris P, Busch M, Curry CL, Farzan M, Watkins D, Choe H. Zika Virus-Immune Plasmas from Symptomatic and Asymptomatic Individuals Enhance Zika Pathogenesis in Adult and Pregnant Mice. mBio. 2019 Jul 2;10(4). pii: e00758-19. (PMCID: PMC6606798)
Laczko D, Hogan MJ, Toulmin SA, Hicks P, Lederer K, Gaudette BT, Castano D, Amanat F, Muramatsu H, Oguin III TH, Ojha A, Zhang L, Mu Z, Parks R, Manzoni TB, Roper B, Strohmeier S, Tombacz I, Arwood L, Nachbagauer R, Kariko K, Greenhouse Pessaint JL, Porto M, Putman-Taylor T, Strasbaugh A, Campbell T, Lin PJC, Tam YK, Sempowski GD, Farzan M, Choe H, Saunders KO, Haynes BF, Andersen H, Eisenlohr LC, Weissman D, Krammer F, Bates P, Allman D, Locci M, Pardi N. A Single Immunization with Nucleoside-Modified mRNA Vaccines Elicits Strong Cellular and Humoral Immune Responses against SARS-CoV-2 in Mice. Immunity 2020 Oct 13;53(4):724-732.
Brell J, Berg V, Modak M, Puck A, Zlabinger G, Steinberger P, Chou J, Geha R, Öhler L, Yachie A, Choe H, Stöckl J. Transferrin receptor 1 is a cellular receptor for human heme-albumin. Nature Commun. 2020. https://doi.org/10.1038/s42003-020-01294-5
Zhang L, Richard AS, Jackson CB, Ojha A, Choe H. Phosphotidylethanolamine and phosphatidylserine synergize to enhance GAS6/AXL-mediated virus infection and efferocytosis. J. Virol. 2020. https://doi.org/10.1128/JVI.02079-20

Jackson C, Richard AS, Ojha A, Conkright KA, Trimarchi JM, Bailey CC, Alpert MD, Kay MA, Farzan M, Choe H. AAV vectors engineered to target insulin receptor greatly enhance intramuscular gene delivery. Mol Ther Methods Clin Dev. 2020. https://doi.org/10.1016/j.omtm.2020.11.004
Jackson CB, Zhang L, Farzan M, Choe H. Functional importance of the D614G mutation in the SARS-CoV-2 spike protein. Biochem Biophys Res Commun. 2020. https://doi.org/10.1016/j.bbrc.2020.11.026
Zhang L, Jackson CB, M H, Ojha A, Rangarajan E, Izard T, Farzan M, Peng H, Quinlan B, Pan A, Vanderheiden A, Suthar M, Li W, Rader C, Choe H. SARS-CoV-2 spike-protein D614G mutation increases virion spike density and infectivity. Nature Commun. 2020. https://rdcu.be/cblST
---
Links