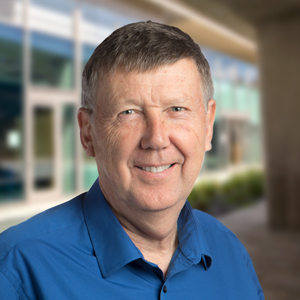 Dennis Burton, PhD
Email
---
Scripps Research Joint Appointments
---
Other Joint Appointments
The Ragon Institute of MGH, MIT and Harvard
IAVI Neutralizing Antibody Center, The Scripps Research Institute
---
Research Focus
Antibodies and Infectious Disease

The perception of man as the easy victor over microbes has changed dramatically in the last two decades. Vaccination has offered protection against a number of viral pathogens, but it is increasingly recognized that the strategies used in the past will not be successful against all viruses. We are focused on developing rational vaccine strategies, particularly against HIV and particularly using an approach termed "Reverse Vaccinology 2.0". In this approach, broadly neutralizing antibodies isolated from natural HIV infection are investigated in interaction with their sole viral target, the HIV Envelope, and the data used to guide immunogen design and immunization strategies. Immunogens are then evaluated in detail in animal models and the results used to iteratively improve immunogens as we move toward an HIV vaccine suitable to protect humans.

---
Education
Ph.D. (Physical Biochemistry), Lund University, 1978
B.A. (Chemistry), University of Oxford, 1974
---
Professional Experience
2015-2017 Chairman, Immunology and Microbial Science (IMS), Scripps Research
1991-2017 Professor, Immunology and Microbial Science (IMS), Scripps Research
2015-2015 Distinguished Lecturer, The American Association of Immunologists
-2012 Professor (Joint Appointment), Molecular Biology, Scripps Research
1990-1991 Personal Chair, The University of Sheffield
1989-1991 Visiting Member, Research Institute of Scripps Clinic
1985-1991 Jenner Fellow, Lister Institute of Preventive Medicine
1987-1990 Senior Lecturer in Biochemistry, The University of Sheffield
1981-1987 Lecturer in Biochemistry, The University of Sheffield
1980-1981 Junior Research Fellow, Wolfson College, University of Oxford
1979-1981 Medical Research Council Training Fellowship, University of Oxford
---
Selected References
Moyer, T. J., Kato, Y., Abraham, W., Chang, J. Y. H., Kulp, D. W., Watson, N., Turner, H. L., Menis, S., Abbott, R. K., Bhiman, J. N., Melo, M. B., Simon, H. A., et al. Engineered immunogen binding to alum adjuvant enhances humoral immunity. (2020). Nature Medicine, 26(3), 430-440.
Steichen, J. M., Lin, Y. C., Havenar-Daughton, C., Pecetta, S., Ozorowski, G., Willis, J. R., Toy, L., Sok, D., Liguori, A., Kratochvil, S., Torres, J. L., Kalyuzhniy, O., et al. A generalized HIV vaccine design strategy for priming of broadly neutralizing antibody responses. (2019). Science, 366.
Pegu, A., Borate, B., Huang, Y., Pauthner, M. G., Hessell, A. J., Julg, B., Doria-Rose, N. A., Schmidt, S. D., Carpp, L. N., Cully, M. D., Chen, X., Shaw, G. M., et al. A meta-analysis of passive immunization studies shows that serum-neutralizing antibody titer associates with protection against SHIV challenge. (2019). Cell Host & Microbe, 26(3), 336-346. PMCID: PMC6755677.
Burton, D. R. Advancing an HIV vaccine; advancing vaccinology. (2019). Nature Reviews Immunology, 19(2), 77-78.
Zhang, L., Irimia, A., He, L., Landais, E., Rantalainen, K., Leaman, D. P., Vollbrecht, T., Stano, A., Sands, D. I., Kim, A. S., Poignard, P., Burton, D. R., et al. An MPER antibody neutralizes HIV-1 using germline features shared among donors. (2019). Nature Communications, 10. PMCID: PMC6879610.
Burton, D. R. Antibody barriers to going viral. (2019). Journal of Experimental Medicine, 216(10), 2226-2228. PMCID: PMC6781000.
Briney, B., Inderbitzin, A., Joyce, C. & Burton, D. R. Commonality despite exceptional diversity in the baseline human antibody repertoire. (2019). Nature, 566(7744), 393-397.
von Bredow, B., Andrabi, R., Grunst, M., Grandea, A. G., Le, K., Song, G., Berndsen, Z. T., Porter, K., Pallesen, J., Ward, A. B., Burton, D. R., Evans, D. T. Differences in the binding affinity of an HIV-1 V2 apex-specific antibody for the SIVsmm/mac envelope glycoprotein uncouple antibody-dependent cellular cytotoxicity from neutralization. (2019). Mbio, 10(4), e01255-19. PMCID: PMC6606807.
Haynes, B. F., Burton, D. R. & Mascola, J. R. Multiple roles for HIV broadly neutralizing antibodies. (2019). Science Translational Medicine, 11.
Seabright, G. E., Doores, K. J., Burton, D. R. & Crispin, M. Protein and glycan mimicry in HIV vaccine design. (2019). Journal of Molecular Biology, 431(12), 2223-2247. PMCID: PMC6556556.