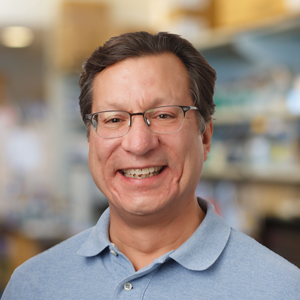 Michael Farzan
---
Scripps Research Joint Appointments
---
Research Focus
Our laboratory focuses on entry processes of enveloped viruses and the various ways that the innate and adaptive immune responses inhibit these processes. We also apply our insights toward developing therapeutic strategies that enhance or supplement these immune responses. Our work can be divided into three categories: (1) biochemical studies of the HIV-1 entry process and its inhibition, (2) identification and characterization of obligate factors, including receptors, necessary for the entry of other enveloped viruses, and (3) identification and characterization of host restriction factors that inhibit early steps in the viral life cycle, in particular those of the IFITM family.
In addition to these scientific goals, we are developing a means of providing sustained, universal protection from HIV-1. Our most effective strategy uses adeno-associated virus (AAV) to express, eCD4-Ig, an exceptionally broad and potent HIV-1 entry inhibitor. We have shown that this strategy protects rhesus macaques from virus challenges greater than any human is likely to encounter, and thus it provides more effective protection than any conventional vaccine approach. To improve the safety of this approach, we are also developing regulatory switches that can dose or inactivate an AAV transgene.
---
Education
A.B., Government, Harvard College, 1984
Ph.D., Immunology, Harvard Medical School, 1997
---
Professional Experience
Harvard Medical School
1993-1997 Graduate Student, Program in Immunology
1997-1999 Post-Doctoral Fellow, Department of Pathology
1999-2002 Instructor, Department of Pathology
2002-2004 Assistant Professor, Department of Medicine
2005-2007 Assistant Professor, Department of Microbiology and Molecular Genetics
2007-2012 Associate Professor, Department of Microbiology and Immunobiology
2012-2012 Professor, Department of Microbiology and Immunobiology
The Scripps Research Institute
2012-2015 Professor, Department of Infectious Diseases
2015-2017 Professor and Vice Chair, Department of Immunology and Microbial Science
2017-2020 Professor and Co-chair, Department of Immunology and Microbiology
2020- Professor and Chair, Department of Immunology and Microbiology
---
Awards & Professional Activities
Awards
Dana-Farber Cancer Institute Richard A. Smith Prize 2000
GlaxoSmithKline Drug Discovery and Developmental Research Award 2004
Burroughs Wellcome Fund Investigators in Pathogenesis Award 2007-2012
The Kavli Foundation and the National Academy of Sciences Kavli Fellowship 2008
Top NIAID Research Advances of 2015
Grand Challenges Award, Bill and Melinda Gates Foundation 2015-2019
NIAID MERIT Award, "Therapeutic uses of an enhanced form of CD4-Ig" 2016-2021
NIDA Avant-Garde Award, "A safety switch for an effective HIV-1 vaccine" 2017-2022
American Academy of Microbiology, Elected Fellow 2019
Activities
Section Editor for Viral Pathogenesis, PLoS Pathogens 2007-2016
Steering Committee, Infectious Disease Initiative, Broad Institute 2009-2014
Member, NIH AIDS Molecular and Cellular Biology (AMCB) Study Section 2009-2013
Member, NIH Systems Biology Working Group (SBWG) 2010-2015
Editorial Board, Journal of Virology 2007-present
Chair, Florida Curriculum Committee, The Scripps Research Insitute 2014-2019
Founder Emmune Inc. 2015-present
---
Selected References
Toward sustained, universal protection from HIV-1
Gardner MR, Kattenhorn LM, Kondur HR, von Schaewen M, Dorfman T, Chiang JJ, Haworth KG, Decker JM, Alpert MD, Bailey CC, Neale ES, Fellinger CH, Joshi VR, Fuchs SP, Martinez-Navio JM, Quinlan BD, Yao AY, Mouquet H, Gorman J, Zhang B, Poignard P, Nussenzweig MC, Burton DR, Kwong PD, Piatak M, Lifson JD, Gao G, Desrosiers RC, Evans DT, Hahn BH, Ploss A, Cannon PM, Seaman MS, Farzan M. AAV-expressed eCD4-Ig provides durable protection from multiple SHIV challenges. Nature. 2015; 519:87-91
Davis-Gardner ME, Gardner MR, Alfant B, Farzan M. eCD4-Ig promotes ADCC activity of sera from HIV-1-infected patients. PLoS Pathog. 2017; 13:e1006786
Gardner MR, Fellinger CH, Kattenhorn LM, Davis-Gardner ME, Weber JA, Alfant B, Zhou AS, Prasad NR, Kondur HR, Newton WA, Weisgrau KL, Rakasz EG, Lifson JD, Gao G, Schultz-Darken N, Farzan M. AAV-delivered eCD4-Ig protects rhesus macaques from high-dose SIVmac239 challenges. Sci Transl Med. 2019
Regulation of gene-therapy vectors
Zhong G, Wang H, Bailey CC, Gao G, Farzan M. Rational design of aptazyme riboswitches for efficient control of gene expression in mammalian cells. Elife. 2016; 5. pii: e18858
Zhong G, Wang H, Li Y, Tran MH, Farzan M. Cpf1 proteins excise CRISPR RNAs fro mRNA transcripts in mammalian cells. Nat Chem Biol. 2017; 13:839-841
Mou H, Zhong G, Gardner MR, Wang H, Wang YW, Cheng D, Farzan M. Conditional regulation of gene expression by ligand-induced occlusion of a microRNA target sequence. Mol Ther. 2018; 26:1277-1286
Zhong G, Wang H, He W, Li Y, Mou H, Tickner ZJ, Tran MH, Ou T, Yin Y, Diao H, Farzan M. A reversible RNA on-switch that controls gene expression of AAV-delivered therapeutics in vivo. Nat Biotechnol. 2019
HIV-1 entry and its inhibition
Farzan M, Mirzabekov T, Kolchinsky P, Wyatt R, Cayabyab M, Gerard NP, Gerard C, Sodroski J, Choe H. Tyrosine sulfation of the amino-terminus of CCR5 facilitates HIV-1 entry. Cell. 1999; 96:667-76.
Choe H, Li W, Wright PL, Vasilieva N, Venturi M, Huang CC, Grundner C, Dorfman T, Zwick MB, Wang L, Rosenberg ES, Kwong PD, Burton DR, Robinson JE, Sodroski JG, Farzan M. Tyrosine sulfation of human antibodies contributes to recognition of the CCR5-binding region of HIV-1 gp120. Cell. 2003; 114:161-70.
Dorfman T, Moore MJ, Guth AC, Choe H, Farzan M. A tyrosine-sulfated peptide derived from the heavy-chain CDR3 region of an HIV-1-neutralizing antibody binds gp120 and inhibits HIV-1 infection. J Biol Chem. 2006; 28:28529-35
Chiang JJ, Gardner MR, Quinlan BD, Dorfman T, Choe H, Farzan M. Enhanced recognition and neutralization of HIV-1 by antibody-derived CCR5-mimetic peptide variants. J Virol. 2012; 86:12417-21
Gardner MR, Fellinger CH, Prasad NR, Zhou AS, Kondur HR, Joshi VR, Quinlan BD, Farzan M. CD4-Induced Antibodies Promote Association of the HIV-1 Envelope Glycoprotein with CD4-Binding Site Antibodies. J Virol. 2016; 90:7822-32
Entry processes of other enveloped viruses
Li W, Moore MJ, Vasilieva N, Sui J, Wong SK, Berne MA, Somasundaran M, Sullivan JL, Luzuriaga K, Greenough TC, Choe H, Farzan M. Angiotensin-converting enzyme 2 is a functional receptor for the SARS coronavirus. Nature 2003; 426:450-4.
Li F, Li W, Farzan M, and Harrison SC. Structure of SARS coronavirus spike receptor-binding domain complexed with receptor. Science. 2005; 30:1864-8.
Li W, Zhang C, Sui J, Kuhn JH, Moore MJ, Luo S, Wong SK, Huang IC, Xu K, Vasilieva N, Murakami A, He Y, Marasco WA, Guan Y, Choe H, Farzan M. Receptor and viral determinants of SARS-coronavirus adaptation to human ACE2. EMBO J. 2005; 24:1634-43.
Radoshitzky SR, Abraham J, Spiropoulou CF, Kuhn JH, Nguyen D, Li W, Nagel J, Schmidt PJ, Nunberg JH, Andrews NC, Farzan M, Choe H. Transferrin receptor 1 is a cellular receptor for New World haemorrhagic fever arenaviruses. Nature. 2007; 446:92-6.
Radoshitzky SR, Kuhn JH, Spiropoulou CF, Albariño CG, Nguyen DP, Salazar-Bravo J, Dorfman T, Lee AS, Wang E, Ross SR, Choe H, Farzan M. Receptor Determinants of Zoonotic Transmission of New World Hemorrhagic Fever Arenaviruses. Proc Natl Acad Sci U S A. 2008; 105:2664-9.
IFITM-family proteins and innate immunity
Brass AL, Huang IC, Benita Y, John SP, Krishnan MN, Feeley EM, Ryan B, JL. Weyer JL, van der Weyden L, Fikrig E, Adams DJ, Xavier RJ, Farzan M*, Elledge SJ. IFITM Proteins Mediate the Innate Immune Response to Influenza A H1N1 Virus, West Nile Virus and Dengue Virus. Cell. 2009; 139:1243-54. *co-corresponding
Huang IC, Bailey CC, Weyer JL, Radoshitzky SR, Becker MM, Chiang JJ, Brass AL, Ahmed AA, Chi X, Dong L, Longobardi LE, Boltz D, Kuhn JH, Elledge SJ, Bavari S, Denison MR, Choe H, Farzan M. Distinct patterns of IFITM-mediated restriction of filoviruses, SARS coronavirus, and influenza A virus. PLoS Pathog. 2011; 7:e1001258
Bailey CC, Huang IC, Kam C, Farzan M. Ifitm3 limit the severity of acute influenza in mice. PLoS Pathog 2012; 8:e1002809.
Bailey CC, Kondur HR, Huang IC, Farzan M. Interferon-induced transmembrane protein 3 is a type II transmembrane protein. J Biol Chem. 2013; 288:32184-93.
Gorman MJ, Poddar S, Farzan M, Diamond MS. The Interferon-Stimulated Gene Ifitm3 Restricts West Nile Virus Infection and Pathogenesis. J Virol. 2016;90:8212-25
Reviews summarizing our work
Li W, Wong SK, Li F, Kuhn JH, Huang IC, Choe H, Farzan M. Animal Origins of SARS Coronavirus: Insight from ACE2/S-protein Interactions. J Virol. 2006; 80:4211-9.
Choe H and Farzan M. Tyrosine sulfation of HIV-1 coreceptors and other chemokine receptors. Methods Enzymol. 2009;461:147-70
Choe H, Jemielity S, Abraham J, Radoshitzky SR, Farzan M. Transferrin receptor 1 in the zoonosis and pathogenesis of New World hemorrhagic fever arenaviruses. Curr Opin Microbiol. 2011; 14:476-82.
Diamond MS and Farzan M. The broad-spectrum antiviral functions of IFIT and IFITM proteins. Nat Rev Immunol. 2013; 13:46-57
Bailey CC, Zhong G, Huang IC, Farzan M. IFITM-Family Proteins: The Cell's First Line of Antiviral Defense. Annu Rev Virol. 2014; 1:261-283.
Gardner MR, Farzan M. Engineering antibody-like inhibitors to prevent and treat HIV-1 infection. Curr Opin HIV AIDS. 2017; 12:294-301