Ian Wilson Elected to National Academy of Sciences
Ian Wilson, Hanson Professor of Structural Biology and chair of the Department of Integrative Structural and Computational Biology at The Scripps Research Institute (TSRI), has been elected to the National Academy of Sciences as a foreign associate in recognition of distinguished and continuing achievements in original research.
Wilson's research employs broad structural biology and structural genomics programs to determine three-dimensional structures and biological functions in systems related to humoral, cellular and innate immunity, human disease, drug and vaccine design, influenza virus, HIV-1, the expanding protein universe and metagenomics.
Established under a congressional charter signed by President Abraham Lincoln in 1863, the National Academy of Sciences is a private, nonprofit institution that recognizes achievement in science by election to membership and—with the National Academy of Engineering and National Academy of Medicine—provides science, technology and health policy advice to the federal government and other organizations.
Other NAS members include TSRI's Floyd Bloom, Dale Boger, Francis Chisari, Benjamin Cravatt, Gerald Joyce, Steve Kay, Richard Lerner, Michael Oldstone, Julius Rebek, Jr., Paul Schimmel, Peter Schultz, K. Barry Sharpless, Peter Vogt, Charles Weissmann, Chi-Huey Wong, Peter Wright and Kurt Wüthrich.
For more information on Wilson and his research, visit his biosketch page and lab website.
TSRI has won two gold designations in the 21st Hermes Creative Awards, an international competition of the Association of Marketing and Communications Professionals recognizing excellence in marketing and communications.
The awards went to TSRI's "Facts at a Glance" web infographic—a colorful, one-page summary of the institute's background and accomplishments—and the video "New Therapies, New Hope"—a four-minute overview emphasizing TSRI's contributions to human health. Both pieces were produced by TSRI's Department of Communications.
The Hermes 2016 Creative Awards received more than 10,000 entries from a wide range of organizations worldwide.
The seventh annual Beutler Lecture on the Edge of Medicine will present Jeffery I. Gordon, the Dr. Robert J. Glaser Distinguished University Professor and director of the Center for Genome Sciences & Systems Biology at Washington University School of Medicine, on Thursday, May 12, from 4 to 5 PM.
Gordon's lecture is titled "The gut microbiota and childhood undernutrition: Looking at human development from a microbial perspective." An internationally known researcher in gastrointestinal development, Gordon's research focuses on gut microbiomes and nutritional status. He is a member of the National Academy of Sciences, the American Academy of Arts and Sciences and National Academy of Medicine.
The lecture, to be held at The Auditorium at TSRI, will be hosted by TSRI Professor Joel Buxbaum and Assistant Professor Dennis Wolan and sponsored by the Department of Molecular and Experimental Medicine and the Kroc Foundation. The event honors the legacy of the department's founding chairman, Professor Ernest Beutler, who believed that laboratory science and clinical medicine were mutually informative.
TSRI Professor Xiang-Lei Yang is the featured speaker for the final 2015-2016 Faculty Lecture Series presentation. Yang will present her lecture, titled "Discover new functions of tRNA synthetases with pathophysiological significance," on Wednesday, May 11, at 5 PM in the Timken Amphitheater, Green Hospital. A reception will follow in the Arnold and Mabel Beckman Building, first floor.
For further information, see Yang's Faculty Lecture Series webpage. The series is supported by an endowment from the Cochrane-Cartan families, established by TSRI Professor Emeritus Charles G. Cochrane.
TSRI's International Office has been renamed the International Services Office (ISO) to reflect its rearticulated mission.
"The new name corresponds to the office's updated mission to provide comprehensive, professional and individualized immigration and support services in a welcoming environment to promote international exchange and further the research and training goals of TSRI," said Ryan Wheeler, director of Career, International and Postdoctoral Services.
The ISO also is collaborating with Career and Postdoctoral Services, Counseling and Psychological Services, Human Resources and Graduate Studies to align strategic priorities and services for TSRI's more than 500 international students, scholars and their families.
In the past year, the ISO has implemented new initiatives such as updated visa policies and procedures, and international programming on both Scripps California and Florida campuses. "Future plans include career development programs tailored specifically for international students and postdocs, resources for administrative assistants, improved websites and more," said Wheeler.
For more information on resources provided by the International Services Office, visit the department's website.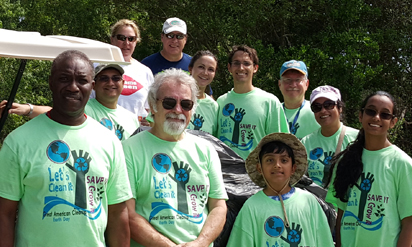 Scripps Florida's Green Team celebrated its annual Earth Day partnership with Palm Beach County's Solid Waste Authority to clean up litter at the team's Adopted Spot, adjacent to the campus on Central Boulevard and Donald Ross Road. Collecting eight bags of trash and four bags of recyclables (including an abandoned engine manifold) were (back, left to right) Ashish Sawant, Laura Niedernhofer, Paul Robbins, Marisa Hoefs and husband Timo, Peter Norris and Molee Chakraborty, and (front, left to right) Michael Johnson, Tom Carroll, Reyansh Sawant (Ashish's son) and Driptaa Chakraborty (Molee's daughter).
Scripps California's Society of Fellows (SoF) will hold its 26th annual Vendor Show on Tuesday, May 10, from 10 AM to 2 PM, spotlighting more than 100 life science industry vendors on the Immunology Plaza and the Beckman building galleria.
"It's a perfect opportunity to scout out novel reagents, kits and technologies that will ultimately benefit and streamline research; many vendors will offer special discounts," said Matthias Pauthner, event co-chair with Ana Wang. He also noted the event's industry networking opportunities, free sample giveaways and a $1,000 raffle prize drawing.
The show's success depends on the support of staffers, graduate students and postdocs; attendance is the single biggest factor that helps recruit a largely similar vendor group each year, according to Pauthner. Show profits fund SoF activities, including course reimbursements, travel grants, lecture series, industry visits and social activities.
The application deadline for the Mark A. Hall Travel Award spring cycle, presented by the Scripps Florida Society of Research Fellows (SRF), is Thursday, May 19.
Named in honor of the late Mark Hall, a TSRI postdoctoral fellow in cancer biology, the award aims to support postdoctoral fellows pursuing advanced training by offering the opportunity to participate in a premier scientific or professional development meeting. According to SRF President Andrii Monastyrsky, 2016 marks the first year the award will enable awardees to attend meetings for the sole purpose of professional development. The $1,000 grants are open to fulltime Scripps Florida research associates. A committee of faculty members and two previous SRF members will evaluate the applications.
Specific award criteria and application details are available on the SRF website.
Two upcoming 2016 Funding Fest seminars will spotlight National Institutes of Health (NIH) grants and loans. Open to graduate students and postdoctoral fellows, the Funding Fest is sponsored by the Torrey Pines Training Consortium, a collaboration of TSRI, the Salk Institute, Sanford Burnham Prebys Medical Discovery Institute and UC San Diego.
NIH Loan Repayment Programs Information Session
Established by Congress and designed to recruit and retain highly qualified professions into biomedical or biobehavioral research careers, the NIH Loan Repayment Programs (LRPs) repay up to $35,000 annually of a researcher's qualified educational debt in return for a commitment to engage in NIH mission-relevant research. Erika Boone, director of the NIH Division of Loan Repayment, will explain LRP programs, eligibility and applications processes. The session will be held Monday, May 23, from noon to 2 PM. Register online.
K99/R00 & the NIH Grant Process
Yvonne Eisele, research associate in the Kelly lab at TSRI, will offer best-practice tips for applying for the NIH Pathway to Independence Award (K99/R00), which provides five years of support to facilitate a postdoctoral fellow's timely transition from a mentored research position to independent research. Pamela Mellon, professor and vice chair for research of reproductive medicine and neuroscience at the University of California (UC) San Diego, will present an overview of the award program. The workshop will be held Wednesday, May 25, from 1 to 3:30 PM. Register online.
Both sessions will be held on the UC San Diego campus in the Leichtag building (9500 Gilman Drive, La Jolla, 92093), room 107.
The Scripps California community is encouraged to try a pedal-powered commute to campus on Friday, May 20, the 2016 Bike to Work Day, sponsored by iCommute, an agency of the San Diego Association of Governments.
Registered participants can stop by one of 100 pit-stop locations throughout the San Diego region from 6 to 9 AM on Bike to Work Day to pick up a free t-shirt, snacks and encouragement. Bike commuters can also enter a drawing for a $450 Bicycle Warehouse gift card by logging their trip on iCommute's Trip Tracker. To register for the event, visit the Bike to Work website.
The iCommute website provides biking resources, including the San Diego Regional Bike Map, riding and safety tips, and information about taking a bike on public transit. For more information on Bike to Work Day 2016, visit the Bike Month website.
The La Jolla Music Society's 2016 Discovery Series concludes Sunday, May 8, 3 PM, with a solo program featuring award-winning Czech violinist Josef Špaček performing works by Bach, Prokofiev, Saint-Saëns and more. For additional program and ticket information, visit the society's website.
The Auditorium at TSRI is located at 10640 John Jay Hopkins Drive, San Diego 92121.




Send comments to: mikaono[at]scripps.edu