Gerald Joyce Named Director of GNF
Gerald Joyce, professor and member of the Skaggs Institute for Chemical Biology at The Scripps Research Institute (TSRI), has been named director of the Genomics Institute of the Novartis Research Foundation (GNF).
"GNF has made a great choice in Jerry as director," said James Paulson, acting president and CEO of TSRI. "We are delighted that Jerry will maintain his laboratory at TSRI, and that his appointment by GNF reinforces the historical relationship between our two institutions."
Joyce will assume his new duties at GNF on October 1. His laboratory at TSRI investigates the test-tube evolution of functional nucleic acids, both to explore their relevance to the early history of life on Earth and for their potential applications in clinical diagnostics and therapeutics.
Research Associate Matthew Eddy took home the $500 Jared Purton Award for best presentation in TSRI's first-ever "Lightning Talks" on Wednesday, September 17. Eddy and 11 other finalists strove to summarize their research in a clear, entertaining way in just three minutes, using just one slide.
"TSRI is such as diverse place, it's hard to get everybody in a room to talk about their research. These three-minute talks make it accessible to everybody," said Research Associate Arryn Craney, who organized the Lightning Symposium. Craney hopes to make the competition an annual event.
Eddy's presentation focused on the challenges of creating "molecular movies" by capturing images of proteins as they perform different functions.
The second place $250 prize went to Research Associate Anjana Nityanandam, who discussed her research into modeling brain disorders using stem cells.
The third place $125 prize went to Research Associate Dan Carney for his presentation on potential anticancer therapies.
Other Lightning Talk finalists were: Lynda Groocock, Jonathan Lockner, Maoyi Lai, William Marrs, Sajish Mathew, Elmar Nurmammadov, Rakesh Sit, Sucharita Somkuwar and Kate White.
Also presenting Lightning Talks of their research were TSRI faculty members Ashok Deniz, Velia Fowler, Wendy Havran, Dwight H. Kono, Katja Lamia, Eric Topol and Dennis Wolan.
The event was presented by the TSRI Society of Fellows and SOS Toastmasters as part of National Postdoc Appreciation Week, which also included events such as chair massages, a Career and Postdoctoral Services Office open house and a Distinguished Lecture by Nobel laureate Jack Szostak of Harvard Medical School.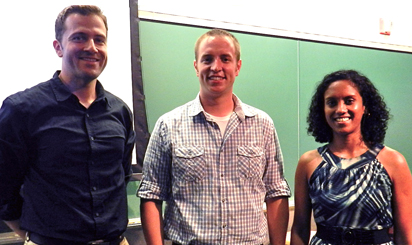 Research Associates Matthew Eddy, Dan Carney and Anjana Nityanandam (left to right) brought home prizes in the Lightening Talk competition. (Photo by Jean Branan.)
Have you heard of altmetrics? Altmetrics are alternative metrics to traditional citation counts. They strive to measure the impact of a particular article by harnessing the power of the Internet and social media. Altmetrics gather data on an individual article from news stories, blog posts, tweets, Facebook or Google + mentions, social bookmarking and saves in collaboration tools like Mendeley or F1000.
If you want to see how altmetrics can work with your published articles, try the free Altmetric bookmarklet. Drag the bookmarklet to your toolbar and click on it when you're in the abstract or full-text of a paper. Data on the article will appear in a small box in the upper right of your screen. Watch a short 40-second video that demonstrates the bookmarklet.
Many publishers are now offering some altmetric data on their websites, so keep an eye out for those as well. No one is suggesting these alternative metrics will replace the traditional ones, but it is interesting to see the reach and impact of individual research articles in the wider online world.
Other resources:
Questions or comments? Contact the Kesge Library at x4-8705 or helplib@scripps.edu.
Techniques for responding calmly to stressful situations and frustrating interactions are the focus of the next Lunch & Learn presentation, "Keeping it Cool: Managing your Anger in a Stressful World," scheduled for Wednesday, September 24, noon to 1 PM, in the Beckman building's Keck Amphitheater, California campus.
Presented by Daphne Lurie, director of the TSRI Counseling and Psychological Services Office, the session will offer tools to help cope with challenging circumstances. The session will cover:
The realities of anger
Personal responses to anger
Positive anger-management strategies
For more information about Lunch & Learn events and other resources offered by Counseling and Psychological Services, visit the office's website.
The Scripps Florida Network for Women in Science (NWiS) will present a "Business Etiquette for Women" seminar Tuesday, September 23, from 4 to 6 PM, in the Board Room, B252.
Conducted by Jacqueline Whitmore, author, etiquette expert and founder of the Protocol School of Palm Beach, the seminar will provide guidance on confident business and social interactions, effective communication and how to leverage personal power and presence in the workplace.
Faculty, students and staff are invited to attend the seminar. For additional details, contact Briana Weiser, research associate in the Tellinghuisen lab, at (561) 228-2444 or bweiser@scripps.edu.
The next onsite immunization clinic on the California campus will be held Wednesday, September 24, from 9:30 to 11:30 AM, in building 3366, room 150. Appointments are not needed.
Conducted by Sharp Rees-Stealy staff, the clinic will provide hepatitis B vaccination free of charge to all TSRI employees. Environmental Health & Safety Occupational Medicine must pre-authorize all other procedures based on the employee's working conditions. These procedures include tetanus, diphtheria and pertussis (Tdap) vaccines and other titers, immunizations and procedures.
TB testing is provided for employees who, in the scope of their TSRI positions, provide human health care, such as registered nurses, or who work with human subjects. For further details, contact Rachel Longville, rachellv@scripps.edu or x4-8457.
The TSRI Institutional Biosafety Committee is scheduled to meet on Wednesday, October 8, from 3:30 to 4:30 PM, in the DAR Conference Room. To receive committee consideration, registration documents must be submitted to Environmental Health and Safety via email to rachellv@scripps.edu by Friday, September 26.
The Athenaeum Music and Arts Library begins its fall jazz series on Thursday, October 2, 8 PM, with the San Diego debut of The Cookers, an all-star septet of leading jazz instrumentalists, which The New York Times called "a dream team of forward-leaning hard-bop." Additional program and ticket information is available on the Athenaeum website.




Send comments to: mikaono[at]scripps.edu