TSRI Named 'Top Institution' in HIV/AIDS Research; Dennis Burton, 'Hot Researcher'
The Scripps Research Institute (TSRI) is a leading institution in HIV/AIDS research, according to Thomson Reuters ScienceWatch. The analysis, conducted in commemoration of December's World AIDS Day, examined the "hottest" recent research on HIV/AIDS—reports published in the last two years, all cited at a level notably above papers of comparable type and age in the same journal.
"Among the institutions whose authors are most prominently represented in the group of 20 Hot Papers, Harvard University and the Scripps Research Institute (La Jolla, California) share top honors," the report stated. "Scripps researchers, in fact—with seven names in all—make a particularly strong showing among the prolific authors of these Hot Papers (including the #1 report), demonstrating that, as of now, the recent work to which they contributed is unmistakably central to ongoing research against HIV/AIDS."
Topping the list of highly cited papers was "Broad neutralization coverage of HIV by multiple highly potent antibodies," in Nature by Walker et al. (see News&Views coverage at http://www.scripps.edu/newsandviews/e_20110829/aids.html)
TSRI Professor Dennis R. Burton was listed as the number one "hot researcher," tied with Barton F. Hayes of Duke University School of Medicine in authoring five of the most-cited HIV/AIDS research papers. Other HIV/AIDS researchers from TSRI who were cited in the report include: Jean-Philippe Julien, Ian W. Wilson, Robert Pejchal, Pascal Poignard, Laura Walker and Andrew B. Ward.
To read Thomson Reuters's article "HIV/AIDS Research: What's Hot Right Now?" see http://sciencewatch.com/articles/hivaids-research-whats-hot-right-now.
A recent article published in the European Journal of Clinical Investigation highlights four TSRI faculty members as "highly influential biomedical researchers": George F. Koob, Peter G. Schultz, Eric J. Topol and John R. Yates III.
The study, which looked at citations from 1996-2011, is a snapshot produced by an analysis including the journals in which a researcher most commonly publishes, the number of articles with more than 100 citations and the author's h-index. To see the article, go to http://onlinelibrary.wiley.com/doi/10.1111/eci.12171/full . To see the TSRI Kresge Library's guide to h-indexes, see http://www.scripps.edu/library/hindex.pdf or, for additional information, contact the library at x4-8705 or helplib@scripps.edu.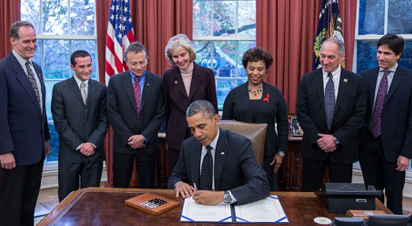 Daniel Salomon, TSRI professor and president of the American Society of Transplantation, was one of a handful of witnesses in the White House Oval Room as President Barak Obama signed into law S. 330, the HIV Organ Policy Equity (HOPE) Act, authorizing development of research standards for HIV-positive organ transplantation. Ultimately, positive-to-positive transplantation will be permitted if research results warrant. Salomon, second from right in photo, noted the new law "is a win for all the patients waiting on the [organ transplantation] list today as it is estimated to increase organs available by about 500 a year when fully implemented." (White House photo by Lawrence Jackson)
Katja Lamia, assistant professor in the TSRI Department of Chemical Physiology, is one of 16 nationwide recipients of a 2013/2014 Lung Cancer Research Foundation (LCRF) grant. Founded in 2005, the LCRF provides critical seed funding for cutting-edge scientific research for all cancers of the lung.
The Lamia lab is investigating the molecular basis for the circadian control of metabolism to enable novel therapies to treat metabolic diseases and is exploring the role of circadian clocks in regulating tumor formation as well.
A hands-on workshop and drop-in clinic covering the National Institutes of Health (NIH) Public Access Policy will be held Wednesday, December 11, from 10 AM to 1 PM.
Presented by Angela Murrell, outreach and instruction librarian at TSRI's Kresge Library, the workshop's first hour will offer instruction on basic NIH public access policy, compliance tracking using My NCBI and the NIHMS system, the publication compliance process, the publication section of the Research Project Performance Report (RPPR) and PDF compliance reports from My NCBI.
Following the seminar, Murrell will provide individualized assistance in a drop-in clinic. Participants are asked to bring their eRA Commons login and password and a publication list for RPPR or biosketch tasks. Registration for the workshop, to be held in Building 3377, room 310, on the CA campus, is required.
TSRI Professor Velia Fowler is the featured speaker in the next Female Faculty Lecture Series sponsored by the Network for Women in Science (NWiS) on Thursday, December 12, from 3:30 to 4:30 PM in the Skaggs Institute Molecular Biology Building's Committee Lecture Hall on the CA campus.
Considered a leader in the field of actin cytoskeletal biology—a cell's architecture—Fowler was recently appointed associate dean of graduate studies at TSRI. During her lecture, she will share personal reflections on her career as a research scientist.
The event is open to all TSRI faculty, students and staff. Following the lecture, postdoctoral fellows and graduate students are invited to share a light dinner with Fowler and NWiS members in the Graduate Office Conference Room, Building 3377. RSVP for the dinner to Alyson Smith, ascsmith@scripps.edu.
The Society of Fellows (SoF) on the California campus has elected its 2013-2014 executive committee officers. Emi Casas, research associate in the Felding lab, now serves as SoF president, supported by new vice-president Elmar Nurmammadov, research associate in the Vogt lab.
Other new SoF officers are:
Treasurer – David Guimond of the Mowen lab
Career development chairs – Arryn Craney of the Romesberg lab and Sunitha Rangaraju of the Petrascheck lab
Distinguished lecturer series chair – Brian Lamb of the Barbas lab
Social chair – Amanda Ackley of the Morris lab
Vendor show chair – Matthias Pauthner of the Burton lab
Website manager – Gareth Morgan of the Kelly lab.
The SoF meets regularly on the first Thursday of each month, 1 to 2 PM, in the Beckman Building's south fifth-floor conference room (BCC5S). For additional information on SoF activities and resources, visit the SoF website.
Scripps Florida Society of Research Fellows (SF-SRF) is raising money to aid recovery efforts following the destruction wrought by last month's Typhoon Haiyan in the Philippines.
Efforts include a "Volley for the Cause" benefit volleyball tournament scheduled for Sunday, December 8, 10:30 AM on the campus volleyball court. Proceeds from the $10 per person fee will be donated to the American Red Cross for typhoon victims. For information about the tournament, which is open to all TSRI faculty, students and staff, contact Cesare Orlandi, corlandi@scripps.edu, or Laura Walker, LSimo@scripps.edu.
SF-SRF also recently donated $1,000 to Red Cross typhoon recovery activities. SF-SRF members have been inspired in part by Ian de Vera, postdoctoral fellow in the Kojetin lab, whose extended family lives in Tacloban, the hardest-hit storm area. De Vera has travelled to the Philippines to assist in aid efforts.
Eligible TSRI faculty and staff are encouraged to participate in the ScrippsAssists-sponsored blood drive on the California campus on Monday, December 16. The TSRI drive will help supply the nearly 400 units of blood distributed daily to local hospitals by the San Diego Blood Bank (SDBB).
Donation appointments are available every 10 minutes from 9 AM to 2:15 PM at the bloodmobile, located in front of the MB/Skaggs building (10596 N. Torrey Pines Rd.). Appointments can be made online at the SDBB website. Walk-in donors are also accepted. All donors will be entered automatically in a drawing for raffle prizes.
Donor eligibility guidelines and requirements are outlined on the SDBB website. For additional information on the blood drive, contact Leslie Madden, ScrippsAssists project organizer, at lmadden@scripps.edu.




Send comments to: mikaono[at]scripps.edu