TSRI Named 'Top Institution' in HIV/AIDS Research; Dennis Burton, 'Hot Researcher'
The Scripps Research Institute (TSRI) is a leading institution in HIV/AIDS research, according to Thomson Reuters ScienceWatch. The analysis, conducted in commemoration of December's World AIDS Day, examined the "hottest" recent research on HIV/AIDS—reports published in the last two years, all cited at a level notably above papers of comparable type and age in the same journal.
"Among the institutions whose authors are most prominently represented in the group of 20 Hot Papers, Harvard University and the Scripps Research Institute (La Jolla, California) share top honors," the report stated. "Scripps researchers, in fact—with seven names in all—make a particularly strong showing among the prolific authors of these Hot Papers (including the #1 report), demonstrating that, as of now, the recent work to which they contributed is unmistakably central to ongoing research against HIV/AIDS."
Topping the list of highly cited papers was "Broad neutralization coverage of HIV by multiple highly potent antibodies," in Nature by Walker et al. (see News&Views coverage at http://www.scripps.edu/newsandviews/e_20110829/aids.html)
TSRI Professor Dennis R. Burton was listed as the number one "hot researcher," tied with Barton F. Hayes of Duke University School of Medicine in authoring five of the most-cited HIV/AIDS research papers. Other HIV/AIDS researchers from TSRI who were cited in the report include: Jean-Philippe Julien, Ian W. Wilson, Robert Pejchal, Pascal Poignard, Laura Walker and Andrew B. Ward.
To read Thomson Reuters's article "HIV/AIDS Research: What's Hot Right Now?" see http://sciencewatch.com/articles/hivaids-research-whats-hot-right-now.
A recent article published in the European Journal of Clinical Investigation highlights four TSRI faculty members as "highly influential biomedical researchers": George F. Koob, Peter G. Schultz, Eric J. Topol and John R. Yates III.
The study, which looked at citations from 1996-2011, is a snapshot produced by an analysis including the journals in which a researcher most commonly publishes, the number of articles with more than 100 citations and the author's h-index. To see the article, go to http://onlinelibrary.wiley.com/doi/10.1111/eci.12171/full . To see the TSRI Kresge Library's guide to h-indexes, see http://www.scripps.edu/library/hindex.pdf or, for additional information, contact the library at x4-8705 or helplib@scripps.edu.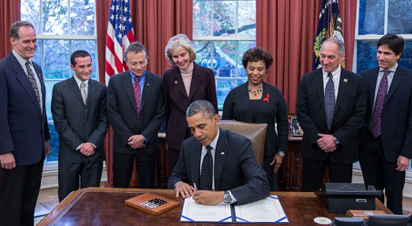 Daniel Salomon, TSRI professor and president of the American Society of Transplantation, was one of a handful of witnesses in the White House Oval Room as President Barak Obama signed into law S. 330, the HIV Organ Policy Equity (HOPE) Act, authorizing development of research standards for HIV-positive organ transplantation. Ultimately, positive-to-positive transplantation will be permitted if research results warrant. Salomon, second from right in photo, noted the new law "is a win for all the patients waiting on the [organ transplantation] list today as it is estimated to increase organs available by about 500 a year when fully implemented." (White House photo by Lawrence Jackson)
Katja Lamia, assistant professor in the TSRI Department of Chemical Physiology, is one of 16 nationwide recipients of a 2013/2014 Lung Cancer Research Foundation (LCRF) grant. Founded in 2005, the LCRF provides critical seed funding for cutting-edge scientific research for all cancers of the lung.
The Lamia lab is investigating the molecular basis for the circadian control of metabolism to enable novel therapies to treat metabolic diseases and is exploring the role of circadian clocks in regulating tumor formation as well.




Send comments to: mikaono[at]scripps.edu