Erica Ollmann Saphire's Lab Celebrates 10th Anniversary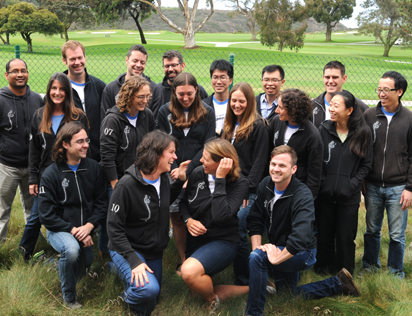 The Scripps Research Institute (TSRI) laboratory of Professor Erica Ollmann Saphire recently celebrated its 10th anniversary. Almost all the lab's alumni flew in for the occasion—some from as far away as Japan and Toronto. The festivities included a slideshow, scientific talks and a brewery tour. In this photo, the team sports sweatshirts with the lab's informal logo (an image of an Ebola virus) and a number, 1 - 21, representing the order in which each person joined the lab.
Scripps California students and postdocs have an opportunity to visit life sciences company Vertex Pharmaceuticals on Friday, September 27, 2 PM.
The trip is part of the Industry Bridge Program (IBP), sponsored by the Society of Fellows (SoF) and the Career and Postdoctoral Services Office to provide an inside look at life as an industry scientist and help transitioning to jobs in industry. A typical IBP visit includes a facilities tour, company presentations and a networking lunch with industry scientists.
The visit to Vertex—a global biotechnology company with a San Diego research and development facility—is limited to 30 participants and requires advance registration. Eligibility, application procedures and guidelines are available on the Career and Postdoctoral Services Office website.
Future IBP visits are planned to Miltenyi Biotec and Genomics Institute of the Novartis Research Foundation. For information on other Career and Postdoctoral Services Office resources, see the department's website.
A free flu immunization clinic is available to CA campus faculty and staff on Friday, September 27, from 9 AM to 5 PM, in Building 3377, Room 205. A consent form must be completed in advance, and participants must bring a form of identification to the clinic. No appointments are needed.
The clinic is provided by the TSRI Human Resources Department. Family members are not eligible for the immunization. The vaccine contains the thimerosal preservative; pregnant or nursing mothers cannot receive the immunization and should contact their physicians to obtain a flu vaccination.
More information about the flu immunization clinic is available at http://www.scripps.edu/hr/benefits/forms/Flu_Immunization_What_You_Need_
To_Know_2013_2014.pdf. For additional details, contact the Benefits department at x4-8487 or benefits@scripps.edu.
The TSRI Institutional Biosafety Committee (IBC) is scheduled to meet on Wednesday, October 9, 3:30 to 4:30 PM, in the Faculty Club Tennis Court Room. To receive committee consideration, registration documents must be submitted to Environmental Health and Safety via email to rachellv@scripps.edu by Friday, September 27.
Exhibitor reservations are now open for the ScrippsAssists 2013 Craft Fair, scheduled for Thursday, December 12, 11 AM to 2 PM, in the Immunology Building Galleria, California campus. Proceeds benefit ScrippsAssists' charitable activities.
Artisans and crafters among TSRI, Scripps Green Hospital and Scripps Clinic/Health Torrey Pines employees are invited to participate. The deadline for exhibitor email registration, at sagroup@scripps.edu, is Monday, October 7. Required registration information includes
Exhibitor contact information: name, employer, e-mail address, and both work and home or cell phone numbers
Description of craft item(s)
Names of booth staff
The cost of a booth is $25, due October 14. Exhibitors sharing a booth must register separately, but can pay one $25 fee. Exhibitors may donate a handcrafted item for the fair's raffle.
ScrippsAssists, a volunteer group for TSRI employees, provides a variety of community service projects and programs throughout the year. Proceeds from previous craft fairs have enabled the group to support such programs as the HomeStart Student Backpack drive, Torrey Pines Reserve Docent Society, Polinsky Children's Center, San Diego Food Bank, and Challenge Ranch (a social and development program for foster children). For information on volunteer opportunities, see the ScrippsAssists webpage.
In addition to information posted on the Scripps Research website, remember the following hotlines are available in an emergency situation:
CALIFORNIA
The California Campus Status Hotline, at (858) 784-7000. California employees can call the hotline in any regional emergency for a recorded message on the work status of the campus. The institute's website and email system serve as additional sources of information.
In case of an emergency on the California campus, dial "77." The call is connected automatically with the security operator located at the Beckman Center front entrance. The security operator will answer, take preliminary information, and then ask caller to hold as he/she is transferred to the 911 operator. It is important not to disconnect the call during this transfer; the line will be silent until the 911 operator answers (this may take more than a minute). During the call, other members of the TSRI Emergency Response Team will be alerted to provide additional assistance.
FLORIDA
The Florida Campus Status Hotline at (561) 228-2999. Florida employees can call the hotline in any regional emergency, such as hurricanes, for a recorded message on the work status of the campus.
In case of a Florida campus emergency, call "911." Dialing 911 from a TSRI phone automatically connects the caller to Scripps Florida Security desk in Building B reception. Security will obtain the critical information and immediately contact the TSRI Emergency Response Team and the Palm Beach County emergency center, which will dispatch the appropriate team from Jupiter Police, Palm Beach County Fire Rescue, and/or EMS to the Florida campus.
The next California campus onsite immunization clinics are scheduled for Monday, September 23 and Wednesday, September 25, from 9:30 to 11:30 AM in Building 3366, room 240. Conducted by Sharp Rees-Stealy staff, the clinics provide hepatitis B vaccination free of charge to all TSRI employees. Appointments are not needed.
Environmental Health and Safety (EH&S) Occupational Medicine must pre-authorize all other procedures based on the employee's working conditions. These procedures include tetanus, diphtheria, and pertussis (Tdap) vaccines; and other titers, immunizations and procedures. Tuberculosis testing is provided to employees who, in the scope of their TSRI positions, meet one or more of three criteria:
Provide human health care, such as registered nurses
Work with human subjects
Work with nonhuman primates
Employees authorized for the one-visit Quantiferon tuberculosis test may find further information at the Centers for Disease Control TB Fact Sheet.
After EH&S pre-authorization, individuals who cannot attend the onsite clinic may visit the Sharp Rees-Stealy occupational medicine clinic by calling (858) 526-6150. The clinic is located at 10243 Genetic Center Drive, off Mira Mesa Boulevard. For further details, contact Rachel Longville, rachellv@scripps.edu or x4-8457.




Send comments to: mikaono[at]scripps.edu