Filmmaker Warren Beatty and Mervyn's Mervin Morris Join TSRI Board
Actor and Academy Award-winning director and producer Warren Beatty and California businessman Mervin G. Morris, the founder of the Mervyn's chain of retail stores, have been elected to the TSRI Board of Trustees.

Snapshot: Dave Freeman
Meet Dave Freeman, multimedia technician.
Anonymous Gift of $425,000 Endows Student Fellowship
The Kellogg School has received a gift of $425,000 to permanently endow a fellowship for a student in his or her first critical year of study. The fellowship, entitled the Bagel (pronounced "ba - jél") Fellowship, will fund a student in the graduate program every year in perpetuity beginning in 2004.
Gottlieb Receives Tenure
Roberta A. Gottlieb has been promoted to the rank of associate professor with tenure. Gottlieb (B.A., The Johns Hopkins University; M.D., The Johns Hopkins University School of Medicine), has been at TSRI since 1993, when she joined the Babior lab as a postdoctoral fellow. Gottleib now directs research focusing on apoptosis (programmed cell death) in response to myocardial ischemia and reperfusion, with emphasis on mitochondrial alterations and the production of reactive oxygen species.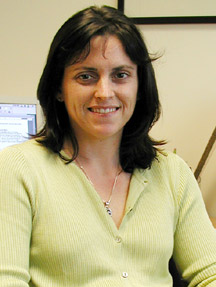 $9.2 Million Grant Funds Design of Anthrax Antitoxin Nanosponges

A large, multi-center program project grant has been awarded to a team of scientists at three institutions to discover and develop novel anthrax antitoxins and ways of delivering them.