Sculpture to Memorialize One of TSRI's Founding Scientists
By Mika Ono
A sculpture entitled "Oak Cairn" by renowned British artist Andy Goldsworthy will soon grace The Scripps Research Institute (TSRI) campus. The sculpture will memorialize the contributions of one of the original scientists at Scripps, the late immunologist William O. Weigle.
"Andy Goldsworthy is an internationally acclaimed artist whose work will help mark Scripps as the world-class organization that it is," says TSRI Professor Charles Cochrane, who headed the committee that commissioned the piece. "The sculpture will also be a fitting memorial to Bill Weigle, who loved nature and whose office looked out over the site where the sculpture will stand."
Ground is currently being prepared at the site between the Immunology and Skaggs Institute buildings that the artist himself selected. A concrete base covered with decomposed granite and sod will support the 16,000-pound sculpture, which will be surrounded by trees and shrubs.
Goldsworthy is scheduled to be on campus early next year to supervise the installation of "Oak Cairn" and to add to his creation.
The work is part of a larger project consisting of sculptures in La Jolla, California, Des Moines, Iowa, and Purchase, New York. The sculptures—inspired by the pre-historic stone cairns found throughout Great Britain—highlight the distinct environmental traits of each area. "Oak Cairn," constructed this year of windfallen oak branches from Scotland, was on display over the summer as part of a show of Goldsworthy's work at the Museum of Contemporary Art in La Jolla.
Goldsworthy was selected from among a number of artists recommended by the senior curator of the Museum of Contemporary Art, San Diego, to create the memorial to Weigle. A TSRI committee—which in addition to Cochrane, a close friend and colleague of Weigle's, included investigators Ann Feeney, Glen Nemerow, and Norman Klinman—reviewed many works in detail before unanimously selecting Goldsworthy to sculpt the piece.
Weigle was one of the immunologists who came from Pittsburgh in 1961 to establish the Division of Experimental Pathology of the Scripps Clinic and Research Foundation in La Jolla. The work of this group attracted others and the research program flourished and diversified into biochemistry and microbiology, virology, studies of blood coagulation, and cancer research, forming the basis of modern-day TSRI.
Weigle, who earned his B.S., M.S., and Ph.D. from the University of Pittsburgh, contributed hundreds of papers to his field. One of his achievements was showing how the body can turn against itself by producing antibodies that impair the immune system, a response that can be triggered by infection or other injury. His insights helped spawn drugs that help patients tolerate skin and kidney grafts.
As Richard Ulevitch, chair of TSRI's Department of Immunology, commented in 1998 upon Weigle's retirement, "Bill Weigle, as he is known to his colleagues, leaves a permanent legacy in the many dozens of trainees who benefited from his mentoring, in the hundreds of publications in the scientific literature, and in his continuous efforts to ensure that the Department of Immunology and TSRI remain at the forefront of science."
Goldsworthy, who was born in Cheshire, Great Britain in 1956, was brought up in Yorkshire and studied at Bradford College of Art and Preston Polytechnic. Since then, he has toured the world and created art in disparate locations including Japan, France, the Grize Fiord in the Northern Territories of Canada, the North Pole, and the Australian outback. Institutions currently commissioning work by Goldsworthy include the Metropolitan Museum of Art in New York, the National Gallery in Washington, D.C., and the DeYoung Museum in San Francisco. Goldsworthy lives in Dumfriesshire, Scotland.
Goldsworthy's sculptures, most of which have been made in the open air, are distinctive in their use of natural materials. These have included leaves, bark, twigs, petals, berries, thorns, rock, clay, stones, feathers, snow, and ice.
"Movement, change, light, growth, and decay are the lifeblood of nature, the energies that I try to tap through my work," Goldsworthy is quoted as saying by the Center for Global Environmental Education. "I need the shock of touch, the resistance of place, materials, and weather, the earth as my source. Nature is in a state of change and that change is the key to understanding. I want my art to be sensitive and alert to changes in material, season, and weather."
Goldsworthy's work has been documented through photographs in books such as "Andy Goldsworthy: A Collaboration with Nature," "Time," "Wood," "Stone," "Arch," "Hand to Earth," and "Wall." Goldsworthy was also the subject of a prize-winning documentary, "Rivers and Tides: Andy Goldsworthy Working with Time" directed by Thomas Riedelsheimer.
The acquisition of "Oak Cairn" was made possible by funds from TSRI and private donors.
"We also need to thank the artist, who agreed to make the piece for the funds we had available," says Cochrane, who notes that there is now a three-year wait for commissioned work from Goldsworthy. "I think he felt a real resonance between the work at TSRI on nature's submolecular structures and the macroscopic structures he fashions from nature."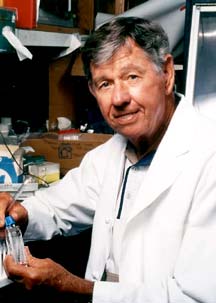 As a tribute to the late immunologist William Weigle (shown above in 1996), an Andy Goldsworthy sculpture will be installed on the TSRI campus early next year. Photo by TSRI BioMedical Graphics.