Holiday Greetings from TSRI's President
TSRI President Richard A. Lerner takes a look at 2002, "another extraordinary year in the history of the institute."
Wüthrich receives Nobel Prize from Sweden's king
Kurt Wüthrich, who is TSRI Cecil H. and Ida M. Green Visiting Professor of Structural Biology and a member of TSRI's Skaggs Institute for Chemical Biology, received the 2002 Nobel Prize in Chemistry on December 10 from King Carl XIV Gustaf of Sweden.
Gene responsible for resetting body's "clock" described
A group of scientists have demonstrated that the gene Opn4, which codes for the protein Melanopsin, is the elusive pigment gene that captures light and keeps your body tuned to a daily cycle.
"Fast-breaking" paper from the Cravatt lab
According to the Institute for Scientific Information (ISI) Essential Science Indicators, December's "fast breaking" paper in pharmacology and toxicology was published by TSRI scientists.
Tis the Season for Good Boundaries
TSRI's Jan Hill and Jeff Jones gave a timely Personal Skills for Life and Work seminar entitled, "Boundaries: the Importance of Limit Setting."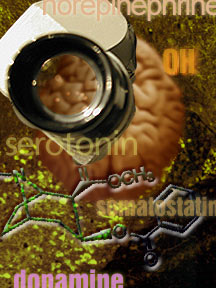 Building Neuropharmacology
Floyd Bloom, chair of TSRI's Department of Neuropharmacology, looks forward to the challenges that await neuroscientists in the 21st century.
On Press:
Rac Activation and Cell Motility