'Tis the Season for Good Boundaries

By Mika Ono
Why set limits? And how do you set them? These were questions addressed in a recent standing-room-only seminar "Boundaries: the Importance of Limit Setting" for employees of The Scripps Research Institute (TSRI).
"It is no accident that we're doing the seminar on boundaries at this time of year," said Jan Hill, director of the Employee and Graduate Student Counseling Department, who presented the event with her TSRI colleague, Counselor Jeff Jones on December 6. "The holidays can present challenges at both work and home."
Hill and Jones kicked off the workshop by challenging participants to define what "boundaries" meant to them, noting that it was a word often used in psychology derived from usage in a geographical sense. Answers from the audience included "acceptable behavior," "rules of conduct," "limits," and "expectations."
"Limit setting is important because it goes hand-in-hand with issues of safety and respect," noted Hill. "If boundaries are crossed, people don't feel respected or safe; instead they feel anxiety, discomfort, or low self-esteem. Good boundaries create a sense of emotional safety."
Jones related the concept of boundaries to ideas from the assertiveness movement, begun some 30 years ago, that described personalities on a continuum from passive to aggressive. According to this model, passive personalities put the needs of others before themselves, permit others to infringe upon their rights, and are indirect and self-denying. These behaviors lead to accumulated anger and low self-respect.
On the other end of the spectrum, aggressive personalities focus on their own needs above others, express their rights at others' expense, and are goal-driven and brutally honest. This goes hand-in-hand with a sense of righteousness. Aggressive types also tend to suffer low self-esteem.
The goal is to be in the middle of the continuum—with behavior, Jones states that can be learned with practice. Assertive personalities are able to express their own needs with an awareness of others, are honest and direct while considering others' needs and feelings. This behavior leads to a sense of confidence and self-respect and a feeling of being valued by both self and others.
More specifically, steps to assertive behavior can include:
Describing a behavior that is bothering you in a non-threatening way; for example, "When you stand so close to me..."


Expressing the feeling that this engenders, for example, "... I feel uncomfortable..."


Specifying the change in behavior that you would like, "...so I would like to be given more personal space..."


Outlining possible consequences, "...or I will have to leave the room."
Members of the audience engaged in a thoughtful discussion of these ideas. Points that were raised included:
The context of culture, situation, and gender is important; behavior considered aggressive in one arena is interpreted as assertive in another.


Confrontation should ideally take place in private.


This technique works best when both people are calm.


Anger can cover anxiety; and anxiety can mask anger.
"Unfortunately, there is no guarantee," said Jones. "People you talk to won't necessarily follow your script. However, practice, practice, practice, and I believe assertive behavior will get reinforced..."
This event was part of the quarterly "Personal Skills for Life and Work" seminar series presented by the Employee and Graduate Student Counseling Department that has been focusing on issues related to stress management. Jones and Hill also offer TSRI employees, graduate students, and family members free, confidential one-on-one counseling sessions. For more information, contact Hill, x4-2950 or e-mail janhill@scripps.edu, or Jones, x4-2063 or e-mail jjones@scripps.edu.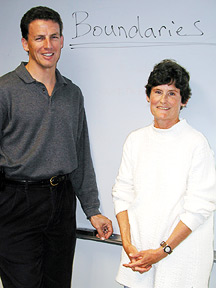 Jeff Jones and Jan Hill of TSRI's Employee and Graduate Student Counseling Department give quarterly workshops as part of the "Personal Skills for Life and Work" seminar series. Photo by Jason S. Bardi.