In Brief
"Fast Breaking" Paper from the Cravatt Lab
According to the Institute for Scientific Information (ISI) Essential Science Indicators, December's "fast breaking" paper in pharmacology and toxicology was published by TSRI scientists. The paper, "Supersensitivity to anandamide and enhanced endogenous cannabinoid signaling in mice lacking fatty acid amide hydrolase" by B.F. Cravatt, K. Demarest, M. P. Patricell, M. H. Bracey, D. K. Giang, B. R. Marti, and A. H. Lichtman, was published in the journal Procedings of National Academy of Sciences on July 31, 2001. According to the web site, fast breaking papers have "the largest percentage increase in citations in their respective fields from one bimonthly update to the next... [representing] very recent scientific contributions that are just beginning to attract the attention of the scientific community." See ISI's Fast Breaking Papers web page.

Holiday Dinner in the Cafeteria
Yung's Catering invites TSRI faculty, staff, and students to a holiday dinner in the cafeteria on Friday, December 20 at 6 PM. "Everyone who is in town through the holidays is invited—single, married, it doesn't matter," says Andrew Shih. "It's our way of our showing appreciation to all the wonderful people here."

New Year Brings Change in Health Care Administrator
Effective January 1, 2003, the medical plans claims administrator for TSRI will change from Coresource to Principal. An information package describing the change will be mailed shortly to the homes of medical plan participants. "This change does not affect the specific medical benefits participants receive," says Human Resources Manager Ellen Anderson. "It will streamline what is going on behind the scenes and make the process of claims payments simpler for our employees and their dependents." For more information, contact Benefits Administration, x4-8487 or e-mail benefits@scripps.edu.

Yung's Café Joins Cafeteria
As of the new year, Yung's Café will be incorporated into the main cafeteria. The last day for the separate facility in 3366 N. Torrey Pines Court will be Friday, December 20. The most popular menu choices from the cafe—Korean rice bowl on Mondays, teriyaki chicken on Wednesdays, and California rolls or tempura udon on Thursdays—will be offered at the main cafeteria, 3300 North Torrey Pines Court.

Don't Forget Tuition Reimbursement Requests
Benefits Administration would like to remind employees that tuition reimbursement requests for courses completed during the 2002 calendar year must be received in Human Resources by January 31, 2003 at 5 PM. TSRI will be increasing the reimbursable amount to $2,500 for courses completed in the year 2003. Please contact Jan-Michael Silbaugh, x4-9212, with any questions regarding tuition reimbursement policy.

TB Screenings, Hepatitis B Immunizations, and Serum Draws
On Monday, January 6, Wednesday, January 8, and Friday, January 10, personnel from Sharp Rees-Stealy Medical Group will be on-site to conduct TB screenings, Hepatitis B immunizations, and serum draws. The clinics will be conducted at the Administrative Offices (3301 North Torrey Pines Court) on the P1 level from 11 AM to 2 PM. No appointments are necessary. TB screening requires a 48 to 72 hour follow-up. Individuals receiving the TB screen on Monday will need to return on Wednesday; individuals screened on Wednesday, will need to return on Friday. Initiation of the TB screening process will not be available on Friday, but Hepatitis B immunization and serum draws will be. To learn more about these programs, see the Environmental Health & Safety Occupational Medicine web page that includes a map and patient information sheets.

News&Views Breaks for the Holidays
News&Views is breaking for the holidays. Regular weekly publication will resume on Monday, January 13. The deadline for announcement and calendar submissions is Wednesday at noon for the following Monday's publication.



Fresh Art on the Menu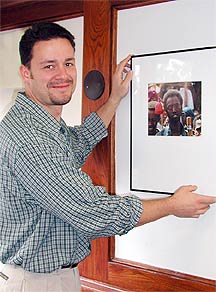 Research Associate Ryan Burnett of the Gottesfeld lab recently hung a series of photos he shot in Ethiopia in the TSRI cafeteria. Other TSRI employees currently displaying work there include: Jason Bardi, Bruce Cunningham, Kevin Fung, Tom Gatz, Janet Hightower, Alexander Nussbaum, and Malcolm Wood. Photo by Kevin Fung.
Sending the Spirit of the Season to Seniors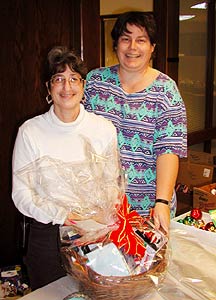 Volunteers assembled holiday baskets for seniors in the TSRI Administrative Building as part of the ScrippsAssists Senior Basket Project, organized in conjunction with the Downtown Senior Community Center. "Thanks to Environmental Services for their large donation, the Receiving Department for moving all our boxes, and all the terrific people who made this project a success," said Helen Plutner (left) of ScrippsAssists. Photo by Kevin Fung.