Graduate program at The Scripps Research Institute earns another top ten ranking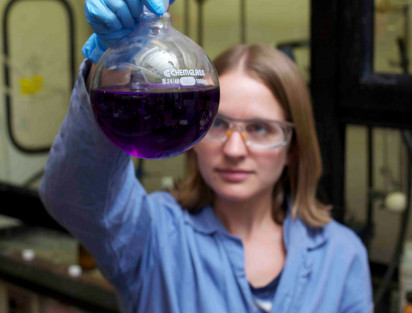 Photo by John Dole
The Skaggs Graduate School of Chemical and Biological Sciences at The Scripps Research Institute is ranked among the top ten in the nation according to a recent survey by U.S. News & World Report. This is the 19th year in a row that the program has earned top ten honors.
The Institute's Chemistry program ranks 6th in the nation and the Biological Sciences program ranks 10th, according to the survey, which was released March 20. For specialties within Chemistry, the graduate program tied for 2nd in Biochemistry (with Harvard) and earned a 5th place ranking in Organic Chemistry.
"These high rankings reflect an adherence to excellence by Scripps faculty, who originally conceived and developed the program, as well as the stellar students who join us here at the Institute as we explore the frontiers of science," says Phil Dawson, dean of Graduate and Postdoctoral Studies at the Institute.
According to Dawson, since its founding in 1989, the graduate program has placed over 100 alumni in faculty positions at major universities and colleges around the world. Hundreds more alumni, he says, have been placed in leadership roles in biotech and pharmaceutical companies.
Earlier this year, the Institute announced that one of its dedicated benefactors, the Skaggs family, was making a transformational lead gift toward an endowment campaign to establish fellowships for all students in the graduate program. In honor of that gift, the program was renamed the Skaggs Graduate School of Chemical and Biological Sciences. The Institute itself was ranked #1 in the world last year by Nature Index for its "influence on innovation."
Send comments to: press[at]scripps.edu