Families facing rare neurological disease drive groundbreaking research
Scripps Research scientists uncover role of key protein in genetic disease Charcot-Marie-Tooth with public support
By Madeline McCurry-Schmidt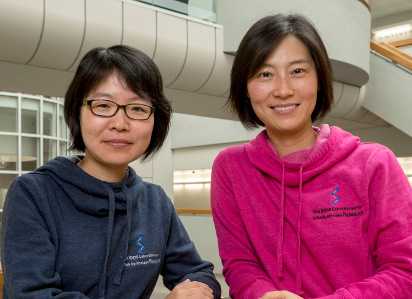 Scientists Zhongying Mo and Xiang-Lei Yang are hunting for ways to treat Charcot-Marie-Tooth. (Photo by Don Boomer)
Lorena Martin's twin daughters kick butt on the soccer field. Martin is proud of how they hold their own, despite having a rare genetic disease called Charcot-Marie-Tooth (CMT), which has damaged their peripheral nervous system. The girls lack proper control of their hands and feet because their nerves can't send signals properly, so they play using power wheelchairs.
Martin loves to cheer on her daughters, and her support of them drives her to contribute to CMT research.
"CMT is really debilitating for them, and people don't understand why someone who looks perfectly healthy is in a wheelchair," Martin says. "Their biggest wish is to be able to walk."
Now, researchers at The Scripps Research Institute have made a discovery that offers hope of one day finding a treatment for people with CMT, thanks in part to the support of Martin and other families affected by CMT. Scripps Research Professor Xiang-Lei Yang, PhD, and her colleagues recently announced in the journal Nature Communications that they'd discovered that a protein called HDAC6 may be a good pharmaceutical target for treating a subtype of the disease called CMT2D. Their study in a mouse model suggests a small molecule could potentially reverse the disease by restoring normal protein function.
"Our understanding of the disease is ever-increasing, and this study provides guidance for developing therapeutics," says Yang.
The new research shows that aberrant interactions between HDAC6 and a protein called GlyRS prevents people with CMT from being able to send signals properly between the brain and hands and feet.
Unlocking this mechanism behind CMT2D is a piece of the bigger puzzle of how all subtypes of CMT work—and how scientists could address the fundamental pathology of the disease. One mystery they'd like to solve is the root of the "heterogeneity" of CMT—why the many disease subtypes manifest at different ages with varying severity.
"Our everyday research is like a detective role," says Zhongying Mo, PhD, senior research associate at Scripps Research and first author of the study.
To fuel new research, Martin's family and many others with CMT have donated blood samples to help Yang analyze the disease. This CMT community support is crucial, and Yang's connection to these families is part of what inspires her. In fact, when Yang saw the strong impact on HDAC6 by the mutation found in the girls (G598A in GlyRS), she remembered what Martin described to her—the girls can't stand, and sometimes even sitting up can be hard for them, they love swimming pools where they get the extra support from the water. Their severe symptoms fit with what Yang would expect to see from their mutation—a sign that her lab's work is on the right track.
Benjy Hershorn was diagnosed with CMT2D later in life than many patients, and he is grateful he has only been mildly affected so far. The Texan is a commercial real estate broker, and—before he was diagnosed—a serious cyclist.
Today, Hershorn is an active volunteer for the Charcot-Marie-Tooth Association (CMTA) and helps organize local meetings that promote education and awareness. He also is very active in the CMTA online groups where those with the disease share knowledge, support and encouragement. He says Yang's work gives him hope, even though he knows treatments are still years away.
"Rare diseases aren't so rare," Hershorn says. "CMT is a genetic disease that can affect many generations of families."
Before diagnostics improved—and before families could connect online—Hershorn says those with the disease often felt isolated and were sometimes hesitant to talk about their condition, even with family members.
Now, like Martin's family, Hershorn has rolled up his sleeves to submit blood samples and support the CMT research in Yang's lab. He says families affected by CMT understand it is going to take time to develop treatments.
"As researchers, they take risks without knowing the answers," says Hershorn. "I really admire it."
Send comments to: press[at]scripps.edu