Calibr and TSRI Executive Matt Tremblay Receives Biocom Catalyst Award
By Jim Schnabel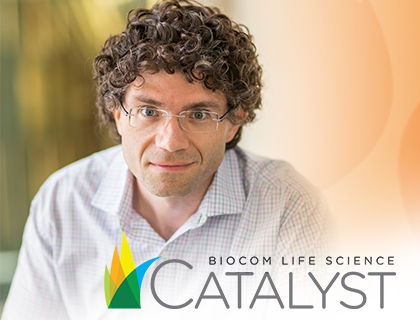 Matt Tremblay, Ph.D., Chief Operating Officer of the California Institute of Biomedical Research (Calibr) and Vice President of Business Development at The Scripps Research Institute (TSRI), was named one of Biocom Inc.'s annual Life Science Catalyst Award winners. 
The Life Science Catalyst Awards recognizes accomplished "up-and-comers" making a mark on San Diego's life science industry before reaching their 40th birthday. This marks the second year TSRI faculty have been recognized.  TSRI Chemistry Professor Phil Baran received one of 10 inaugural Life Science Catalyst Awards last year.
Tremblay (age 37) was one of the first Calibr employees hired in 2012 by Peter G. Schultz, Ph.D., Chief Executive Officer of TSRI and Calibr. He was initially hired to lead a team of biologists in the company's drug discovery efforts, but quickly became involved in the day-to-day operations and was promoted in rapid succession to his current role as Chief Operating Officer.  Following Calibr's merger with TSRI in October 2016, Tremblay took on an added role as TSRI's Vice President for Business Development.
Send comments to: press[at]scripps.edu