Jeffrey Rudolf Receives (K99/R00) NIH Career Transition Award
By Bonnie Ward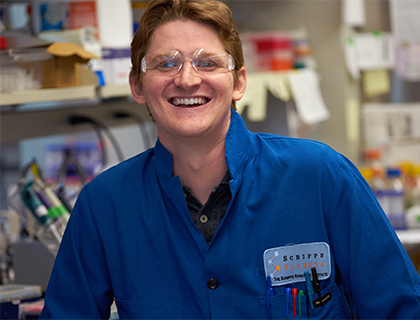 Jeffrey D. Rudolf, a postdoctoral researcher on the Florida campus of The Scripps Research Institute (TSRI), has been awarded a Pathway to Independence Award (K99/R00), a highly competitive career transition grant from the National Institutes of Health's National Institute of General Medical Sciences.
Rudolf will receive more than $900,000 over five years to support his research on discovering new drugs from natural resources using cytochrome P450 enzymes. 
The NIH Pathway to Independence Award program is designed to facilitate a timely transition of outstanding postdoctoral researchers from mentored research positions to independent, tenure-track or equivalent faculty positions.
Rudolf said he was "excited" to receive the award, noting that its support will give him the freedom to focus on building his research foundation, rather than fundraising, during his transition to and his first years in an independent research position.
"Hopefully, we can not only discover new enzymes that perform interesting chemical reactions, but use these enzymes as probes to lead us to new drugs in areas as diverse as anti-cancer or infectious disease," said Rudolf, a postdoc in the lab of Professor Ben Shen, co-chair and professor in the Department of Chemistry and director of The Natural Products Library Initiative at TSRI Florida.
Under the grant program's initial (K99) phase, Rudolf will receive support for up to two years of mentored postdoctoral research and career development. The second (R00) phase will provide him up to three years of independent research funding after transitioning to a new position. 
Rudolf said P450 enzymes are well known throughout biology, most notably for steroid biosynthesis and metabolizing drugs or other chemicals in humans. P450 enzymes can also be used as tools for transforming drugs, providing synergy with other research groups at TSRI who are interested in modifying small molecules.
His research will look at them in a nonpathogenic soil bacteria, Streptomyces. These same bacteria produce clinically useful drugs and drug leads including antibiotics, anti-cancer and anti-fungal drugs.
"We're not specifically aimed at one particular disease," said Rudolf. "We're open to looking at anything that could be of potential interest."
Send comments to: press[at]scripps.edu