TSRI Adds New Faculty to World-Class Institute
By Jessica Tran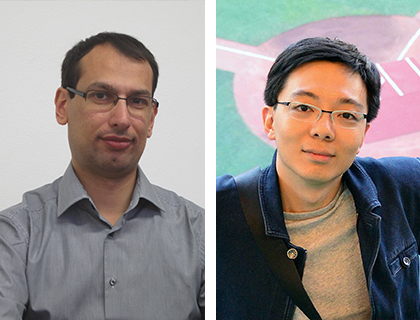 The Scripps Research Institute today announced the appointment of two new faculty members – Alexander Adibekian, Ph.D., who will join the Department of Chemistry in Jupiter, FL as associate professor, and Li Ye, Ph.D. who joins the Department of Neuroscience in La Jolla, Ca as an assistant professor.
"The appointments of Drs. Adibekian and Ye reflect TSRI's commitment to hiring exceptional scientists with a passion for basic research," said Jamie Williamson, TSRI's Executive Vice President for Research and Academic Affairs. "Alex's active program in chemical proteomics and Li's interdisciplinary approach to studying the link between the brain and metabolism are important new additions to the innovative research occurring on both campuses."
Adibekian, a former member of Benjamin Cravatt's laboratory, joins TSRI from the Department of Organic Chemistry at the University of Geneva, Switzerland, where he was an assistant professor. His research interests include the discovery of new cysteine-reactive small molecules and the identification of their proteomic targets, as well as the development of novel chemical strategies that allow rapid access to collections of structurally diverse cysteine-reactive small molecules.
 Adibekian received his bachelor's and master's degrees from the Leibniz Universität in Hanover, Germany, and his Ph.D. from ETH Zürich, Switzerland, where he conducted his doctoral research fellowship in the laboratory of Professor Peter H. Seeberger.
"I'm very excited to join the outstanding faculty at The Scripps Research Institute," Adibekian said. "The research here is second to none, and the collaborative spirit among the faculty makes it a truly special place to conduct cutting edge research. I believe my work will flourish here."
Ye, who joins TSRI from Stanford University, is focused on the transcriptional control of peripheral metabolism through chemical biology and genetic approaches. His current research efforts aim to understand the central regulation of whole-body metabolism, especially in the context of obesity and insulin resistance.
"Having the opportunity to work with experts in high-throughput screens, molecular physiology, and behavioral neurosciences at TSRI is something I have looked forward to my whole career," Ye said. "They are among the finest in the world in their fields and I look forward to learning from and collaborating with my new TSRI colleagues."
Ye received his bachelor's degree from Tsinghua University in Beijing and earned his Ph.D. at Harvard Medical School in Professor Bruce Spiegelman's laboratory. He conducted his postdoctoral training in the lab of Professor Karl Deisseroth at Stanford University.
Adibekian and Ye will officially join TSRI's ranks on November 1 and January 5, respectively.
Send comments to: press[at]scripps.edu